Hôpital Saint-Louis
property details & discussions
for a Hub House co-operative coliving project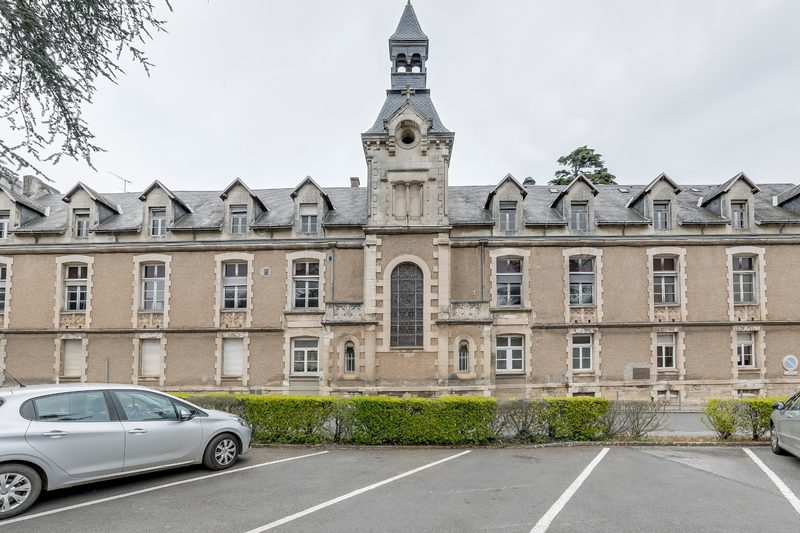 🏢#52
🏅65%
REJECT
• €55k • historic • village • 5200m² hub •
VISTED and despite a fabulous environment and garden with huge potential, its location on a slightly busy road, plus its many different levels and modifcation at such huge scale, not to mention apparent foundation issues upon crumbly rock for some fo the buildings, plus within the French regulations, just make it a bit too much work. More suited to a future location not the first.

At auction on 16th September, only 30mins from Poitiers so might attract developers, however low price may be indicitive protected status or high cost of demoilition thus not appealing to them yet neither is an issue for us so is definately plausible. Bids may increase to about €150. Interesting history dating back to 1248, and located on one of the routes to Compostela, thus having a history of welcoming travellers that could be continued!
central France: Poitiers, Angouleme, La Rochelle, (Paris)
☃️9–14°  🏖26–35°  ☀️8 days  🌧11 days; bit cloudy
DODGY  🔨 effort
DODGY  💰 cost
GOOD  🚌 transport
GOOD  ✈️ access
OKAY  🛒 shops
OKAY  🏙 towns
OKAY  🧗 activities
OKAY  ☀️ climate
GOOD  ⛰️ nature
OKAY  🌷 garden
GOOD  🏠 building
DODGY  🏘 hood
Compare with all properties
Environment ✧ flat agricultural land but village is on a hillwith woodland, there's paths on doorstep along river, a natural pool, plus SUP/kayak are available in summer; no mountains, coast 1h30 (also direct train)
Services ✧ supermarket 15 mins walk; town only 15mins by train
Access ✧ station 10mins walk (Niort 30mins, Paris 2h); Poitiers airport 30 mins drive (Stansted, Porto, Marrakesh), Limoges 1h
Property ✧ ex hospital so needs stripping but in decent condition unlike Montlucon; includes a chapelle with stained glass window; entirely south facing with hill protecting from north; is located opposite a modern retirement home
Notes ✧ excellent vdsl2+, exchange 400m
✦ has mains gas
✦ village has a bypass so road is not busy
✦ I've uprated the garden because around the corner is the town's own nice hilltop park; there's only 800m2 of south-facing terraced garden at the top abovee the buildings, but there is enough space for more (upto an extra 900m2) terraces plus conservatory, especially if the ground level carparks (with about 28 spaces) at the sides are eliminated (may not be allowed as technically requires 1 parking space per unit, which is another reason developers could have a problem, however we will hopefully classify it as a single house).
✦ There's a small land parcel (#1, about 6,000m2) opposite (behind the retirement home) that could be suitable for aquisition.
✦ The village has three wind generators producing a surplus; it or the surroundings also seems to be part of a no-pesticides project.
✦ Can reach Paris with earliest trains at 8h30, but last return from Poitiers/Niort are 19h20 thus from Paris quite early at 17h20.