Union de Coopératives du Cognac
property details & discussions
for a Hub House co-operative coliving project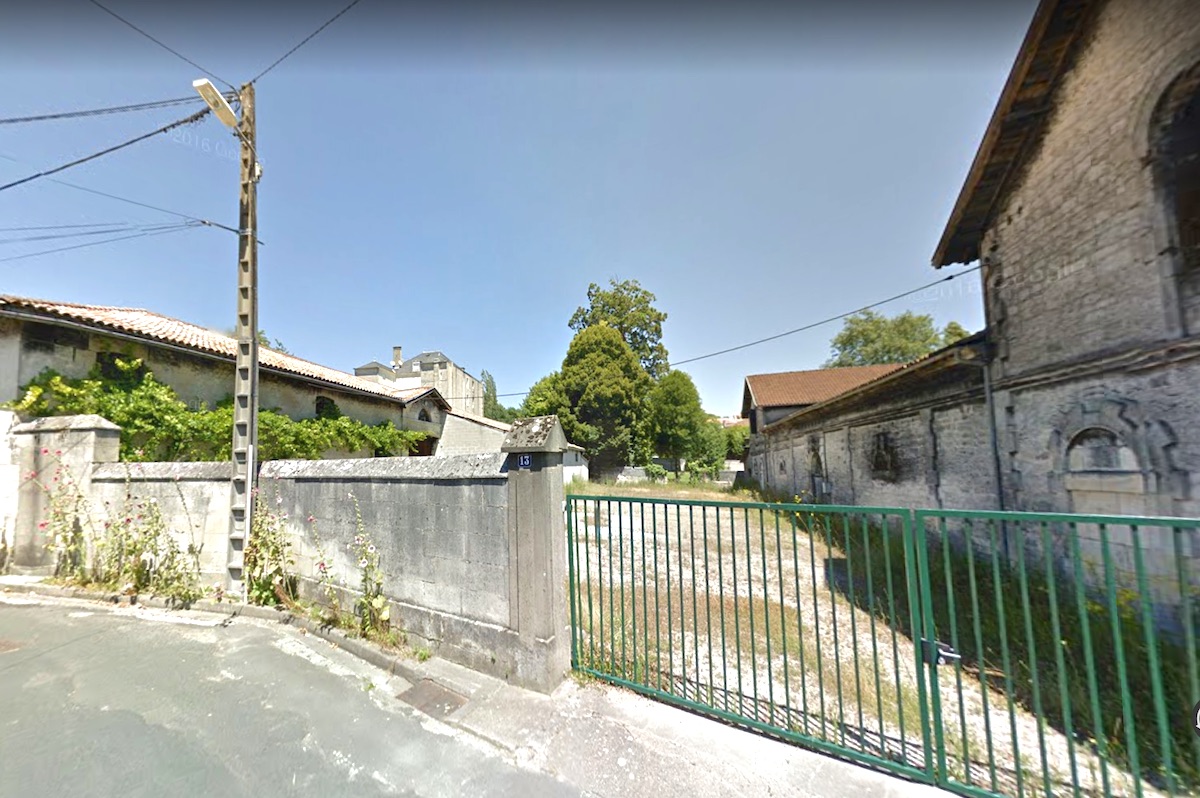 🏘#94
🥇82%
REJECT
• €135k • historic • village • 1200m² complex •
Complex of fabulous old solid stone block buildings on edge of very pretty spa-tourism village 1h to Bordeaux and beaches, with pleasant if unadventurous surroundings.
southern France: Cognac, Saintes, Angoulême, Bordeaux
☃️4–11–16°  🏖27–36°  ☀️8 days  🌧10 days
OKAY  🔨 effort
OKAY  💰 cost
GOOD  🚌 transport
GOOD  ✈️ access
GOOD  🛒 shops
GOOD  🏙 towns
GOOD  🏇 activities
OKAY  ☀️ climate
BAD  🏔 nature
OKAY  🌷 garden
GOOD  🏠 building
OKAY  🏘 hood
GREAT  📡 internet
Compare with all properties
Environment ✧ agricultural plains, 1h beach and great coastline; walks along small river on doorstep; not much else
Services ✧ all plus good covered market; 40mins larger town
Access ✧ station 20mins walk, 45mins Bordeaux (last 8:40pm), Angoulême, La Rochelle, 3h30 Paris (€30)
Notes
✧ Visted but interior not seen.
✦ Because of the in-town location, great facade and terrace, it would make a perfect local community space so could be more open than other candidates, not to mention there's fibre. Whilst there's no notable surrounding nature, the space would have two garden spaces, and is a few paces from some simple river walks, plus the town's sports facilities (indoor tennis) and parks including a lake with sand beach (summer). As ever there's kayaking and horse riding, albeit tame. The town also has geothermal station with spa and huge aqua-park (all year).
✦ Whilst it works extremely well as a semi-urban hub and will thus remain on the list, it really doesn't feel at all close to nature even though it's still a good city-escape. The coast is close but is touristic with the quieter dunes being 1h15 and which are only nature woth mentioning.
✦ accessibility is good being so close to Bordeaux, and the time to reach it would drop from the current 45mins in future after upgrades as the line currently runs at only 40kmh in places; a direct Brussels high speed service exists taking 4h, and a London one is planned taking under 5h
✦ activity score is high because of city; hood score lower because of some road noise
✦ the extension into the courtyard would be best removed and rebuilt across the back thus blocking the road; the lane is infrequently used
✦ actually lots of places to visit and notably it's easy to escape for a daytrip to Royan and the great coastline up to La Rochelle
✦ there's three supermarkets, and a health shop but more notably despite this a functioning covered market, plus summer night markets run during an unusually long season of jun-sept
✦ has a collective heating circuit (only 8% geothermal, mostly biomass) but which probably does not pass the property
✦ has capacity for cohousing
✦ the building already housed a co-operative!
✦
cadastral map
✦ two buildings, northern 475m2 with a 70m2 extension, plus 450m2 attic; southern 350m2 also has two 75m2 second floor gables
✦ one of the buildings could have south-facing windows looking out across the fields
✦ 600m2 courtyard
✦ likely three additional buildings with footprint of 650m2, second floor of 175m2 plus attic, 150m2 terrace and probably 120m2 of additional garden (
streetview
)
✦ thus total floor space would be 1250m2
✦ a lot of work will be required creating windows, although some exist and have just been blocked up, the wall's stone blocks are not too large (compared to Covilha's), skylights might however be preferable; the buildings appear well maintained and solid (recently used as storage by the co-operative), but lack infrastructure of any kind
✦ whilst there's a slight slope from the first building down to the last multiple sewer connections will likely be required given the distances