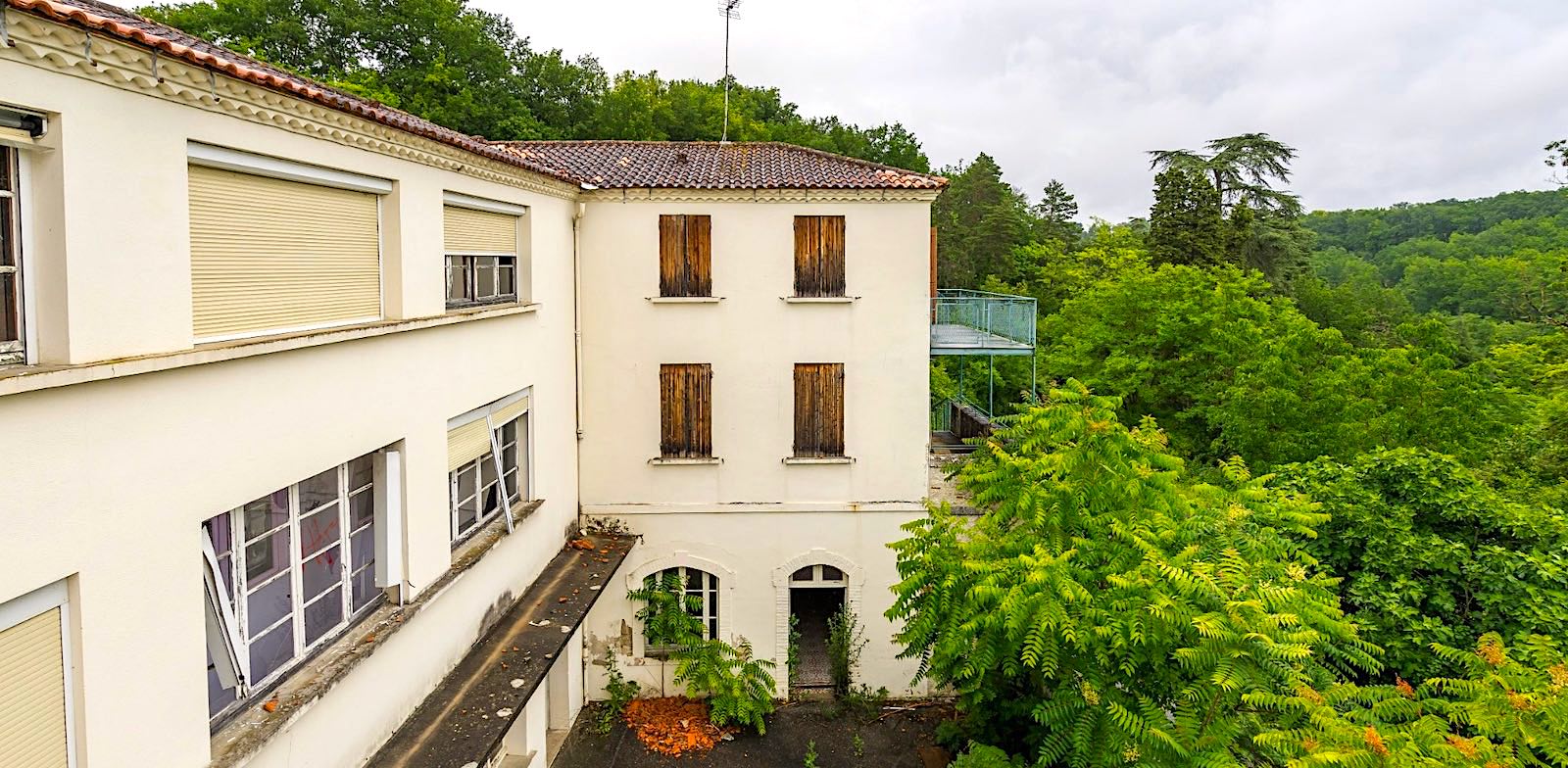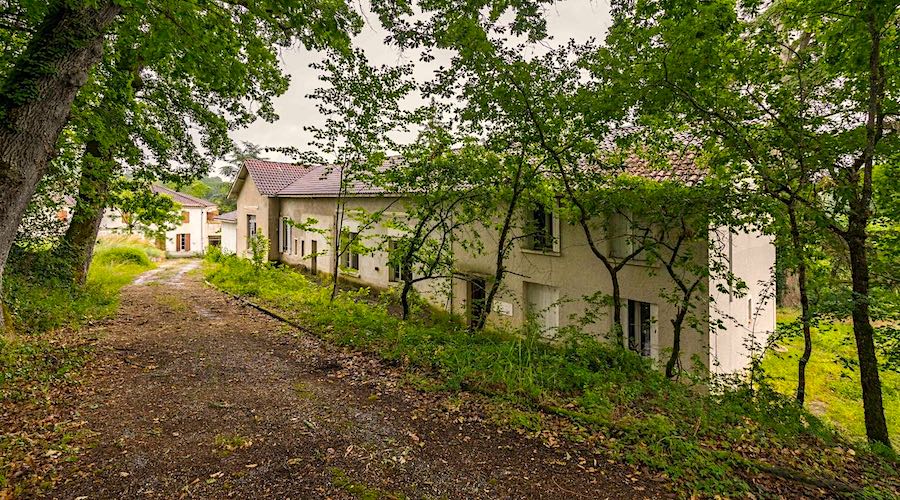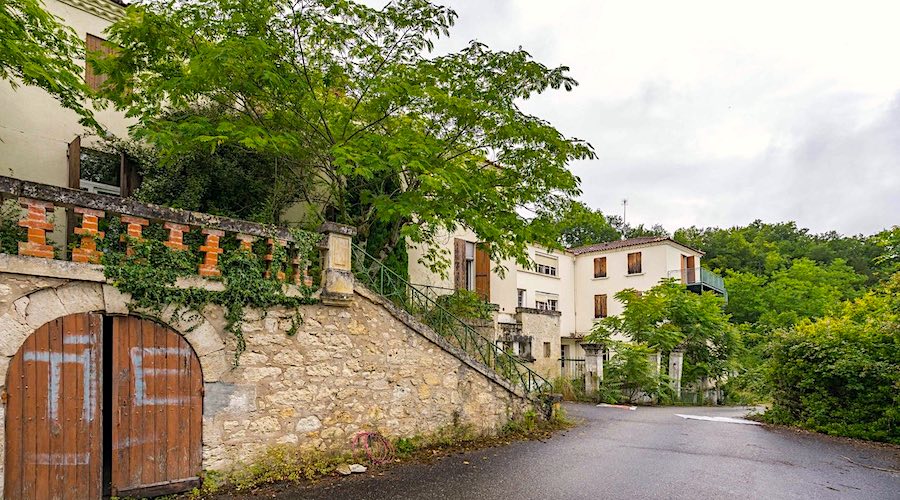 Not sure what this is all about? This is a report on one of the property candidates for our crowdfunding campaign to create a co-owned co-operative coliving space!
Attractors
complex of 3 buildings in a quiet natural setting
all the buildings are apparently solid thus no structural works 🥳
4h from Paris and only €24 👏
has a train stop on the edge of the property, just 15mins to town 🍻
25mins walk on backlane to village with bakery, supermarket and restaurant
7ha of land with large field 🐐and woods 🌲
good variety of accommodation, including lots of pods for teams
5 cohousing studios (~45m2), potential for some isolated tinyhomes
would provide many smaller separated common spaces
1000m2 of outbuildings with many potential uses
all works can be phased independently thus low risk
15m swimming pool
small all year water source could be used for naturally fed pool
can accommodate big gatherings and festivals, including camping
can host vanlifers and operate as a rural coworking with parking
has an old pigeonnier (dovecot) as its notable architectural feature
strong business potential for team retreats without impacting community
Detractors
expensive running costs, probably very high French taxes TBC
will have to demolish some buildings to reduce taxes, they're ugly anyway
far too many common rooms to decorate and furnish
no public sewerage
somewhat dreary and chilly in winter
fair bit of effort to redecorate, redo plumbing, replace windows and endless fiddly bits
tame and unimpressive landscape with no challenges, adventure requires a daytrip and 1h drive
only a couple of notably larger spaces
Share co-ownership cost
Only quick estimates for now. Our individual monthly cost (split of collective expenses) is likely to be around €300/month (less for pods/additional occupants), for as long as the value of shares you hold, in any available room type at its corresponding share value:
Premium €1850/month
Standard €1350/month
Basic €1050/month
Pod €650/month
Dedicated studio €24,000 (excluding fitout)
See the questions page for details on how this works. Essentially the share ownership buys you a share of the space for which you contribute at-cost. Looks like this property could have a better than 30% availability margin.
Comparison
Hub House is not an entirely new model, although co-ownership of such a space is. For affordable rural coliving rentals, the following spaces are somewhat comparable.
Jacob's thoughts
Whilst I wasn't completely sold on the idea of being deeper in nature (as opposed the edge of a town) and despite only seeing it in the drizzle, I liked the setting more than expected. It genuinely demonstrates the hub model — escaping and gathering together. To focus on what we can enjoy as a group or individually, within a dynamic space having a calm natural setting. (From these hubs we may then head off into the network of satellite locations, but the larger hubs ground us.)
A hub such as this would enable us to focus on our projects and ourselves, being productive as well as recharging, much more than an urban setting, to enjoy sereneness, simultaneously surrounded with the dynamism of a diverse community and space. Still a stone's throw from town with independent access thus not cut off as usual for rural.
We obviously can't have everything, and what it lacks in an interesting environment is good at least for its surroundings and the odd stroll, yet would be more than well balanced by great facilities within. A hot tub, sauna, indoor sports, firepit, pizza oven, winter greenhouse, and more — to be accompanied by mulled wine or chai would make the rather dreary winters whizz by rather enjoyably!
Thanks to its land, it allows the property to host 🎪 great festivals, with a more diverse schedule of events involving the outdoors. It should also appeal to those of you whom are more interested in being rural and maybe even play around with some permaculture and friendly animals. 🐓 (Did I say play with? I think I mean eat. 🍗🌽)
The area — Agen, France🇫🇷
☃️2–10–16°  🏖27–36°  ☀️10 days  🌧9 days
small town (35k pop) midway between two of France's major cities (Toulouse and Bordeaux), on a big river, the transversal canal, and adjacent to the Lot valley
direct daily trains to Paris only 3h15 just €20, plus to several airports (Toulouse, Bordeaux, Carcassonne)
the town has recently undergone some renovation of public spaces, with a long pedestrian boulevard, many cafes and diverse restaurants, cinemas, plus even theatres and art spaces — pretty unusual for a town of this size, and pleasant even in the drizzle
Some pilfered photos of the towns and villages…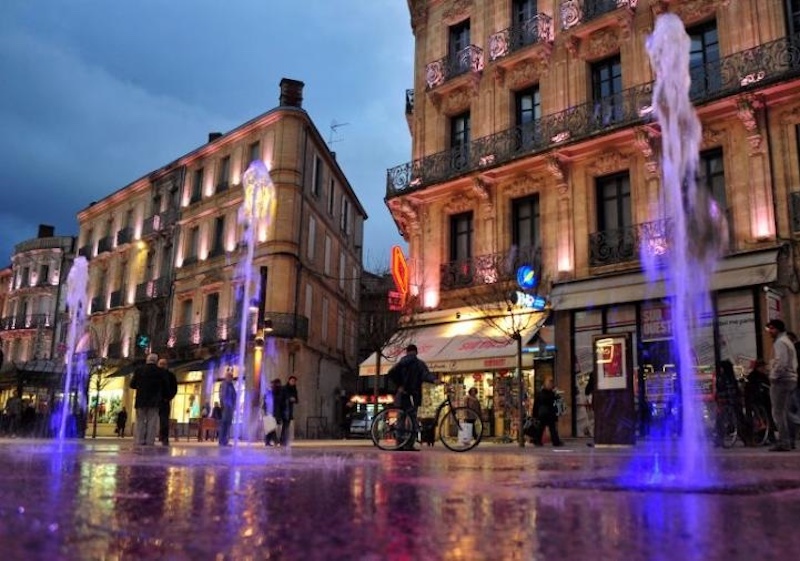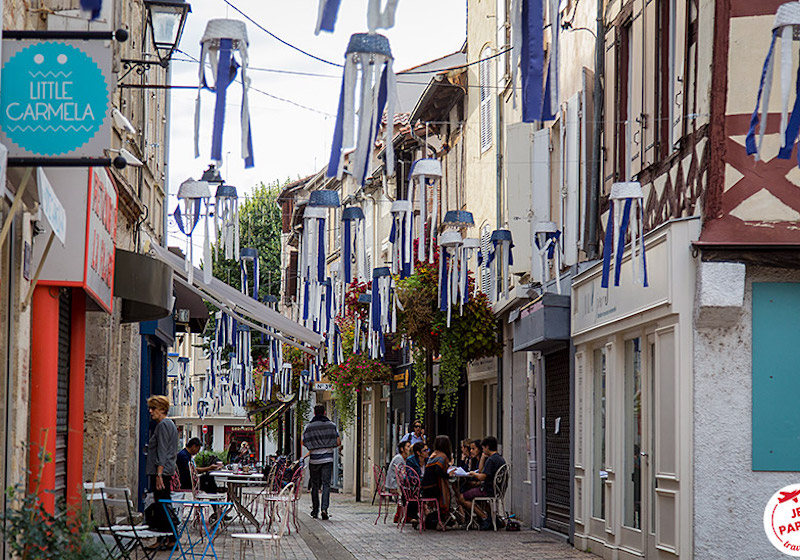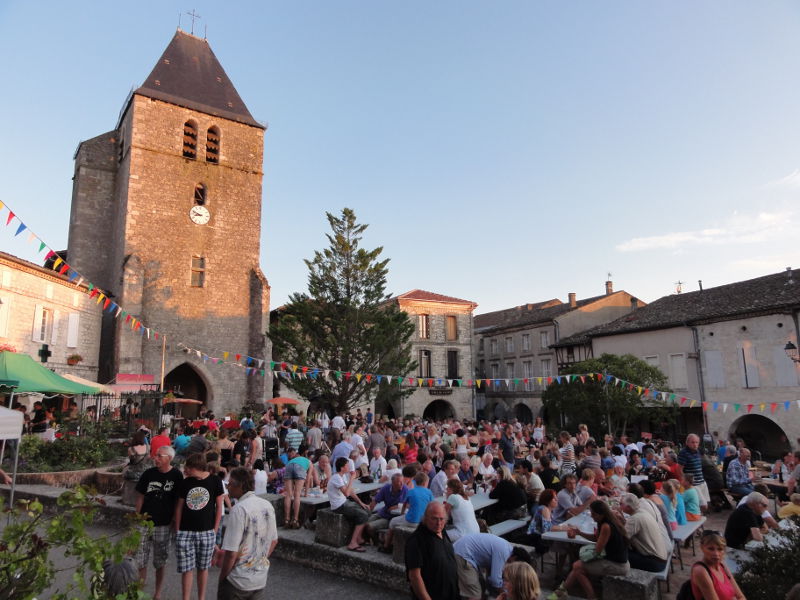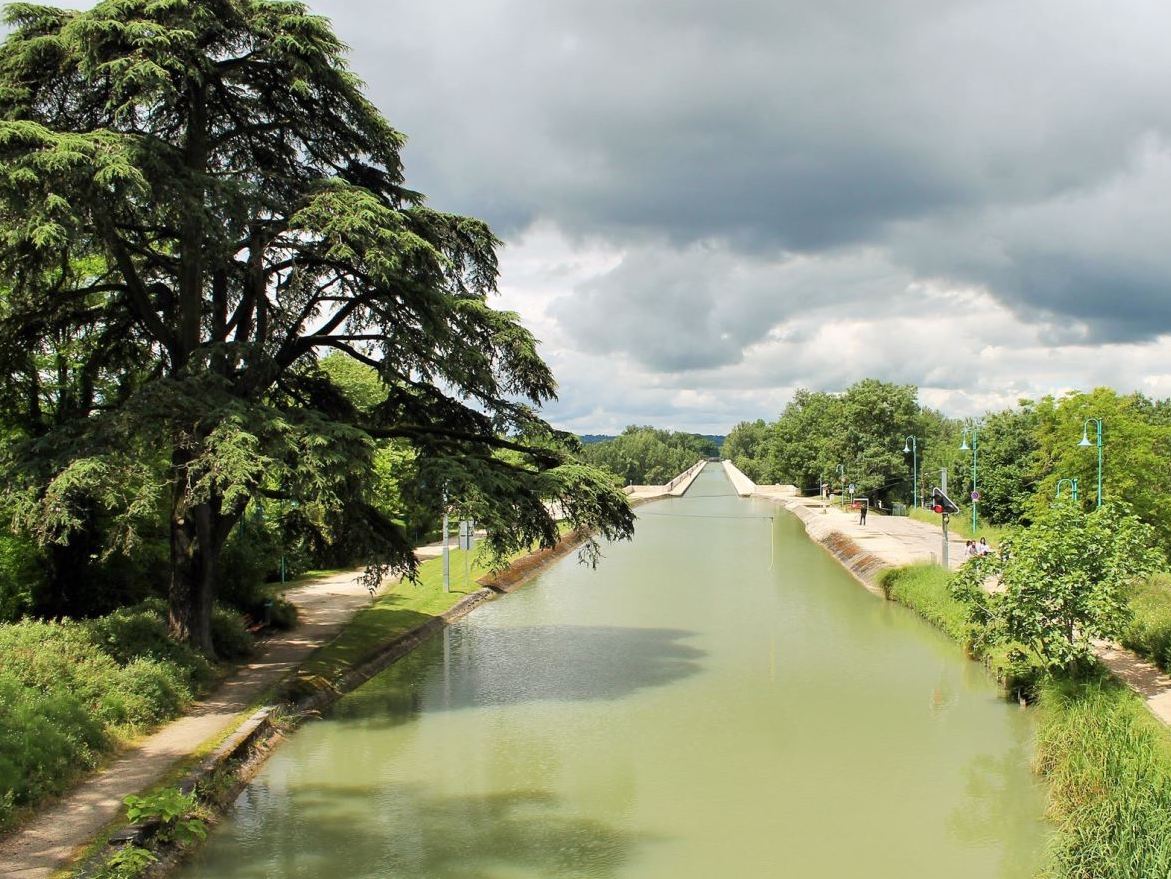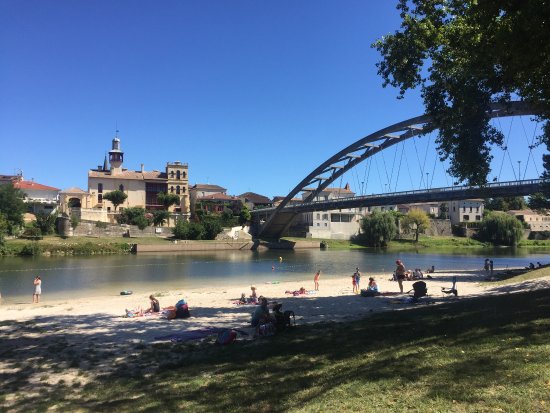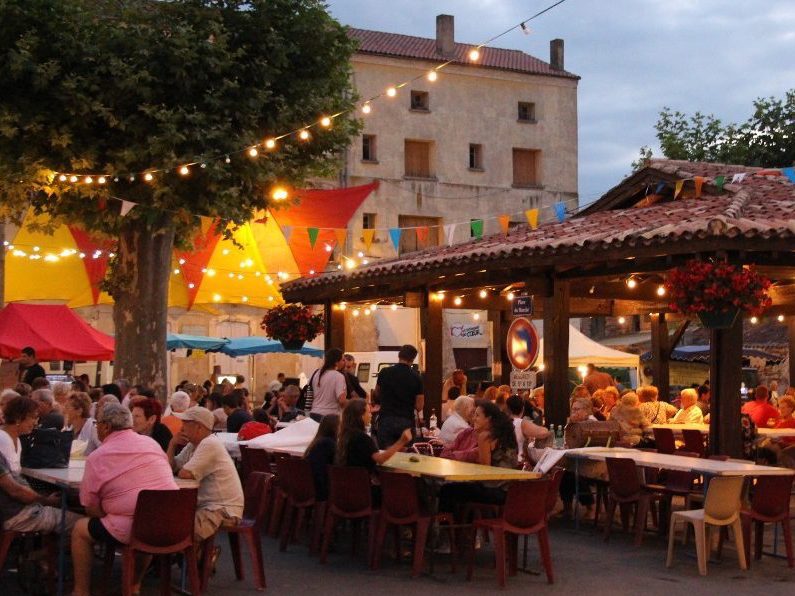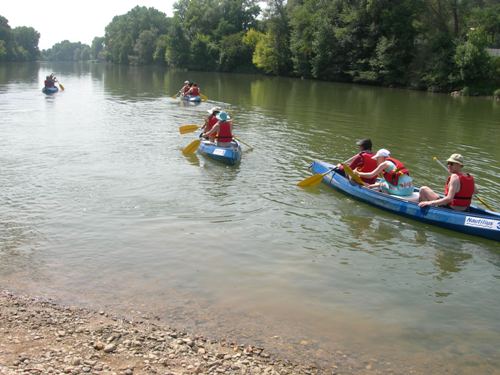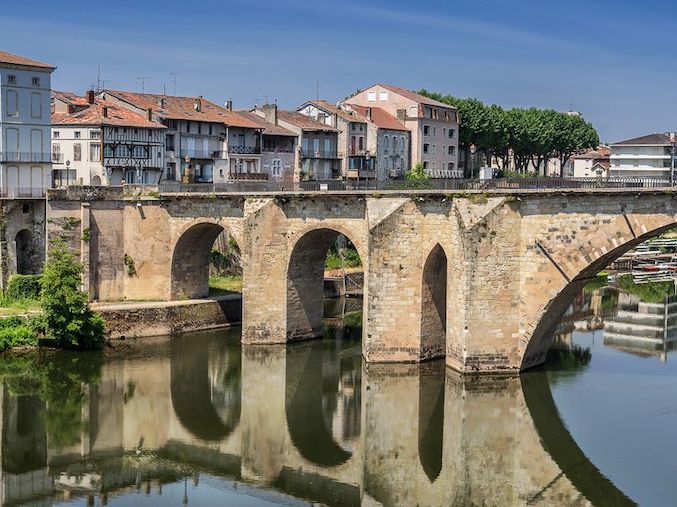 A positive point for the location is the more sustainable access by rail. Further afield requires a flight, whereas Agen is reachable by train in 7h from London (grab a discounted Eurostar, then the OuiGo for only about £50!), 9h from Amsterdam/Köln, even Berlin can be reached in a day. The best route from Amsterdam and Berlin is once weekly on the Moscow–Paris sleeper then the high speed train, alternatively take any train to Paris and the daily night train out at 10pm but then requires a 1h wait and two local trains.

Temperatures in winter are a little cold at around 10°C daytime for 3 months, with a fair number of cloudy and rainy days, nonetheless there are good sunny days with winter highs around 16° (in can actually hit low twenties). As many of us can be flexible about when to work and take advantage of the outside we can thus seize the sunny days, furthermore even the mild overcast days are pleasant enough especially if you're escaping a smelly noisy city.

This video shows the annual prune festival in town. Not this lively the rest of the year of course! 😅


Further afield (~1h) for daytrips.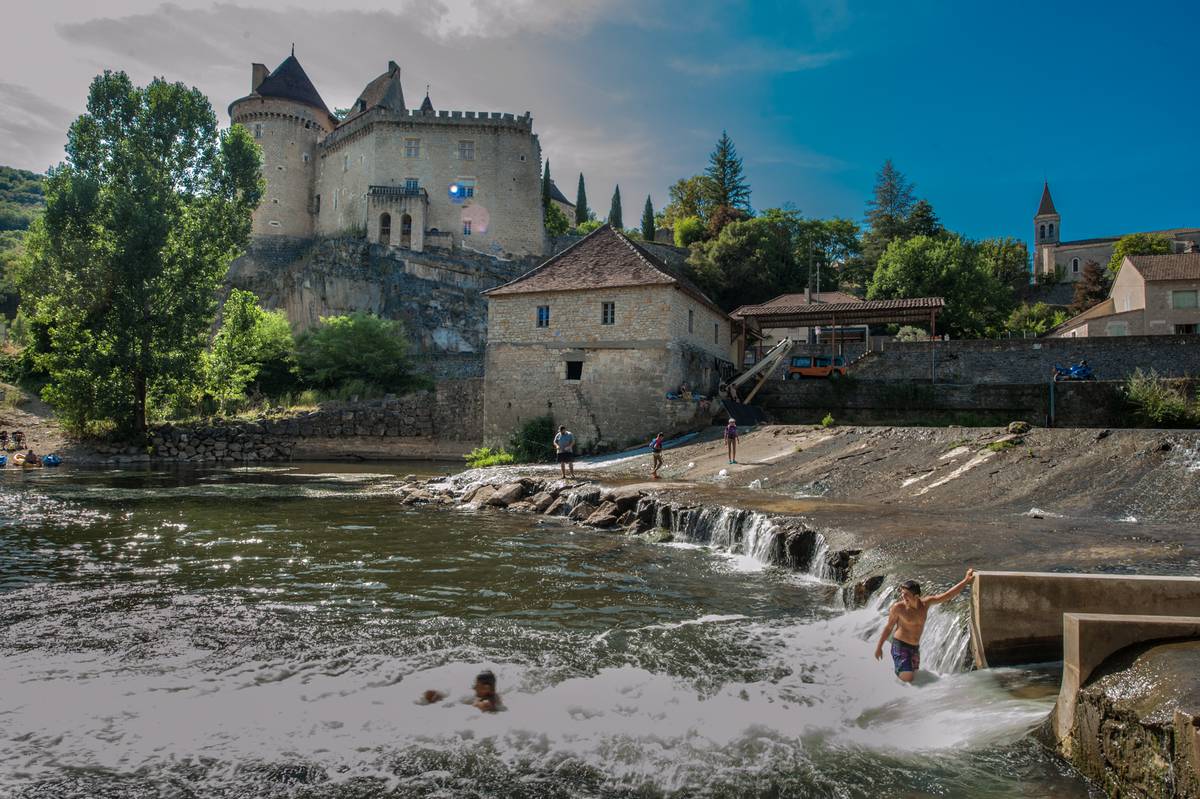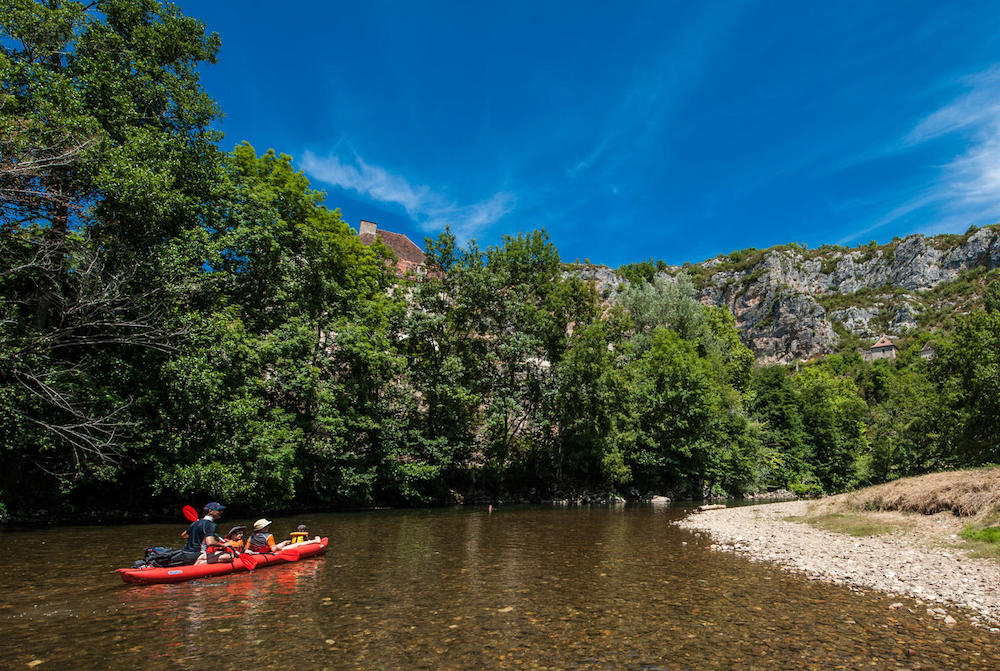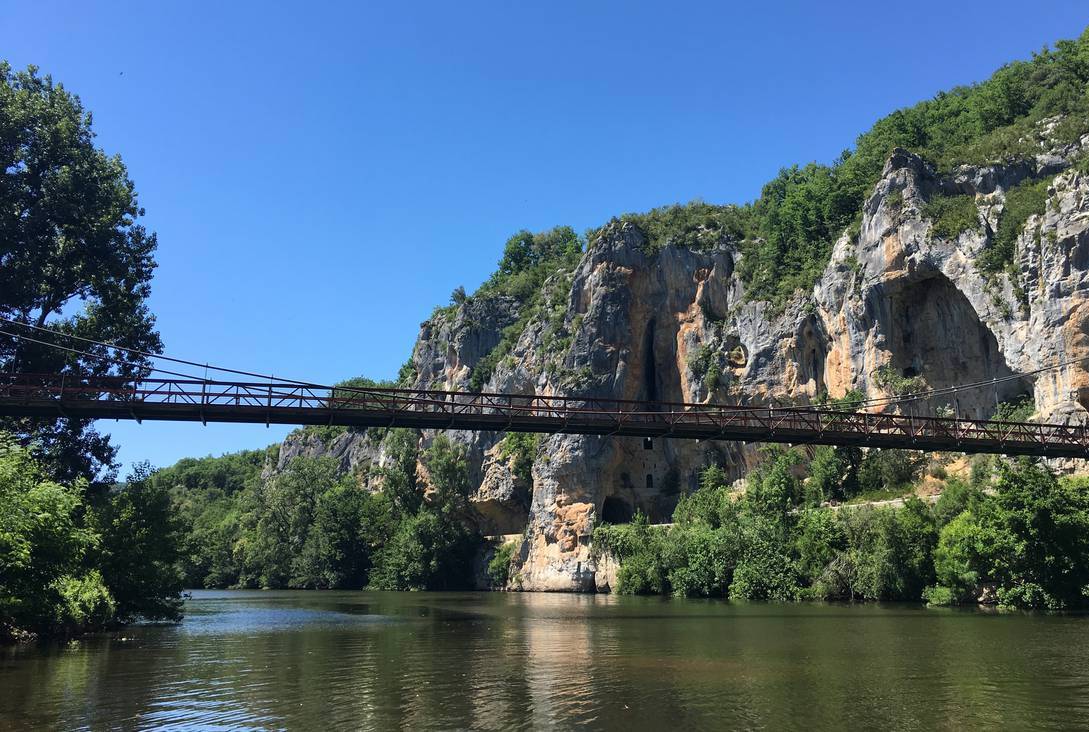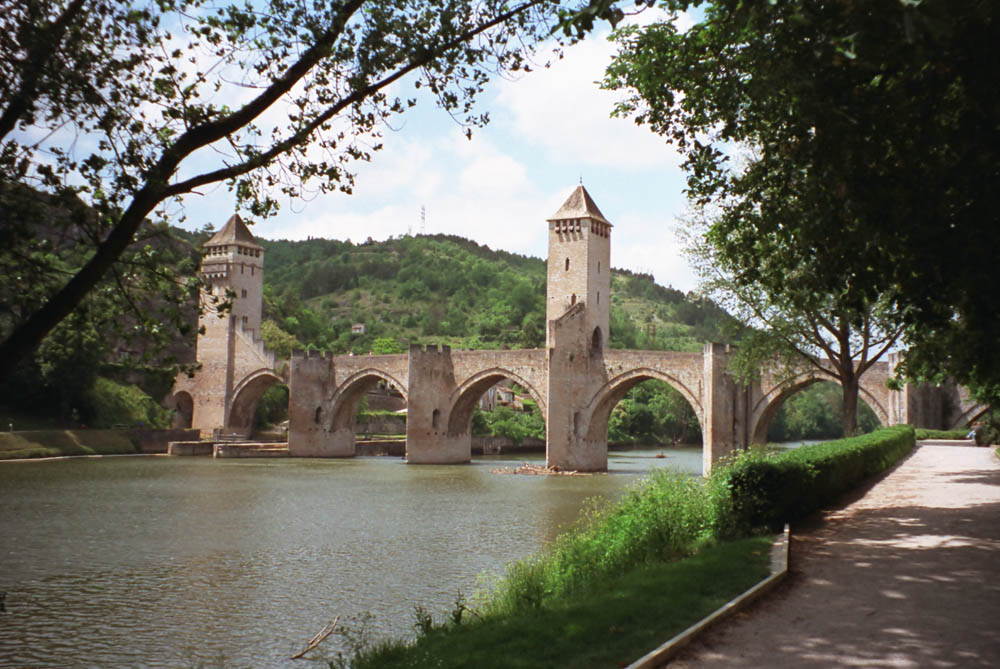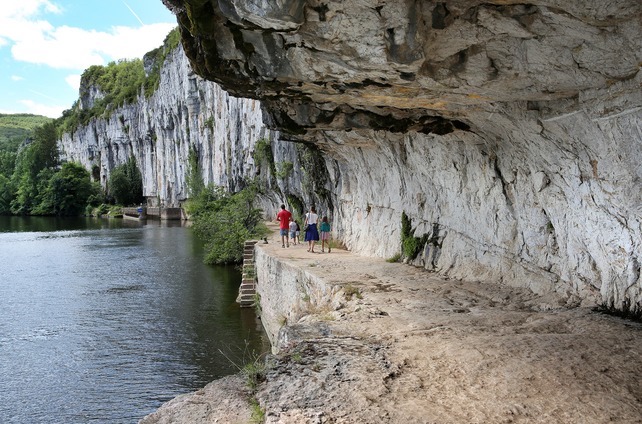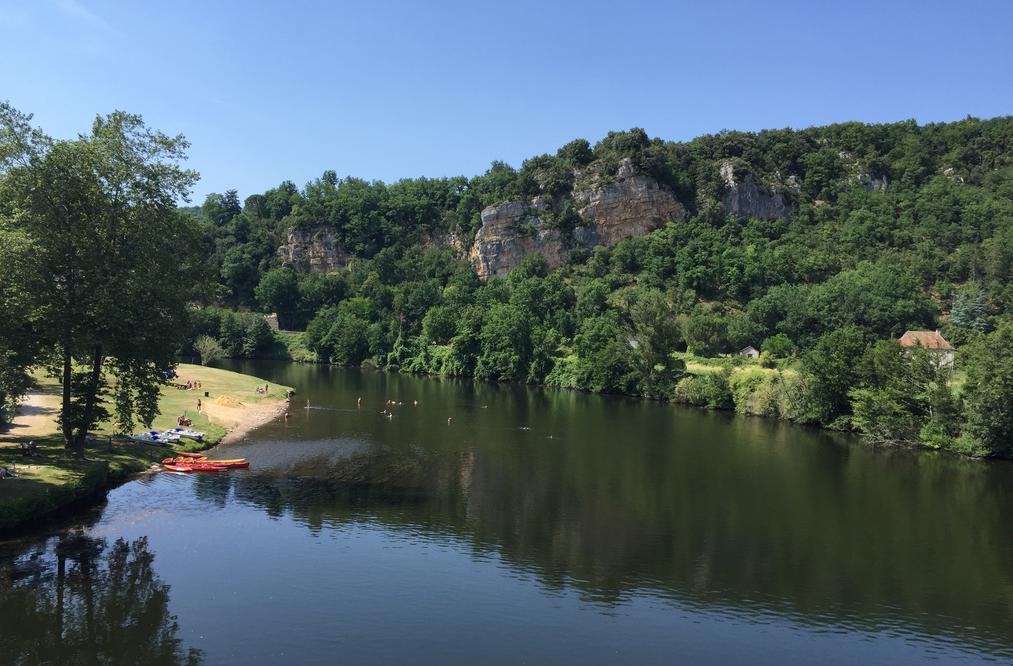 The property
2000m² across 3 buildings • 1000m² of outbuildings • 7ha land
OKAY  🔨 effort
GREAT  💰 cost
GOOD  🚌 transport
GOOD  ✈️ access
OKAY  🛒 shops
OKAY  🏙 towns
DODGY  🧗 activities
DODGY  ☀️ climate
DODGY  ⛰️ nature
GREAT  🌷 garden
OKAY  🏠 building
GOOD  🏘 hood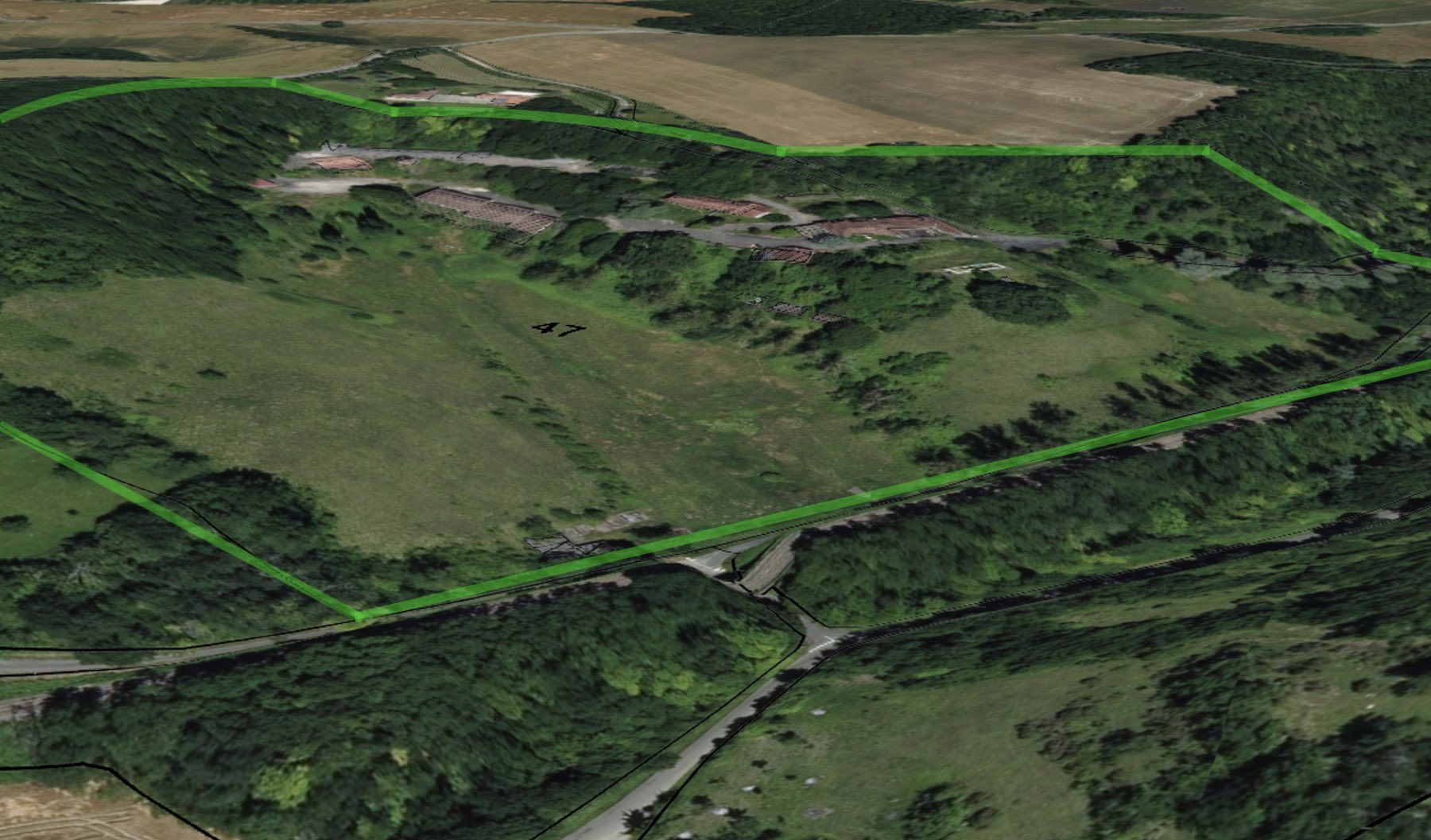 Common spaces (1150m² +320m²)
main building – ground floor
lively coworking 40m² for 12 seats, with 20m² conservatory
cosy lounge 30m² with fireplace
dining 70m² for 30–40 seats
kitchen 40m²
common 35m²
morning room 45m²
main building – top floor
2 callrooms 6m²
lounge 35m² with all round views
library lounge 30m² with fireplace
work lounge 30m² onto roof terrace
kitchenette/bar 30m² onto roof terrace
main building – basement
kitchenette / yakiniku ~40m² onto courtyard
kitchenette / bar ~30m² onto conservatory
karaoke den ~30m²
common 35m² onto conservatory
common 40m² onto courtyard
sauna 30m²
cave 30m²
garages 70m²
accommodation block (2 floors and basement) connected via long greenhouse to main building
master kitchen/dining 180m² floor-ceiling windows, plus balcony
common 45m²
lookout lounge 45m² floor-ceiling windows
hall building (1 floor) connected via passage to main building
lounge 40m²
outbuildings
coworking 100m² for 26 seats, standalone amongst trees
auditorium/cinema 200m²
indoor sports 120m²
Accommodations
26 rooms for fractional ownership, 5 studios for dedicated, 6 rooms for guides and volunteers, plus 20 pods.
Typical occupancy would be around 30 (including volunteers, excluding cohousing and pods), this is two or three cohesive social groups ensuring diversity. Capacity could potentially increase to over 70 for occasional events, plus camping.
All standard or better rooms in the accommodation block have south facing views over the land. Pods have a double mattress, curtains, storage, light and power. There'd be a women-only room as well as open-plan, all of which are large (30–45m2) and have shared bathrooms next door.
main building
4 dorms across 145m² with 20 pods
hall building
2 premium 25m² mezzanine
2 standard 25m² mezzanine
4 standard 19m² mezzanine
4 standard 19m²
accommodation block
5 studios (cohousing) 45m²
8 premium 20m²
2 standard 25m²
10 basic 10m²
Outdoors
60m2 roof terrace
350m2 lawn
15m pool, spring-fed with tepid shoulder-season heating
hot-tub and sauna
150m2 courtyard and conservatory
various terraces
1200m2 sports field
outdoor auditorium and firepit
3.5ha fields/agricultural
2ha woods (steep)
There are three outbuildings on stilts lower down that might be converted into studios. There's also a little building next to the main building which could make more studios, however it is blocking the view so would probably have at least it's top floor demolished.
The scale of the property is a bit crazy, it takes a fair effort to walk from the bottom gate to the top. It's really diverse with tons of places to both bump into and hide from folks (heaven forbid!). Between any two given points there's a multitude of routes. The main building has five stairways. Different folks could simultaneously be having a high-octane karaoke session — yet also find quiet solitude in the many rooms and around the land.
Whilst there is a lack of significant large common spaces, the master kitchen and dining would be a converted open plan basement looking out over the valley, and could accommodate 60+, whilst whole-community gatherings would generally take place in the auditorium or outdoors.
The only notable exterior architectural detail is the pigeonnier tower which also happens to have a water source in its basement. The main building however has a few great details, including humongous beams, stone window frames (now a feature inside between the dining and coworking extension), a spiral staircase, vaulted cellars and some wooden floors.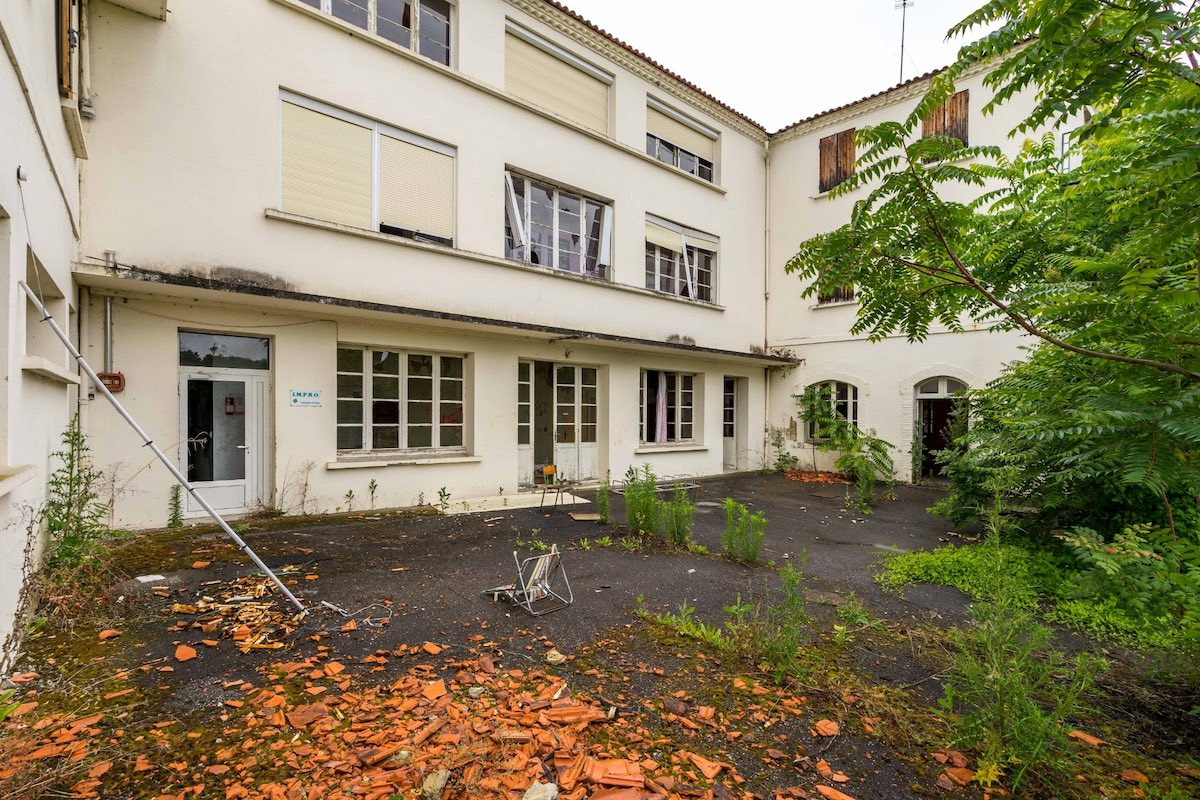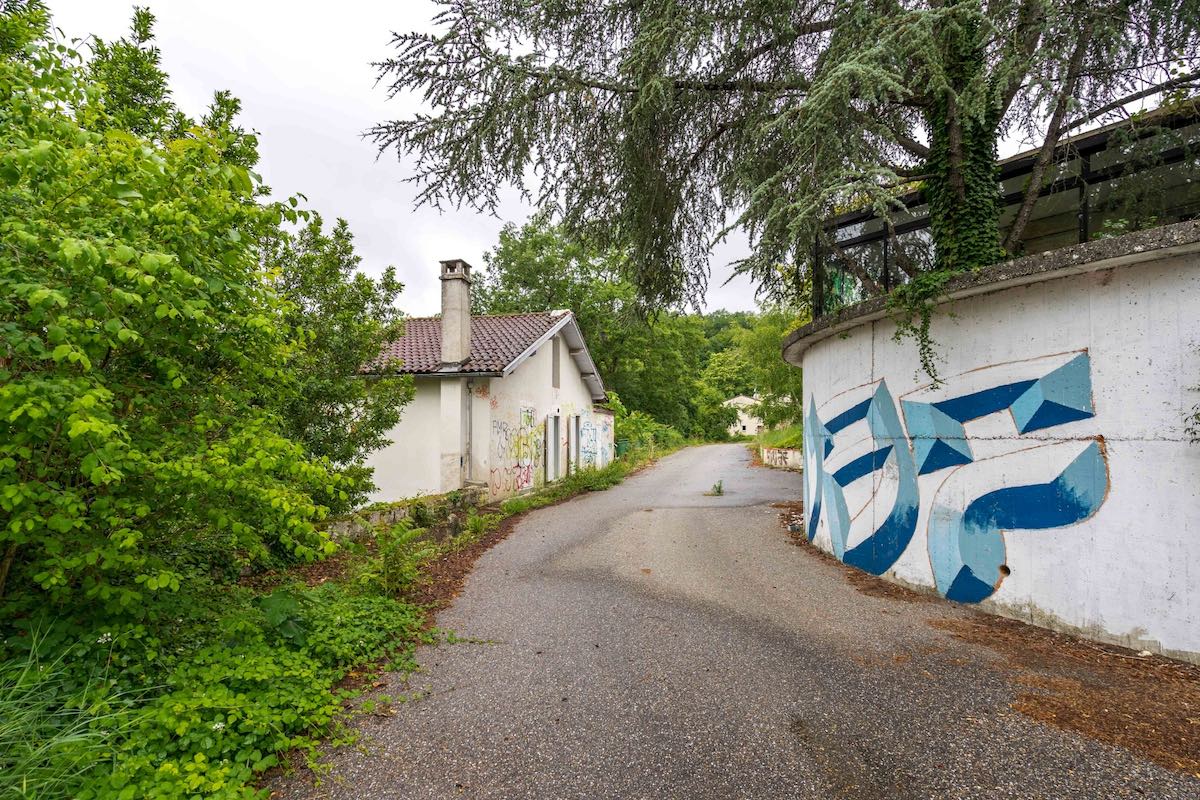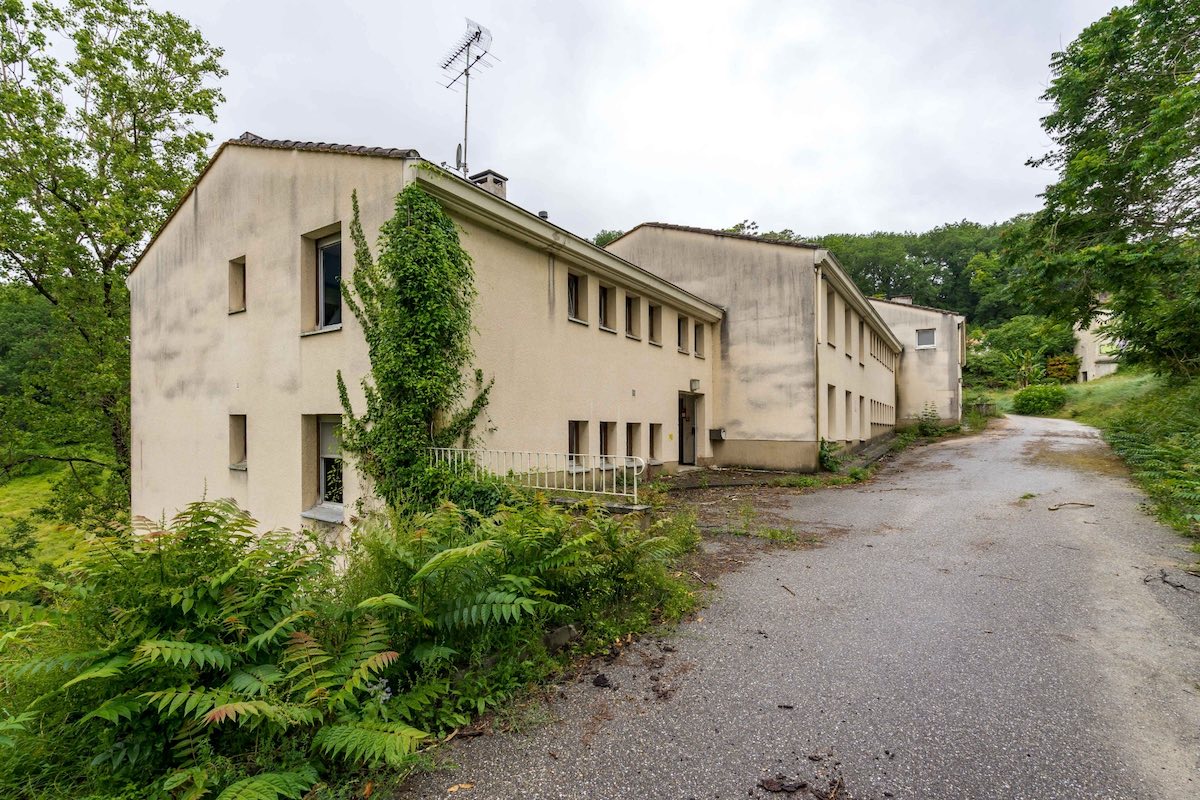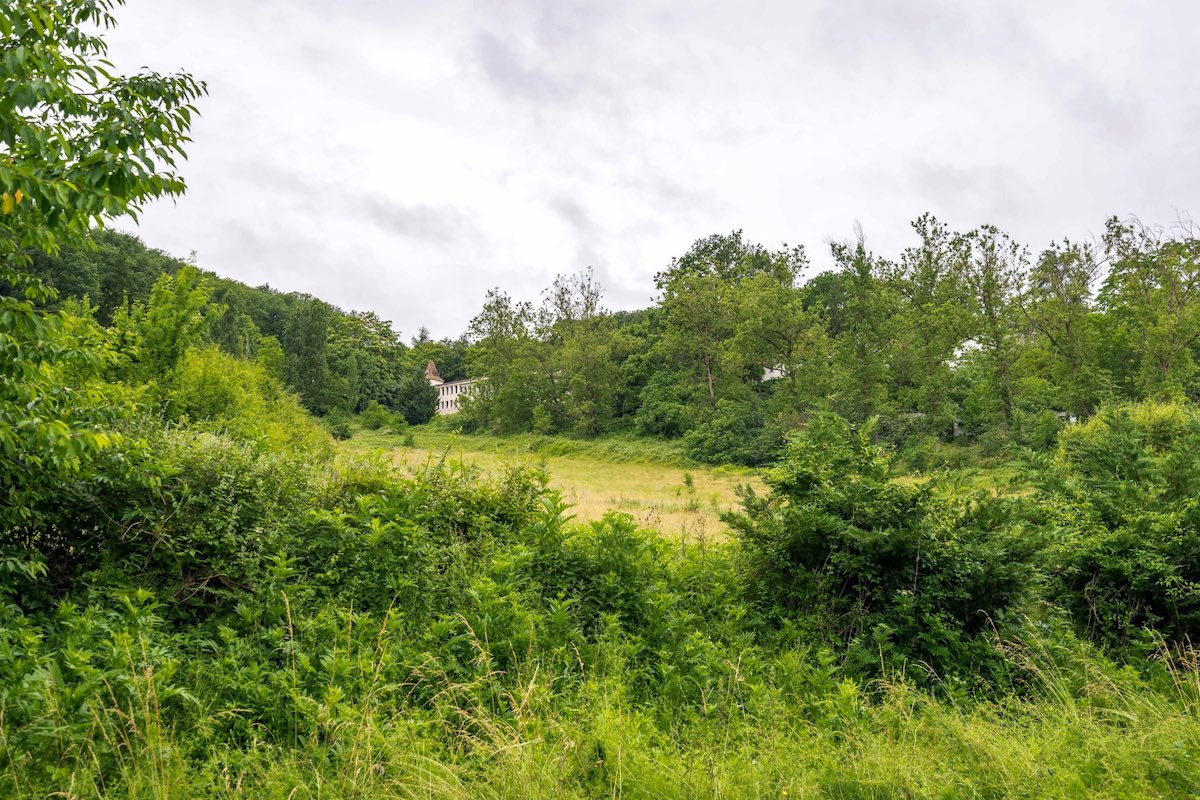 From the top access track, main building on the left, coworking on the right.

This could be a games field near the top of the property, looking past the front of the accommodation block.

The main access lane between the hall and accommodation block, on a grey day.



From the top floor lounge's balcony over the swimming pool, lawn and courtyard.

The land from near the bottom of the lane.
Locality
Near the top top of a very quiet little valley, its own steep little nook surrounded by trees but open to look down and across the valley. Access is up along a private lane lined by fantastic old trees, which are also dotted about the property.
The railway has a singletrack embankment across the bottom of the property partly hidden by bushes and trees, carrying 12 tiny local trains daily (not all stop, M–F only 4 stop, and 1 on Sat/Sun).
25mins walk to the village and supermarket on backlanes
10mins walk to station +15mins to town
weekly market in village and town
good restaurant in village
local farm, brewery, dance school
Access is via small back roads to both the north and south. At the south the road is behind the railway from where the property has a private tarmac lane under the small railway bridge. Streetview passes (rail bridge is visible on the right) and goes along the route to the village (go down the road a few metres and take the first left). At the north it's a track, also private, only just visible from streetview.
There are two neighbours, one hidden just above the highest part of the land, which appears to be a holiday home, and another hidden behind the hillock to the south.
Quite amusingly, there is an existing hub just around the corner! La Maison Forte, it's what the French call a tiers-lieu (third space) offering rural coworking, and events, plus unusually accommodation. It's small, and obviously focusses on the French market, which I believe would be complimentary. In season they organise entertainment, music and dancing, whilst also running (paid) programmes such as how to build a tinyhome.
Comparison versus Portugal
The main distinction is financial and risk, with Cravinos significant capital is required to begin the works that are required to make any of it part usable, and any failure or miscalculation could put the project at risk. Poulin is cheaper and structurally functional, and thus can be used with much less initial capital, allowing flexible funding and works over time. However the inverse is true of operations, notably taxes, which I am investigating.
The climate is 4–6° cooler, but both locations get a bit of snow and feel nippy. Both have a station ~4h (inc) to the capital, are walking distance to shops, etc. All else not following being roughly equal.
| #60 Poulin, France | #53 Cravinos, Portugal |
| --- | --- |
| no significant work, lots fiddly | lots of significant work, much standardised |
| less surrounding novelty | more surrounding novelty |
| quiet and rural | edge of town |
| swimming pool, trickling source | rushing stream |
| private and green with trees | exposed with terraced plots |
| calm rolling hills | impressive rocky mountain |
| many quirky smaller dispersed spaces | fewer better connected huge spaces |
| more of a clubhouse / country club | more a modernised institution |
| 30% less rain, fewer clear days | 4–6° warmer, more clear days |
| gentle activities | adventurous activities |
| lively+diverse town | quiet+provincial town |
| after 8:30pm requires driving | can walk home |
| cities 1h30 | no cities |
| lots of workshop and camping space | no additional spaces |
| railway below behind trees | railway above on bridge |
| cheaper electricity (-35%) | expensive electricity (but some free) |
| expensive taxes | cheap taxes |
Plans

---
Business, yield and risks
The preceding auction received no bids, thus the asking price has been halved this time around. The seller is the department (county council) as their prior tenant who developed the property left over fifteen years ago. I had a quick chat with their friendly reps who knew the property and were local. There were only two other people visiting with me, one of which I was able to speak with, and whom has a project with a good fit, however as it is a commercial project the costs using French norms are likely to be unreasonable to them. We can but wait and see how the auction pans out but I'm prepared to put a deposit down if numbers add up (in progress…).
France is not an appealing off-season destination, however as demonstrated by events and spaces with great folks, we should be able to mitigate this although it will take time. Studios would be exclusively for dedicated ownership, thus removing competition and increasing chances of rental.
An example of a rural French coliving, are the awesome gang at Mutinerie Village, which is a coliving and rural coworking space 1h30 from Paris. They are not so oriented for medium-term stays, rather for retreats out from Paris, and as such a room goes for €370/week (including great local meals!), a not atypical price for shorter-term coliving. I suspect I might be being too conservative with rates but we'd have significant scale to fill in order to pay the pesky taxes/rates.
There's a possibility of taking on an enterprise sponsorship for the project, co-branding and/or offering team retreats, possibly creating a program (e.g. incubation) that runs from the space. France is a good candidate for this.
Without doubt owning property in France is not cheap as rates are high. A small apartment in town comes in at around €100/month if you own and live in it. I'm awaiting evaluation of the rates, some properties have a historic tax classification resulting in a bill of only a few thousand per year which would be exceptionally nice but unlikely as it has never been taxed (being county property). The realistic best-case is more like €12k, and could be over twice that (depending upon what we demolish).
Whilst avoiding tax is appealing, I don't think it's reasonable to establish a community without due contribution, thus only fair. This said anything it could create a lot of operational risk unless it takes the form of a reimbursed member fee.
We will most likely establish an association registered in France to operate the property, this provides a tax-free allowance and
We may have to institute a membership fee which would be deducted against use. We may also change the capital allocations on shares from investors (business/rentals) and incorporate into the ownership shares, if investor support is not adequate; this essentially means the value of shares could be reduced (up to 30%), but then rental revenues would come back to us collectively instead of the investors. This needn't be addressed until much later as this proportion of capital would be allocated only for non-essential improvements in later phases.
Heating costs can be reduced with ground-source/solar. If occupancy is low during off seasons, surplus parts of the buildings can easily be closed off.
Team retreats would form a significant element of the business offering.
There's capacity for additional studio, if further capital is required. Half of the pods are not allocated for capacity, and more can be added.
Events
Picture the property with lights strewn around all the trees and up along the lane!
For use as team retreats, the 20 pods are perfect with several adjoining bathrooms, and in fact most of the main building could be offered for private use as the accommodation block has its own kitchen, lounge and laundry, plus the coworking is independent. Thus the business potential is extremely good as very few options exist for sizeable team retreats by remote companies, that are affordable with professional facilities.
Not only can we have space for indoor sports, but even esports. A large auditorium in a natural setting is somewhat unusual and makes a nice balance, throw in some live-action role play (LARPing) even.
With a goal of a significant gathering each month (except summer which is plenty nice enough) dynamism would be high year round.
Fitout and operation
Some of the heating will be underfloor using a ground-source heat pump, thus reducing heating costs in the most used common spaces (master coworking, lively coworking, and maybe the master kitchen/dining plus corner lounge). This system can also be used to take the chill of the pool in shoulder seasons (not winter) and the hot water supply (including for the hot tub). Nonetheless heating will be significant in winter, but with reduced capacity closing off areas and using presence-based heating will mitigate waste.
The summer climate is not unreasonably hot, plus the buildings either have stone construction or are partly shaded by trees.
Fibre is not due until 2023, however I saw it being strung along lines (for a higher priority community) only 3km away. The top edge of the property has a good elevated position and we could thus create a wireless relay from a friendly person with fibre. The property probably already has multiple copper lines and there's adequate VDSL at 30Mbps+ (exchange is 2km) which can be bonded across multiple lines, nonetheless this isn't adequate for upstream. An SDSL connection could be added for video calls, 4Mbps is €150/month. There's also a WiMAX emitter (LGTel.fr) 6km away, which is about the same cost as SDSL but not as reliable. All but one 4G antenna have reduced coverage due to being in the valley, the remaining (Orange) is directly opposite.
Insurance will only be third-party and fire. Our maintenance fund will have to cover all breakages/accidents. Theft will not be covered as the property will always have members and staff present; members may lock their rooms and insure their own possessions. If we take responsibility for other's things it would get complicated and expensive.
Renovations
This section partially serves as notes to myself.
All can be completed in phases, it's not yet clear if we'd start with the accommodation block or main building, however before anything commences a significant effort would have to be made to do a clean up, and remove undesirable features such as all the old office-style hanging ceilings. The owners have suggested that they would remove the old underground fuel tanks.
There's a fair bit that can be reclaimed if desired, such as sinks, doors, shutters, maybe even the fire detection system. Most of the floors are usable including the wooden ones, although premium rooms would need an upgrade, as would the master coworking.
All the buildings need new windows, however many of aluminium their frames are in good condition thus it may be possible to simply fit new seals and glazing. Similarly some of the doors. Less work with new units however.
Some of the walls and ceilings have very mouldy peeling finishes which will need stripping and dehumidification before new finishes. Most of the floors are usable, the accommodation block has a practical mosaic tile floor. The secondary building however has failing plaster lathe ceilings thus would be hidden behind new plasterboard.
Septic tanks can potentially be upgraded for a more organic process, otherwise will emptying frequency may lead to significant costs.
There actually exists a central heating system with (some remaining) radiators, although would not be needed (replaced with electric and underfloor).
Windows in the east wing are mostly okay and can simply have their single glazing replaced as needed. This wing contains the pod dorms which generally won't be used in winter, thus insulation is not needed as will be kept shuttered.
Old main building
This is the core old mansion which has had a small modern extension and conservatory added. Very minor roof repairs are required. It has some lovely stonework, and over time the hideous facade could be removed and restored to expose the old materials.
Modern accommodation block
Pretty boring and uniform aspect so will need to be made cosy. It benefits from a large open basement looking out over the land that would be converted into two common spaces. No idea what to do about the exterior, I guess bold street art would solve it.
Secondary/hall building
This is in slightly worse condition and has very high lathe ceilings. It also has a small modern extension.
Cafeteria
This is a large open plan standalone building that would be converted into the main coworking space.
Outbuildings
To reduce taxes and dispense with the ugliness, most of these would be demolished. We'd keep at least one for events/auditorium/cinema and probably clad it with wood. Maybe another open-plan for indoor sports. There are three 'huts' on stilts way below all the other buildings in the field, that might be possible to convert to studios.