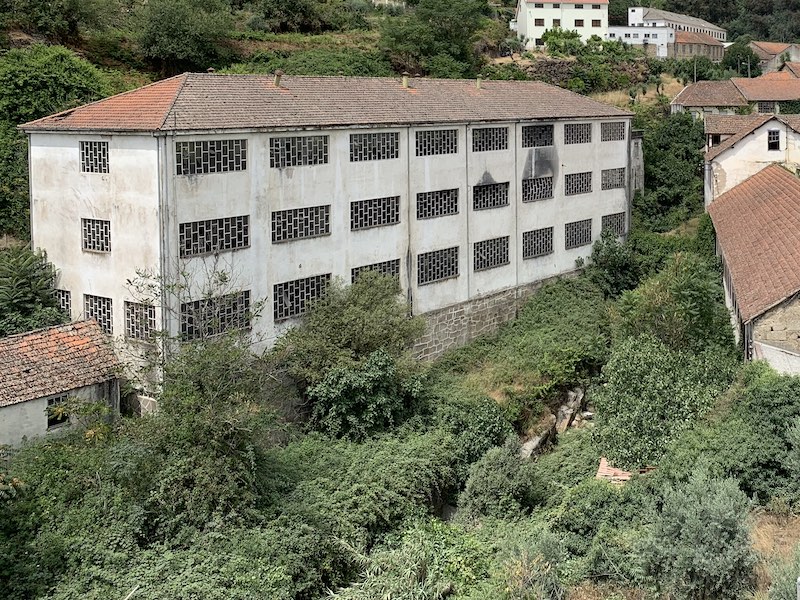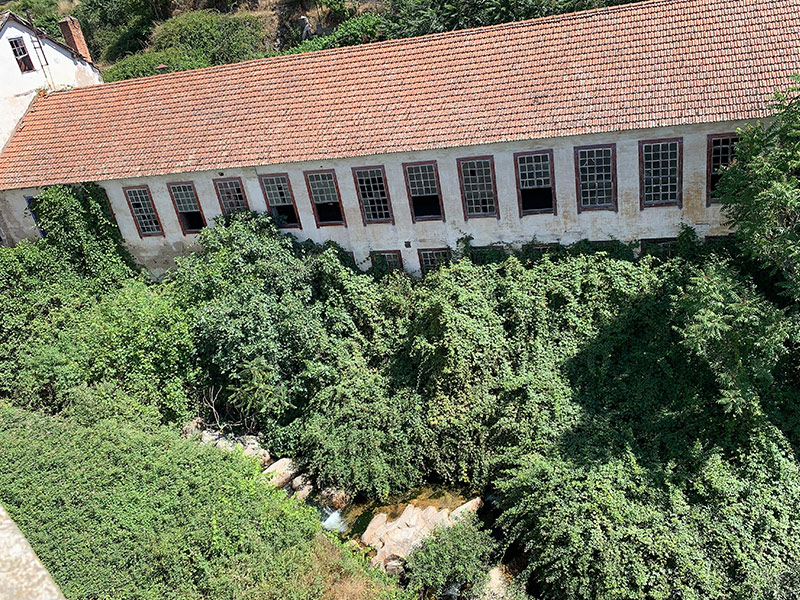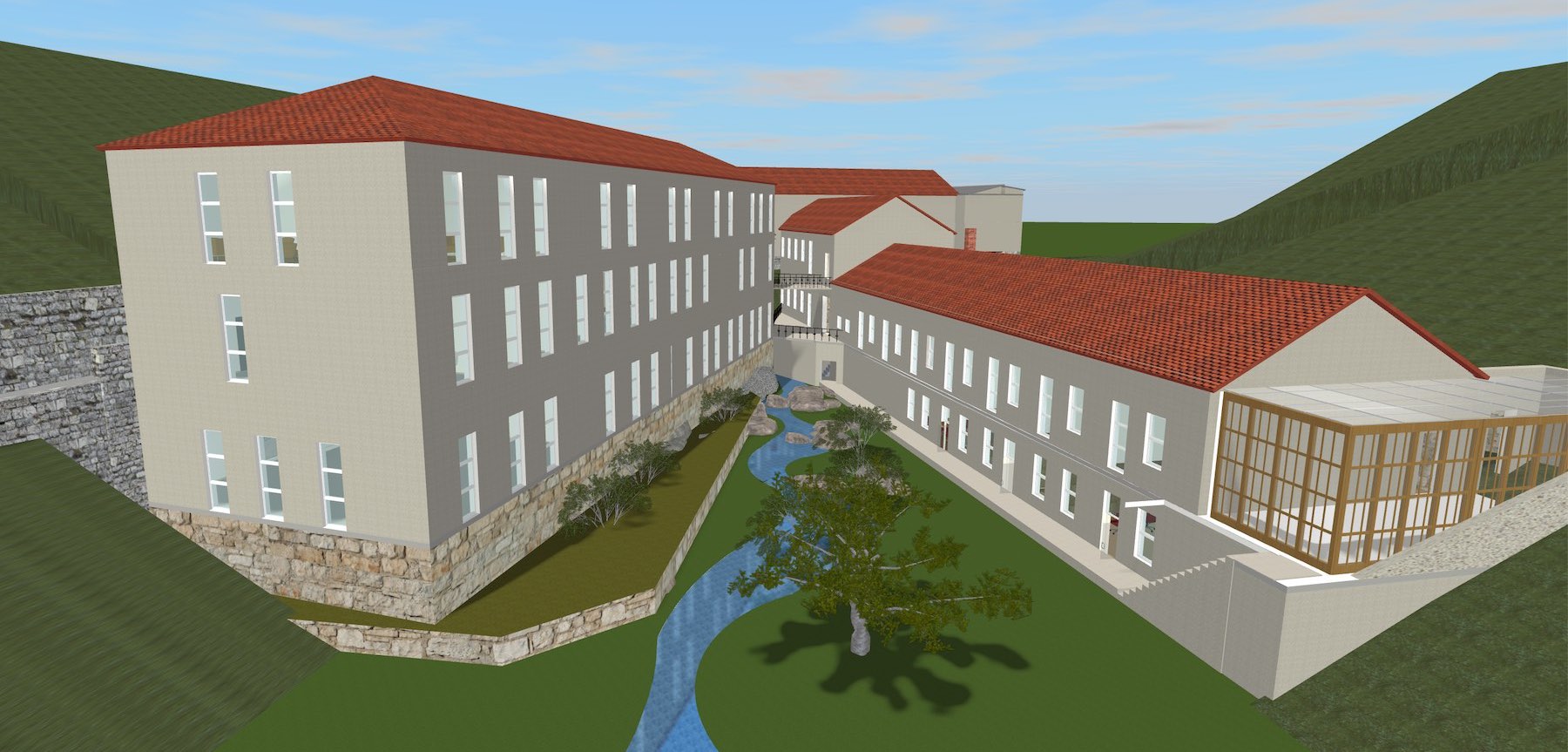 Not sure what this is all about? This is a report on one of the property candidates for our crowdfunding campaign to create a co-owned co-operative coliving space!
Attractors
complex of 3 huge buildings straddling a stream, with large terraced garden
in a quiet little valley at the edge of town, and a natural park
generous common spaces across over 12 rooms, plus outside
rentals at €500 (mid-season) inclusive of utilities, coworking (and more); comparable to flatshares in Lisbon and beating almost all other EU coliving spaces
up to 80 seat auditorium
4m high ceilings and huge windows
first building (left) is easy to convert as is formed concrete
many of the rooms will be naturally cool
walking distance (20mins) to station, town centre and closest shop
10mins bike/30mins walk to supermarkets and country club
incorporates large cohousing units
zipline into a natural splash pool anyone?!
sound of burbling stream all year
Detractors
significant work required to rebuild two stories of front wall and roof columns for third building
higher price thus negotiations could be problematic without adequate acquisition pledges, yet there's possibility of deferred payment or coverage with cohousing
basic path down valley 10mins away; nearest hiking 45mins across town
the town's suburbs are a bit ugly, yet mostly hidden by the valley and there's greenery all around, thus a very good balance of proximity to town and nature
external plumbing (across front of modern building) and pumped sewerage are required yet can be hidden with climbing plants
railway bridge crossing the valley in front of the property, yet is a single-track electrified line with slow trains as station is next door, and only 7 per day; the bridge is the only exposed part of the line (about 100m) so passage is also very brief (personally I like the architecture and reminder of being connected to the world!)
roar of stream in winter
The area — Covilhã, Portugal🇵🇹
☃️4–12–17°  🏖31–37°  ☀️13 days  🌧9 days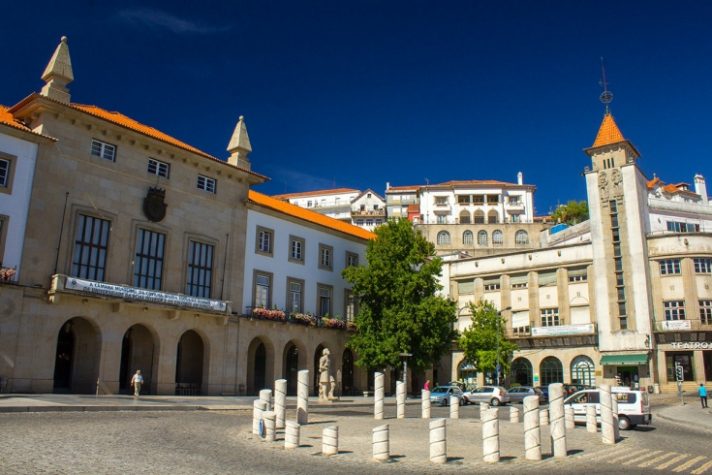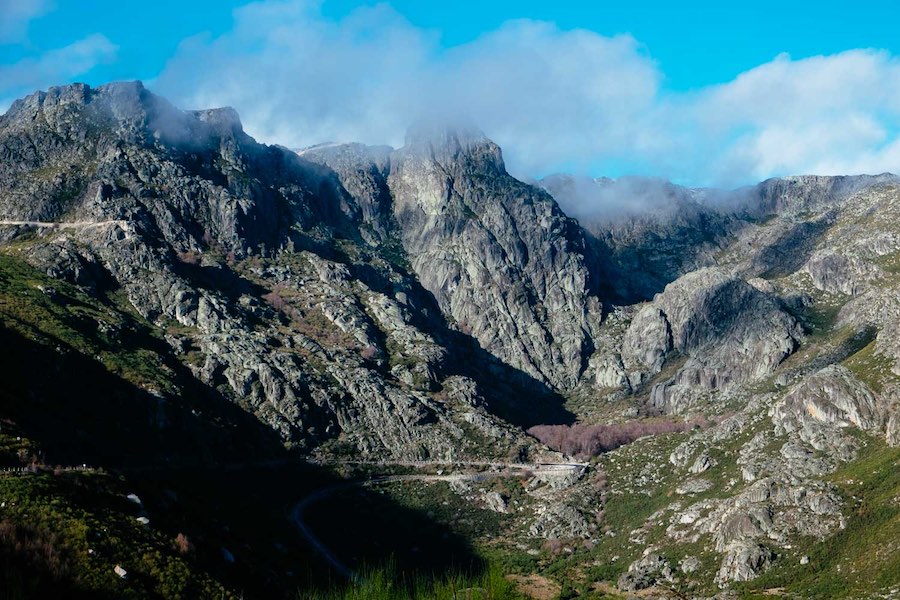 a small town located on the edge of the Serra da Estrela, Portugal's highest point at 2,000m in a large natural park with spring water and many natural swimming spots
multiple direct trains every day to Lisbon only 3h30 and just €10, or Porto by coach (3h30), train (5h) or car (2h), Madrid by coach (6h+) maybe train soon
historically centred around wool and textile production, and still today, yet primarily a university town with multiple campuses, and innovation labs
mild winter temperature of 14°C yet up in the park it gets snow and has a (tiny) ski station
thanks to its several valleys the town feels small with a population of only ~35k, although it does have some ugly burbs
has fibre internet and free wifi in town; is also base for one of the world's largest datacentres thus promising a good reliable connection
there's a number of restaurants, including two veggie and four fancy, some relaxed cafés, a shopping centre/multiplex, several supermarkets, and an organic shop
a great streetart festival, a big nightclub and some annual events
the neighbouring (and equally small) towns are close at 30–45 mins by train, otherwise Lisbon and Porto are awesome and not too far for couple of days escape (staying at Selina!)
not an unreasonable distance to remain connected with the Lisbon ecosystem, both attracting visitors and enabling members to escape for days away
most activities are 20–40mins by bike or drive, which gets you well into the natural park or down the river
within striking distance there's hiking, SUP, paragliding, mountain biking, ski/snowboarding, horse riding, kayaking…
country club with tennis, squash, pool and restaurant serving a daily €10 menu
several public gardens and spots to chillout in town
on a very steep hill, but if you're not up for it, there's lifts and local busses
covered municipal market with local producers, organic stalls every week supported by a local association (also at neighbouring town 30mins by train)
Some points against the area:
in the long could get much hotter with less water, yet is on the only tall mountain in Portugal and thus first on the atlantic
whilst daytime temperatures in winter remain reasonable there is a significant proportion of cloudy and rainy days, nonetheless this should not be a concern as we mostly work indoors, and can be flexible about when to take advantage of the sunny days
Some photos from my exploration of both the valley where the properties are, and up in the natural park.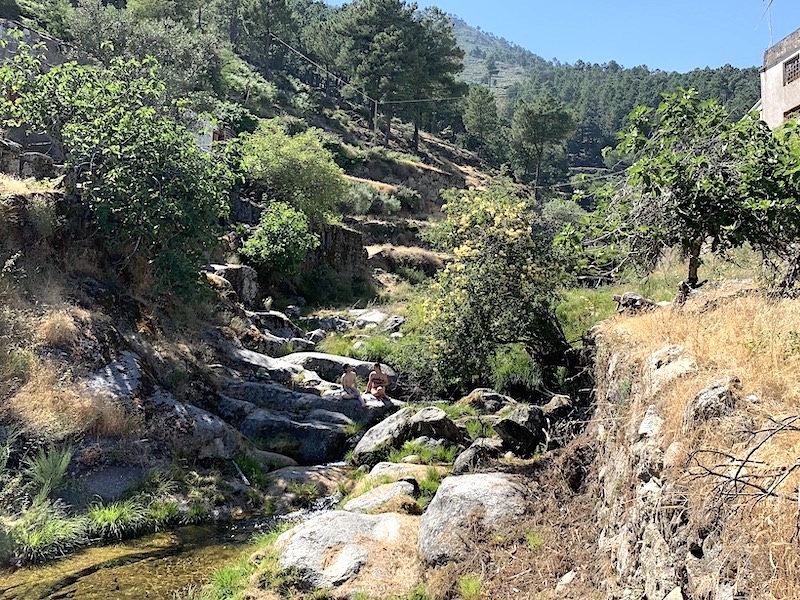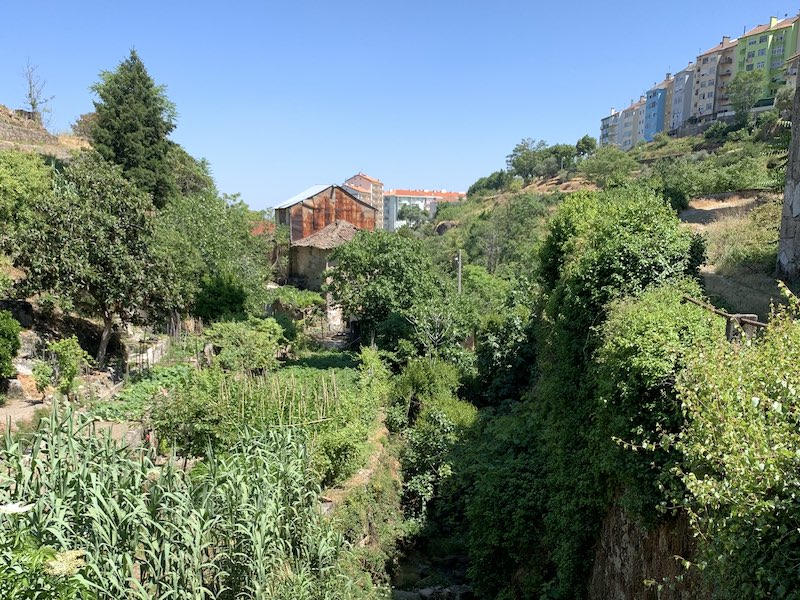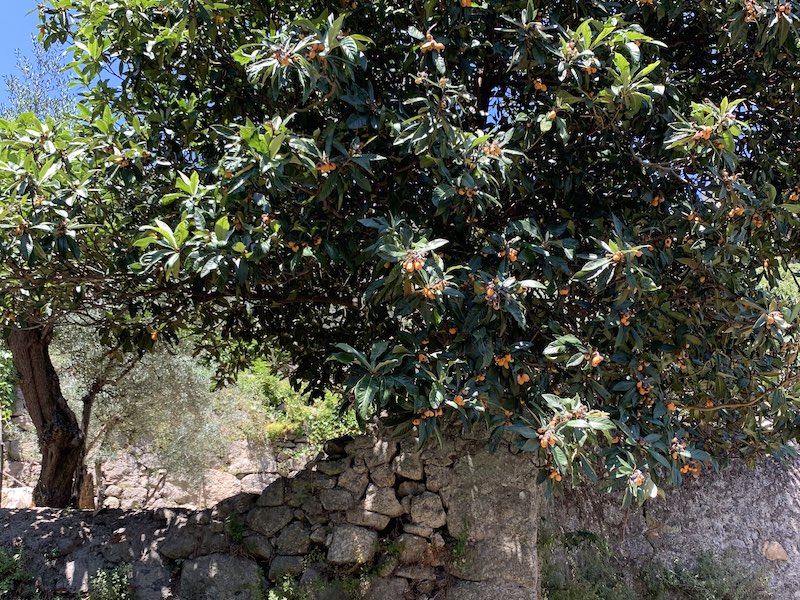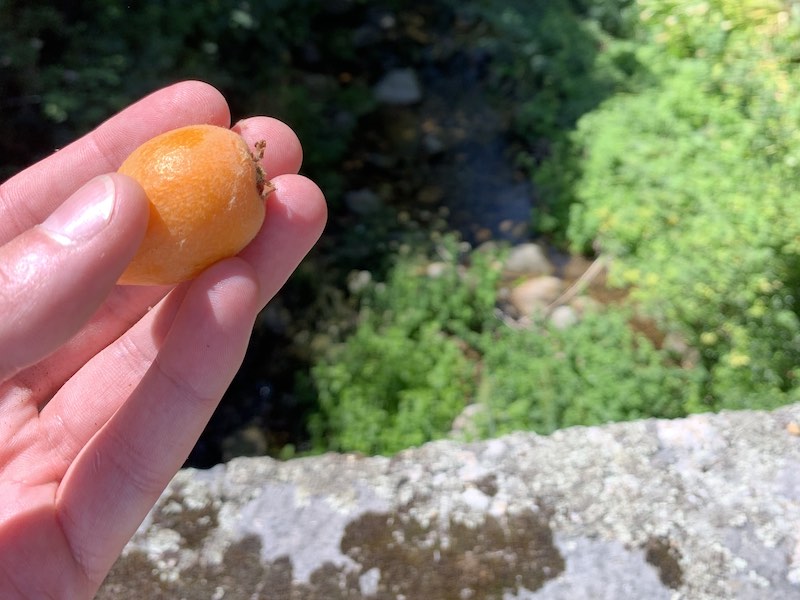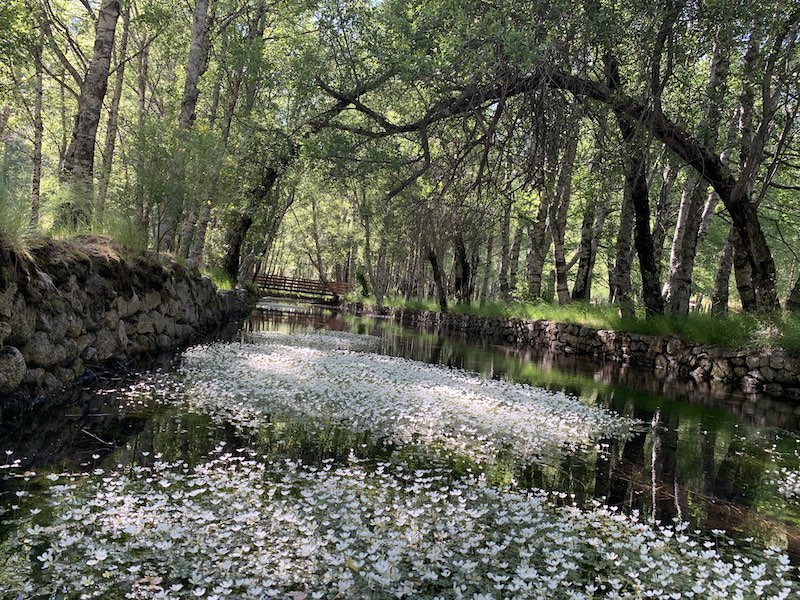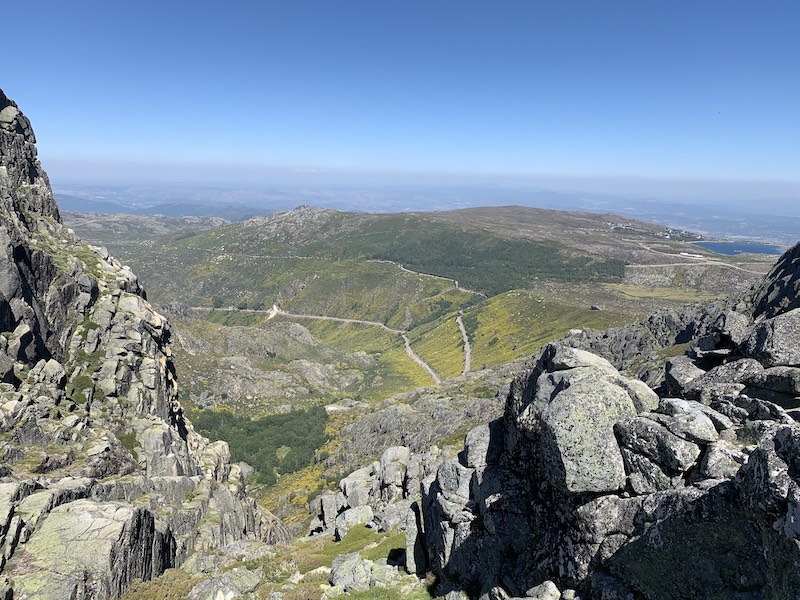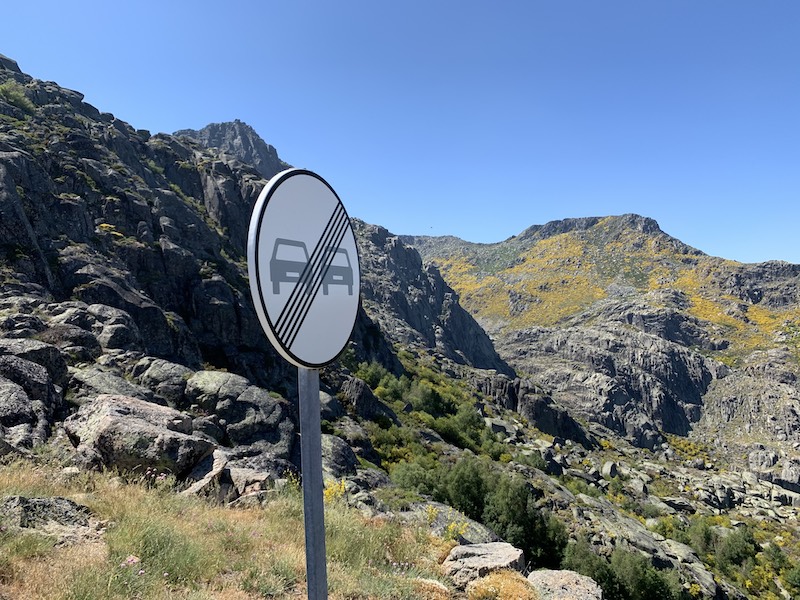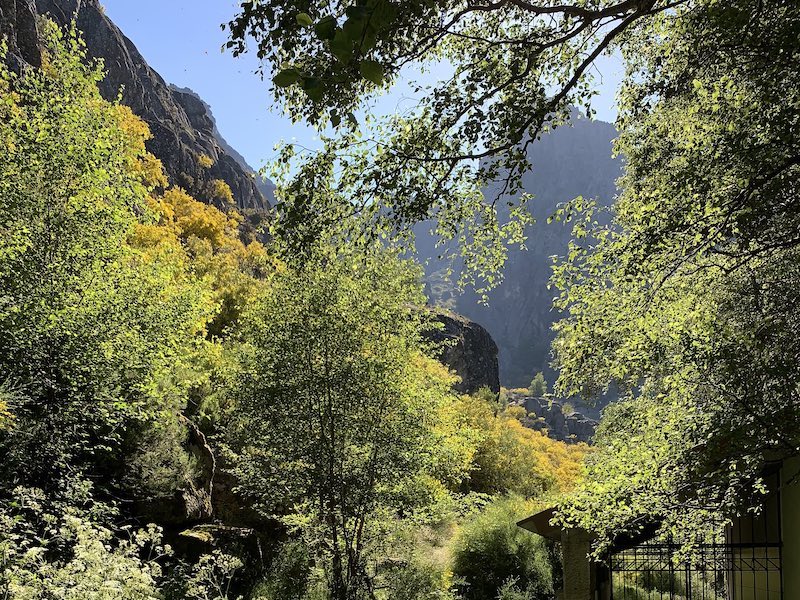 Some pilfered photos of the town and park.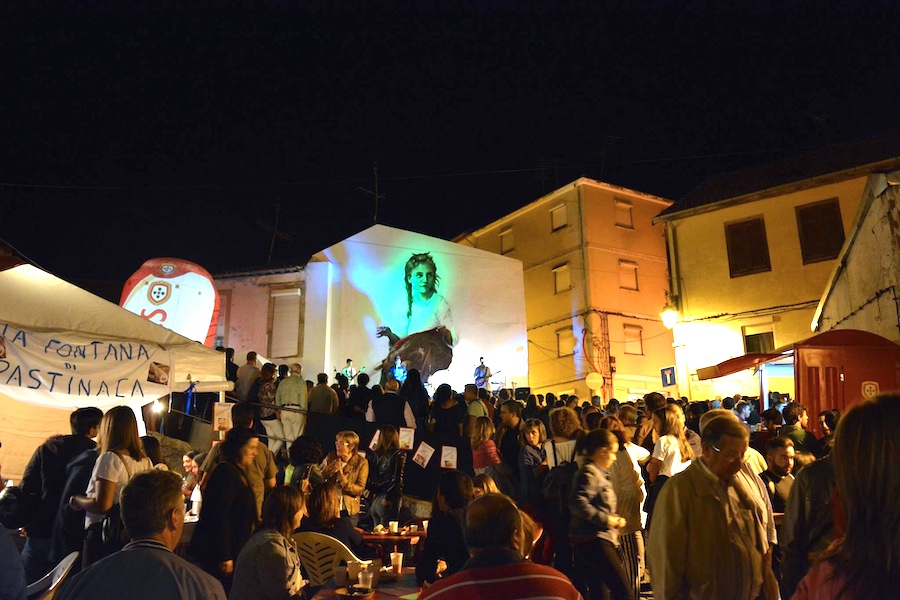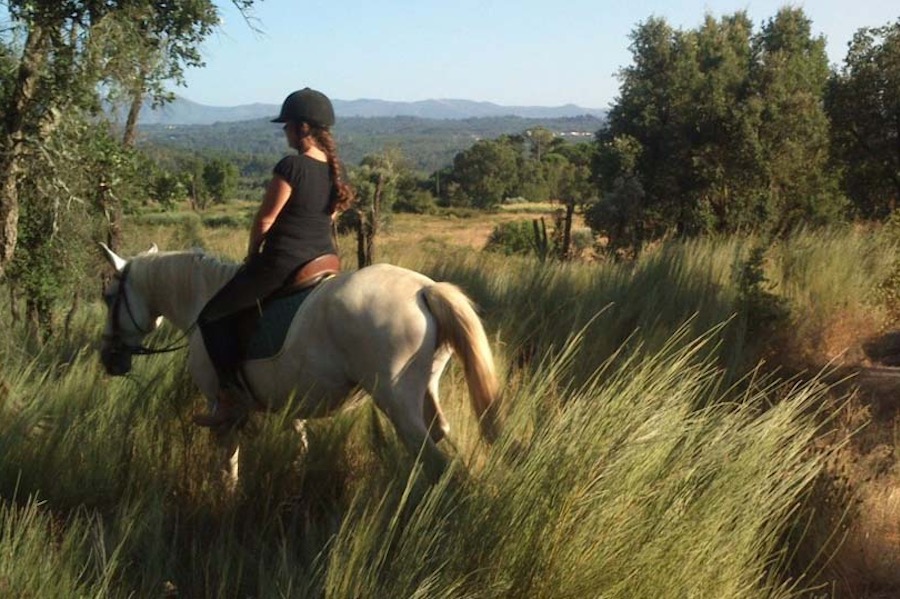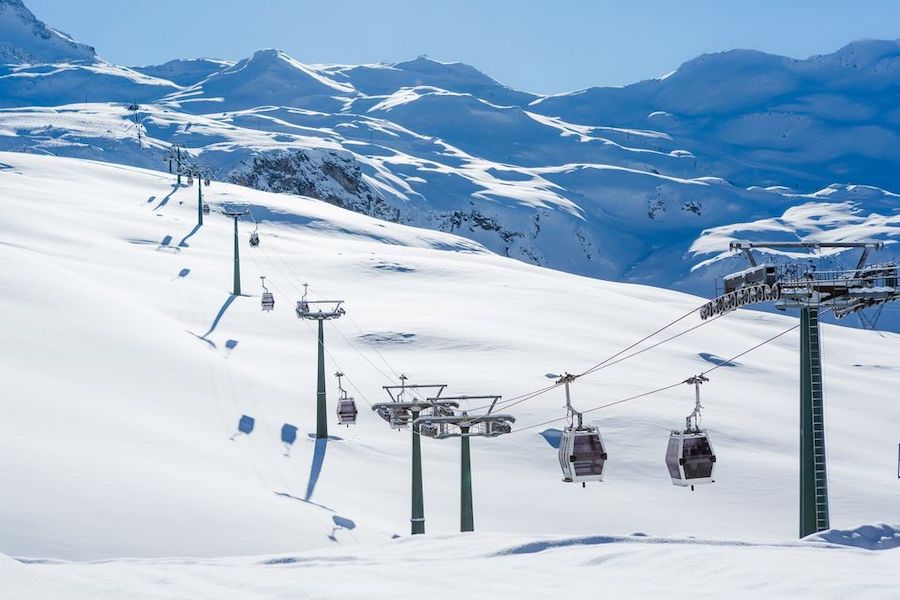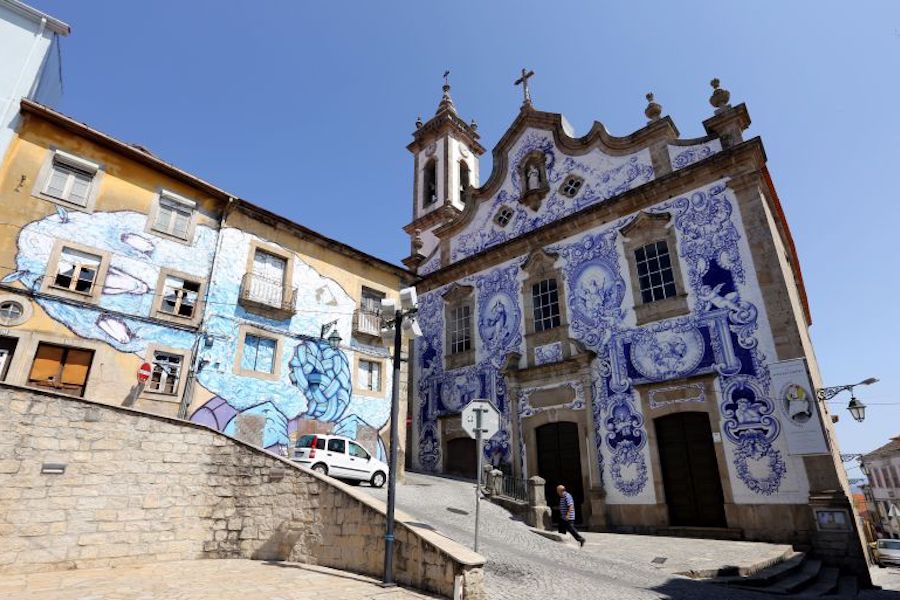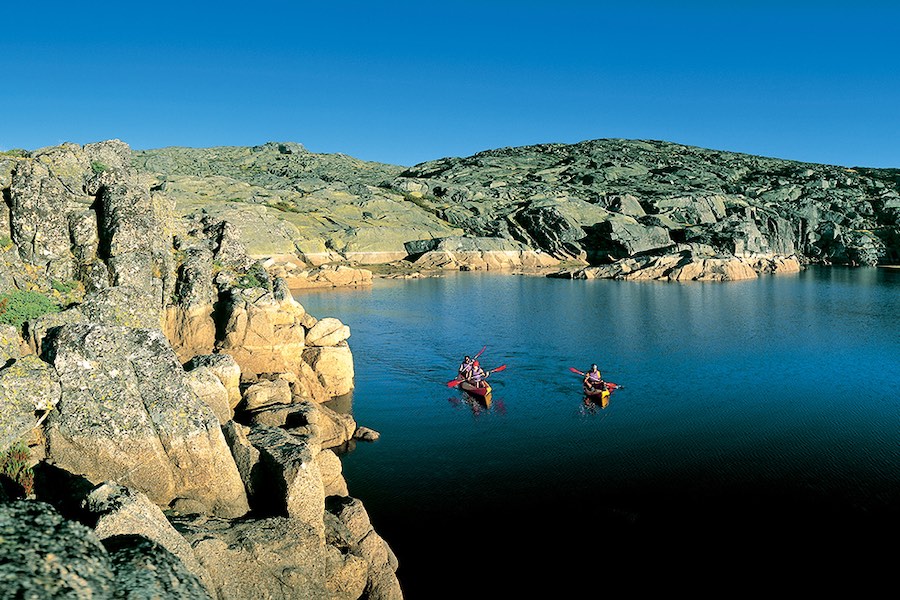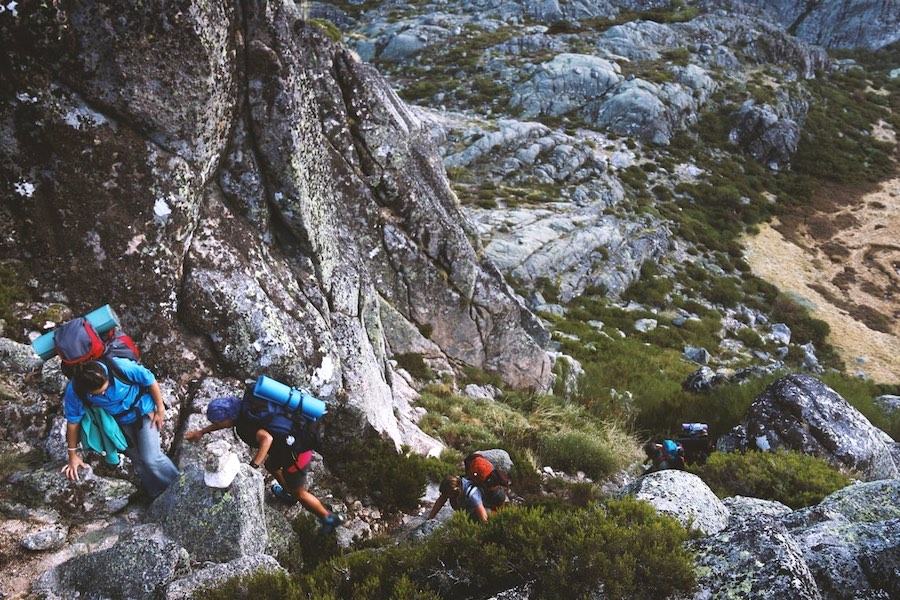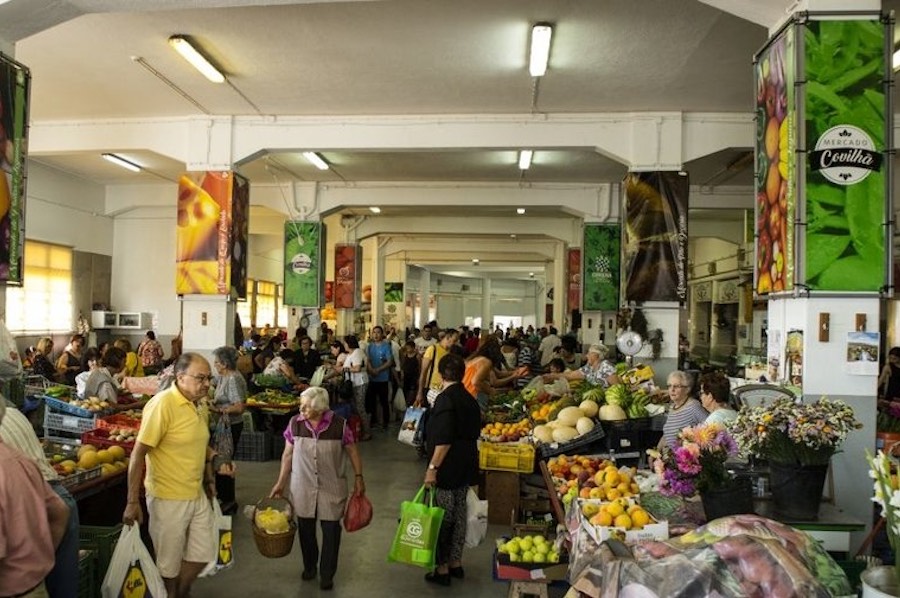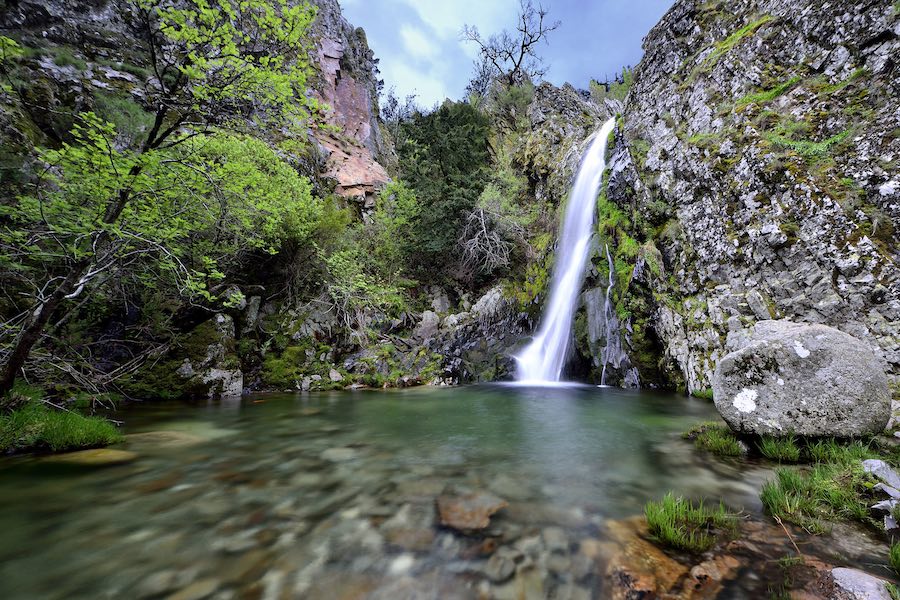 Interlude
This video explores the annual streetart festival, and also gives some great glimpses around the area which comprises everything from gritty sixties edifices, the classic old buildings of stone and tiles and of course the natural landscape!
Updates
added renders for the standard rooms and cohousing
the implementation plan would now take place over multiple years at a slower more manageable pace, better accommodating potential issues, yet the first building remains per the original plan albeit refined slightly to accommodate changes, and indeed can function well even without the other buildings; funds for each phase needn't be raised until required providing a more sustainable approach in the case of inadequate pledges; phases are outlined below
most of the cohousing would be expected for delivery in year 3, however some units could be completed before major works are required, and as before studios/rooms in the 1st building could be provided in lieu for those preferring to get in early
the front wall and roof supports on two stories for the 3rd building (front right) require reconstruction (in concrete)
expensive cork cladding removed in favour of leaving facades as is, but using more affordable climbing plants/streetart to pretty it up a bit instead
conservatory, cellar (under bridge), and plunge pool discovered; sauna, large indoor laundry and larder added
replanned capacity now increased to 41 rooms (inc volunteers, ex cohousing) plus a much larger dorm with 10 pods (akin to Selina); this results in better provision of smaller affordable rooms and greater suitability for teams also having extra separate workspace for them to banter together
kitchen/dinning in the main building increased to 120m2, better supporting earlier phases
most land may not be included and will be down to in-person negotiations prior to signing, there is actually a small terrace next to the stream
stream is loud in winter!
cohousing entrances are now on a new dedicated internal passage with stairs down to the coworking. This ensures all-weather access and avoids attempting to break the very large solid stone block wall, at a slight loss to floorspace but not mezzanines (studios are 55m2 with a half mezzanine)
added an elevated walkway above the bridge, giving an alternate access route (from garages direct to larder) which also functions as a roof for groundfloor access between buildings on rainy days; resulting in better distribution of foot traffic and more interesting/varied routes (previously very uniform resulting in some locations getting high traffic)
roof of 2nd building needs stripping and structural changes
tiles on 3rd building showing degradation since summer, needs repairs soon to preserve stability
iron trestle railway bridge is being replaced and topped with a concrete deck greatly reducing noise; however there will be a year or so during which up to ten freight trains per day could be redirected onto this line (Beira Baixa) whilst their usual line (Beira Alta) is upgraded; there is also a possibility that the line would continue to be used for freight however it seems unlikely as its signalling is not being fully upgraded unlike the usual route; Portugal has also committed (with EU funding) to construct a new freight route to Spain for Lisbon, without it this line could be used more and their rail plans are frequently delayed
moved the breakout room halfway up the stairs (between lounge and kitchen) and gave it a roof terrace over the splash pool (this was in order to create the laundry)
4 higher-end restaurants found in town!
The property
2750m² across 4 floors and 3 buildings •  potentially 450–2500m² land
BAD  🔨 effort
BAD  💰 cost
OKAY  🚃 transport
OKAY  ✈️ access
OKAY  🛒 shops
DUBIOUS  🏙 towns
OKAY  🏇 activities
GOOD  ☀️ climate
OKAY  🏔 nature
GOOD  🌷 garden
GOOD  🏠 building
OKAY  🏘 neighbourhood
AWESOME  📡 internet

Scores bad on value due to high acquisition cost (total cost as value is good). Okay on effort as first building is easy but others involve significant effort however can be deferred. Great on garden thanks to stream and terraces. Only good on neighbourhood due to railway. Okay on towns due to there being few, and provincial. Great on sustainability thanks to climate (mild winter and mostly natural cooling in summer), plus if with solar and/or hydro (not budgeted).

Part of the garden terraces and the vines trailing over their steps.

This panorama shows the valley from the ridge above the property (dead centre), so you can see that whilst there's some larger apartment blocks they are a fair distance away and in the immediate vicinity it is mostly green with few neighbours. There are tiny paths dotted between the equally small agricultural plots across the valley.

The bridge and lower valley from the quiet lane next to the property. The only neighbours downstream are one more empty factory and a house, further on the suburbs emerge with apartment blocks visible.
Common spaces (1200m²+)
1st – modern factory (3 floors plus basement)
auditorium/cinema 110m² for 50–80 seats
multipurpose 110m² for events/exhibitions and activities/yoga
multipurpose 60m² for two 6-seat team spaces or one 12+
quiet library 70m² for contemplation
lobby 35m² for 7 desks + 10m² lab
workshop 25m² for DIY
storage 20m² for all your stuff
kitchen/dining 125m²
shed 25m² for bikes and machinery
annex 28m²
2nd – old warehouse (2 floors plus attic and cave)
kitchen/dining 160m² for the heart of the home
larders 10m² for individual food storage
lounge 160m² for relaxed engagement
sauna 15m²
3rd – old factory (2 floors plus shed)
breakout room and roof terrace 40m² (above plunge pool)
laundry 30m²
lively workroom 120m² for 26 desks
quiet workroom 80m² for 14 desks
work lounge 45m² with sofas and armchairs
conservatory 70m²
Accommodations (36 fractional)
Typical occupancy would be around 40 (including volunteers, but excluding cohousing), and capacity can potentially increase to over 75 for occasional events. All rooms can be configured as double or twin, although standard rooms will be equipped with a narrow double.
7 premium studios (cohousing) 55m² ensuite (~30m² floor, 24m² mezzanine), two windows
2 studios 42m² ensuite (16m² mezzanine), kitchenette
6 premium 25m² ensuite, micro kitchen
9 plus 25m² ensuite (8m² mezzanine)
17 standard 17m² ensuite (5m² mezzanine)
7 basic 15m² with shared bathrooms (5 for volunteers)
10 pods in an ensuite dorm
Outside (450m²++)
lounge patio (small, next to stream and bridge)
covered patio (below garage)
splash pool in stream (possibly)
plunge pool 25m² (cistern behind 3rd building)
roof terrace 60m² (above garage, next to lane)
terrace 120m² in front of 1st building beside stream
land 300m² at back of 3rd building
potential land
terraces 600m² to north behind kitchen above stream; would provide kitchen patio for outdoor meals
large terrace 600m² below house at top
huge terrace 1000m² next to house and path at top
The variety and distance amongst all the spaces means that different folks could simultaneously be having a high-octane karaoke session — yet also be seeking quiet solitude in the library or by the stream, perhaps even avoiding each other (heaven forbid!).
The property offers a large number of units, which despite the increased acquisition and fitout costs has many benefits. We can welcome more volunteers, run more residencies such as hosting artists participating in the streetart festival. We would also be able to host Wifitribe/Remote Year type programmes not to mention team retreats (boosting revenues), and larger more diverse events such as festivals! Finally of course, it means booking for co-owners will be much easier as we could have a larger availability reserved for share use.
There is no parking on site nor the lane, as it will be reserved for our (two) shared minivans. Visitors would have to park in town (best is near the railway, 15mins walk). Thus the property is not likely to have much function as a hub for locals. In any case there is already a small creative-focussed coworking in town. As an adjunct to the town for events it is however good being walking distance.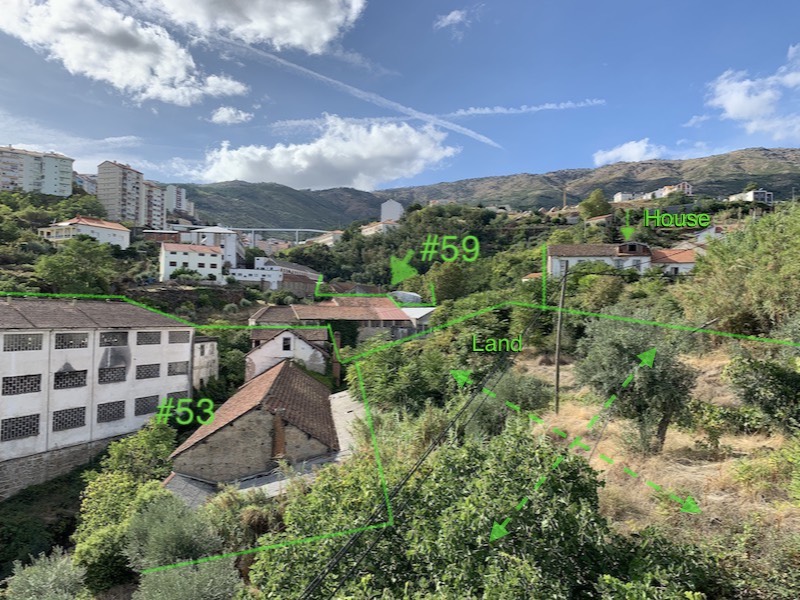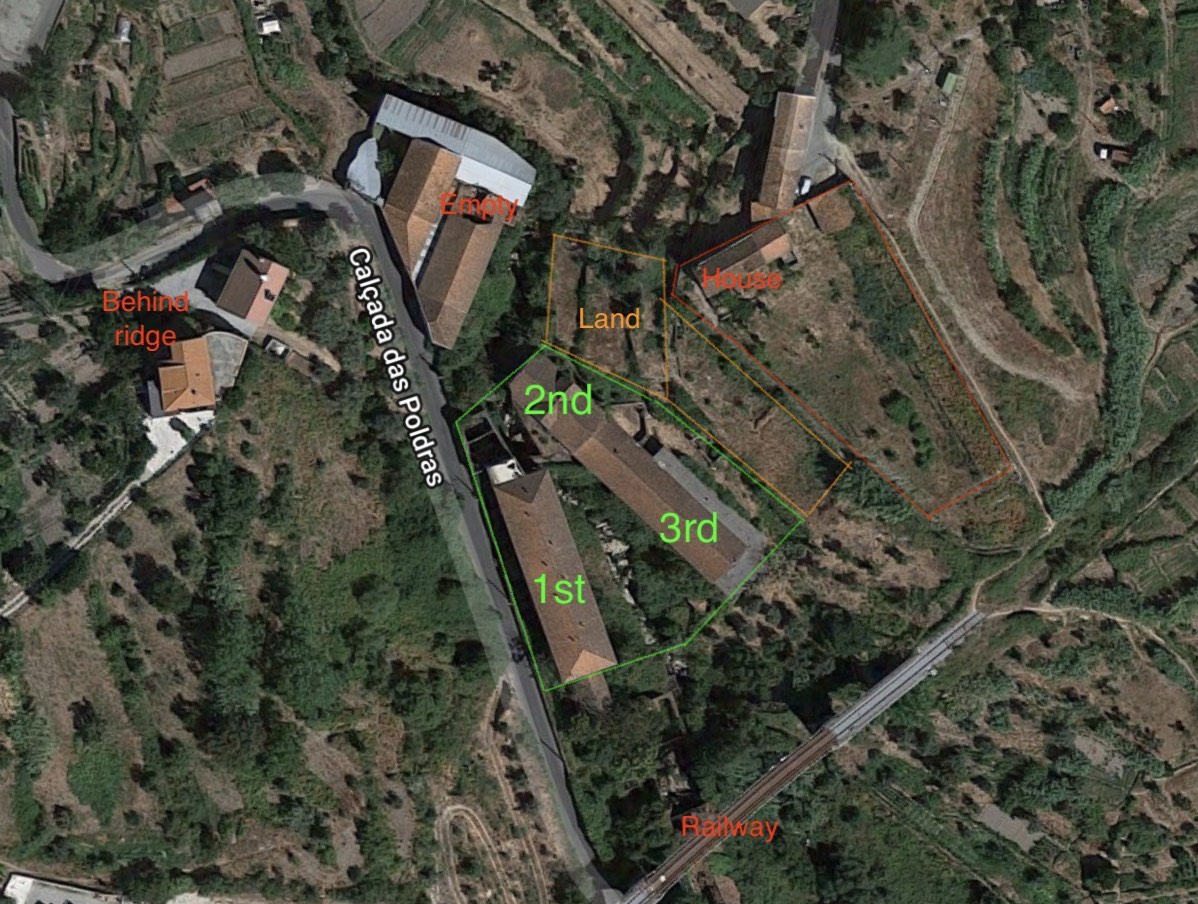 The property is being divided from a large tract including a separate small house at its top. Most of the land is not included as being sold with the house, at an asking price of €60k. At least the small terrace next to the stream (and 1st building) plus the terrace behind the cohousing (3rd building) can be negotiated to be included without affecting the price. Some of the remaining land could be included for a small increase, however the house and its remaining land may not sell so could be acquired separately in future.
Business, yield and risks
There will be a share allocation equivalent to 420 months (35 units), plus cohousing. As 30% of this will be allocated to preference shares, only 294 months will be available for coliving co-ownership. (Shares will actually be issued at the equivalent value of 2 weeks in a standard room.)
The return is anticipated after 8–12 years. Maintenance and replacements have budgeted lifetimes, thus no additional investment is expected for at least twenty years. Moderate additional investment (such as for core upgrades and replacing end-of-life roofing) should easily extend this to fifty years before the integrity of the concrete may be an issue, a survey will be made to ascertain a potential remaining lifespan (and there are emerging approaches that may extend it).
The major risk is an inability to afford completion of the 3rd building which is in a poor state. There are affordable approaches that can be employed, such as new poured concrete columns and wall which would allow the replacement of the old without requiring complex roof support. However if no solution is possible this would result in the following fallback scenario until one could be funded:
a decrease in co-owner share value, but only nominal revenue and productive space reductions (dividends are generated by the 29 coliving bedrooms which are not contained by the 3rd building)
main multipurpose space would be changed to lively coworking (20+ seats)
focus coworking would replace the team workspace on the top floor
work lounge would be lost but lobby would serve as alternative
cohousing would no longer be possible, reduced to maybe dedicated use of some rooms instead
Whilst the 2nd building is being completed the following would apply:
the top floor multipurpose space would be a lounge
laundry would replace the workshop or covered terrace
Locality
It is towards the bottom of the undeveloped little valley with all the abandoned factories, as such is quieter than the middle but not as much as the top, and feels as if it's not in the town, nor the suburbs. There's lots of small agricultural plots with trees all around, and a spring feeding an irrigation channel.
The railway is quite prominent with its singletrack bridge hanging across the valley just on front of the buildings. The property does have terraces that look up the valley as well.
Withstanding the potential for a shortcut across the neighbours land and along the railway, there are two points of access. From the road at the bottom of the valley, or winding up into the town.
10mins bike (30 walk) to the country club and supermarkets
20mins walk to station
30mins walk into town but quite steep! (>100m then lift)
3D model
Does not properly represent the slopes of the valley, nor levels of the floors. The main entrance from the lane goes into both the 'first' floor, and the 'ground' floor via ramps in both directions, one through the portico onto the bridge at the top, and another entrance at the bottom. You can get a better idea of the slope from Streetview or in the photos.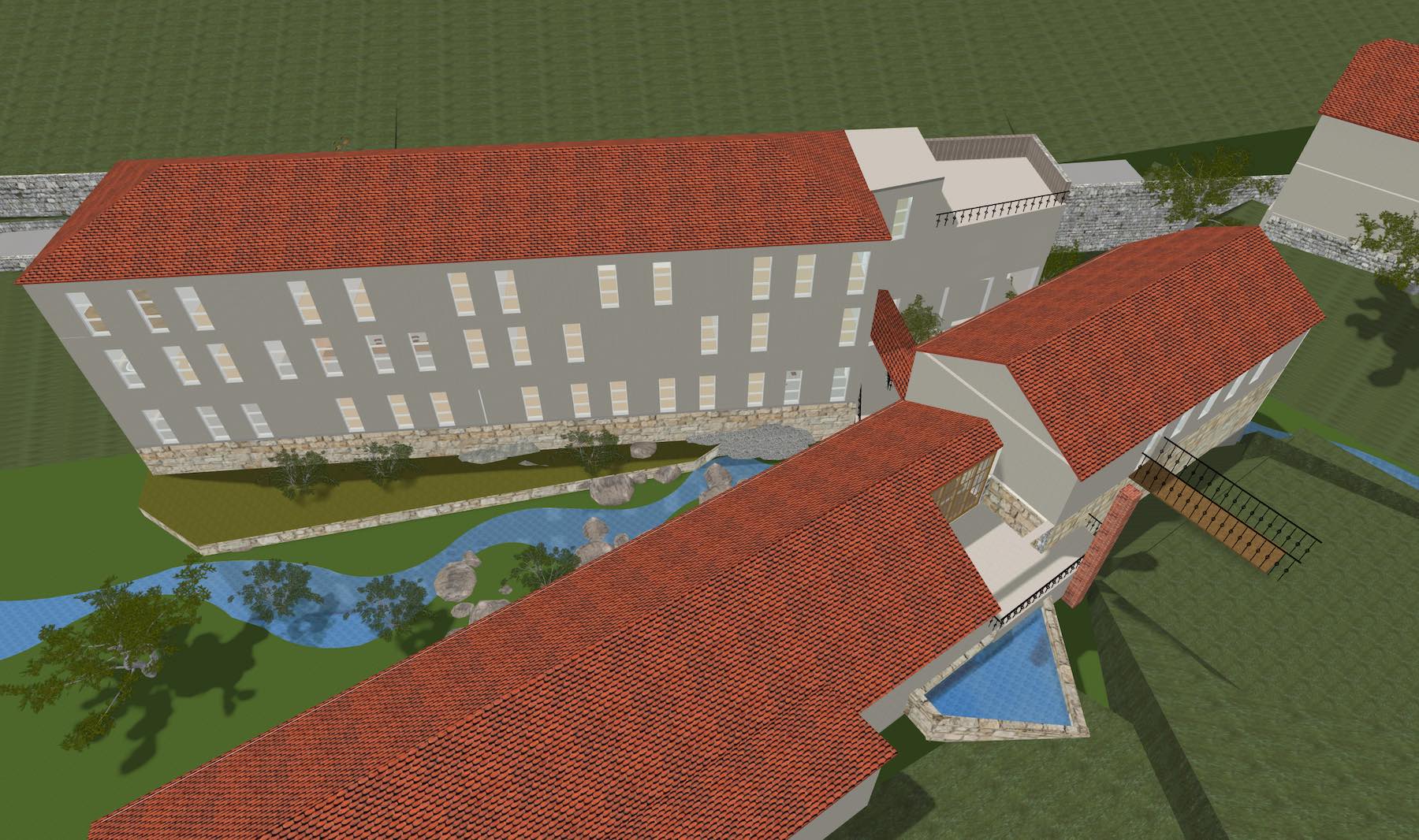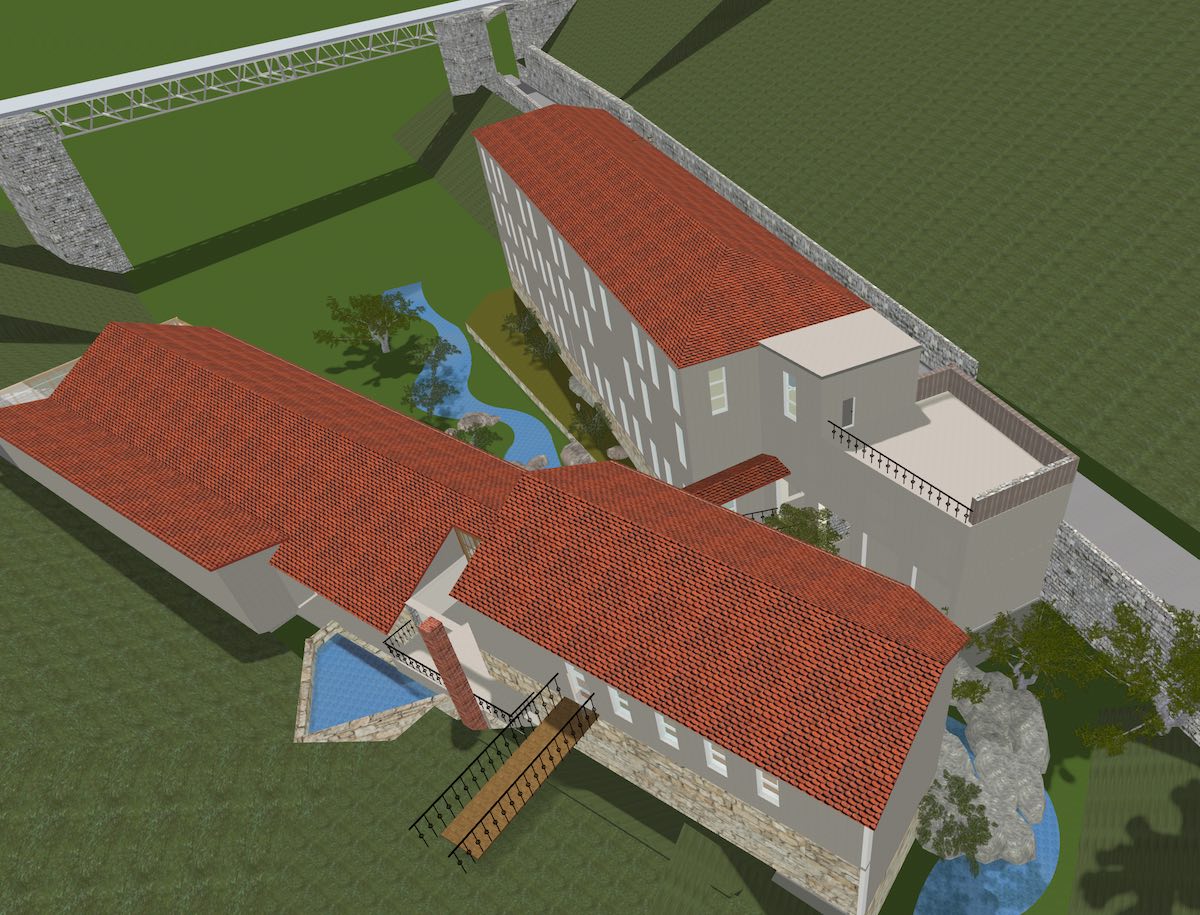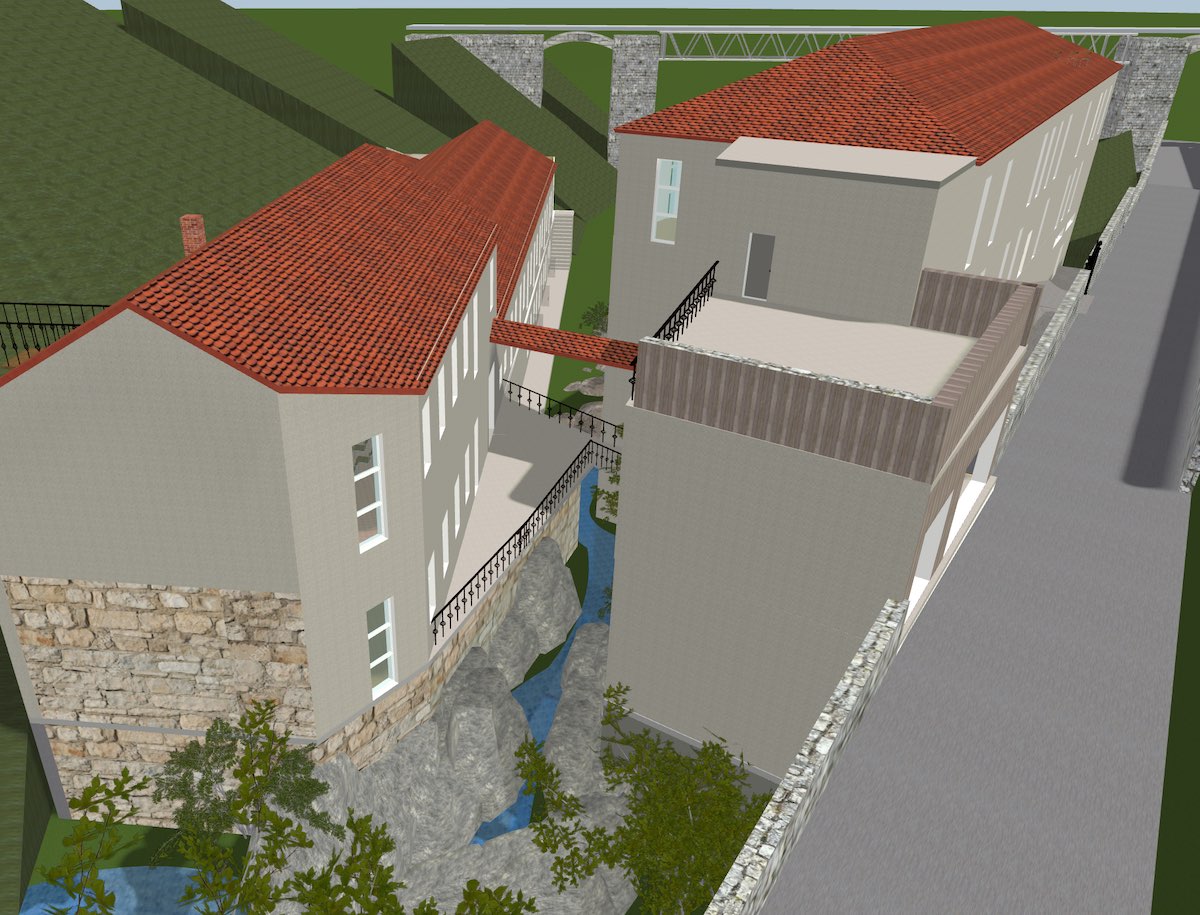 Floorplans
These are indicative prototypes and do not for example show all bathrooms and layouts. The floor levels are confusing. The 'first' floor has a door to the lane at the back with gates, but 'ground' also has two ramps up to the same gates. In the 2nd building the first floor would have a walkway to a terrace at the same level.
Photos
The modern factory and views both upstream towards the town, and downstream from the top floor.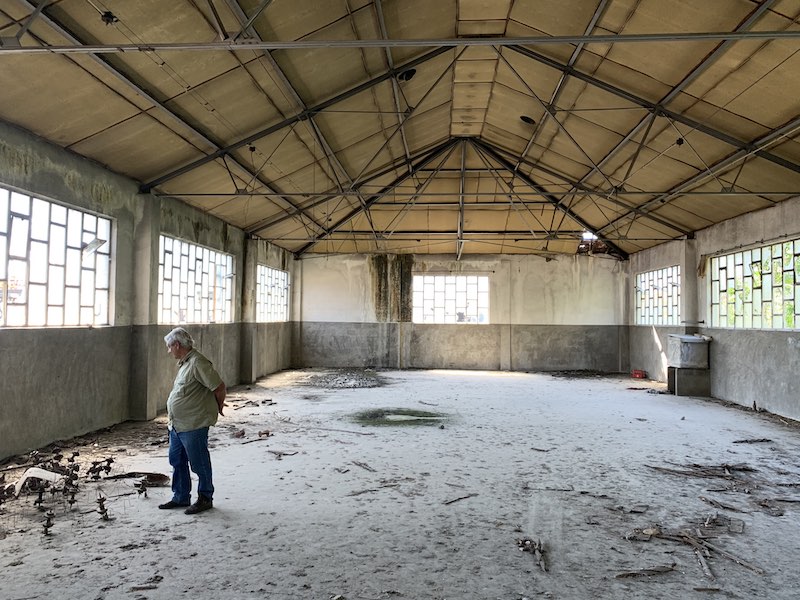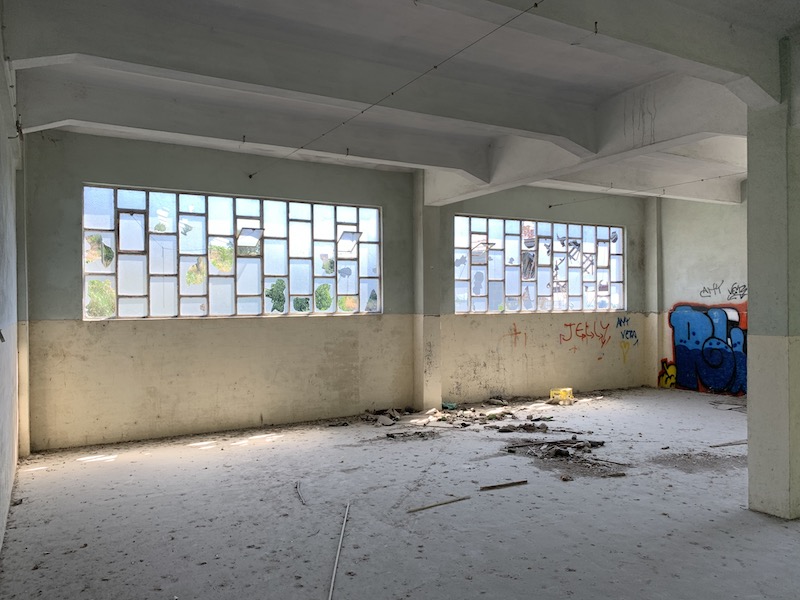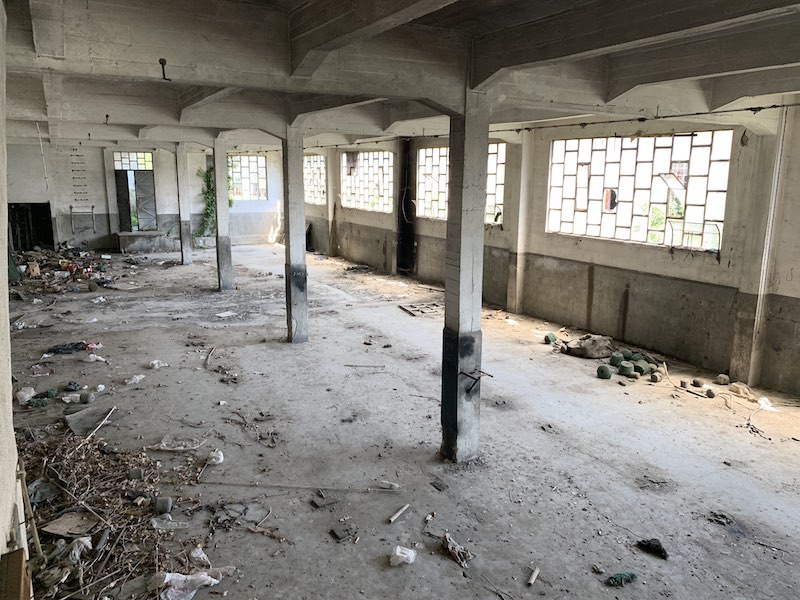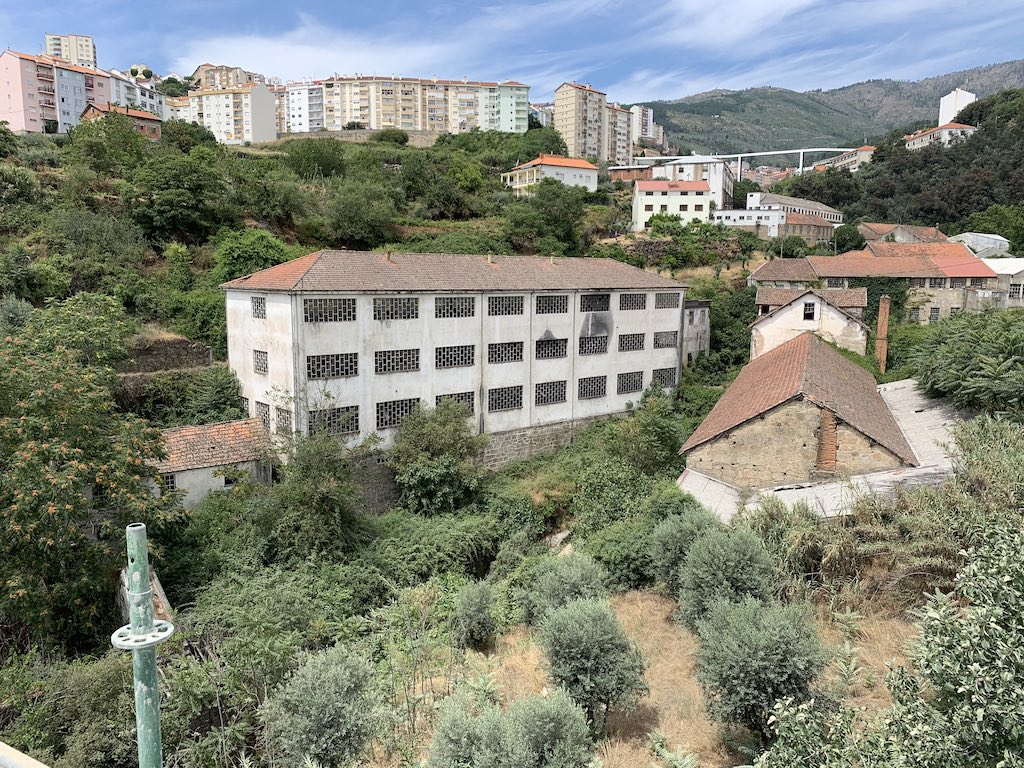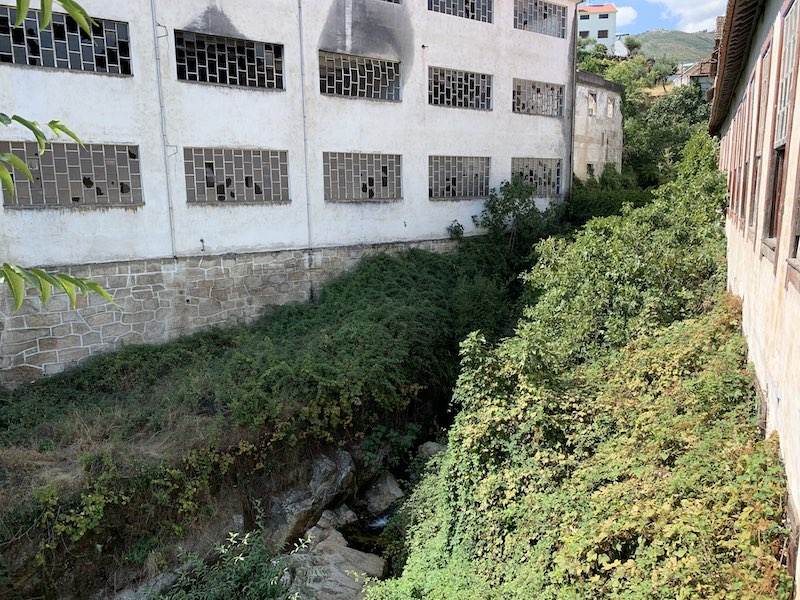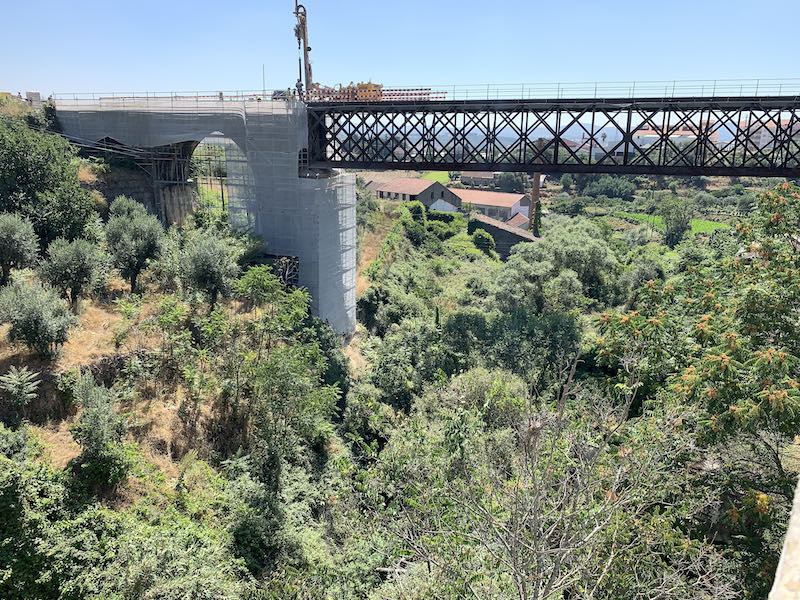 The old warehouse and crossing the stream.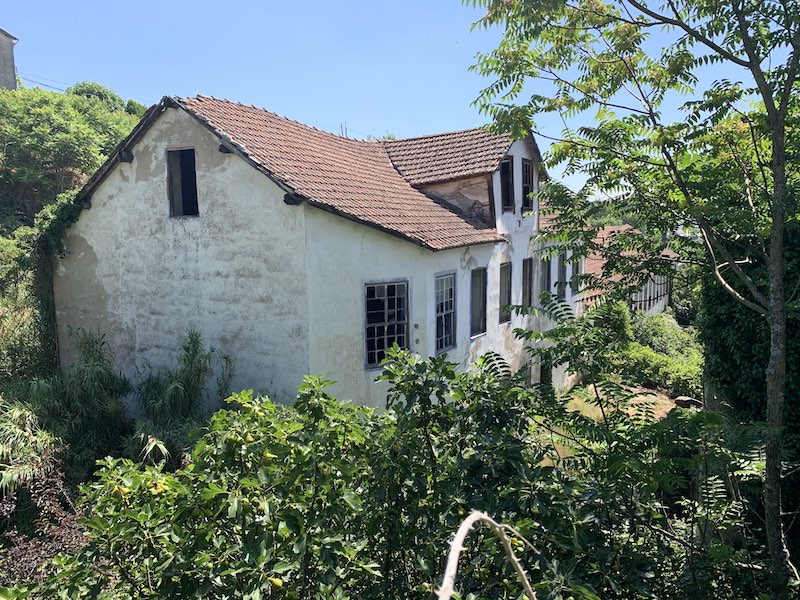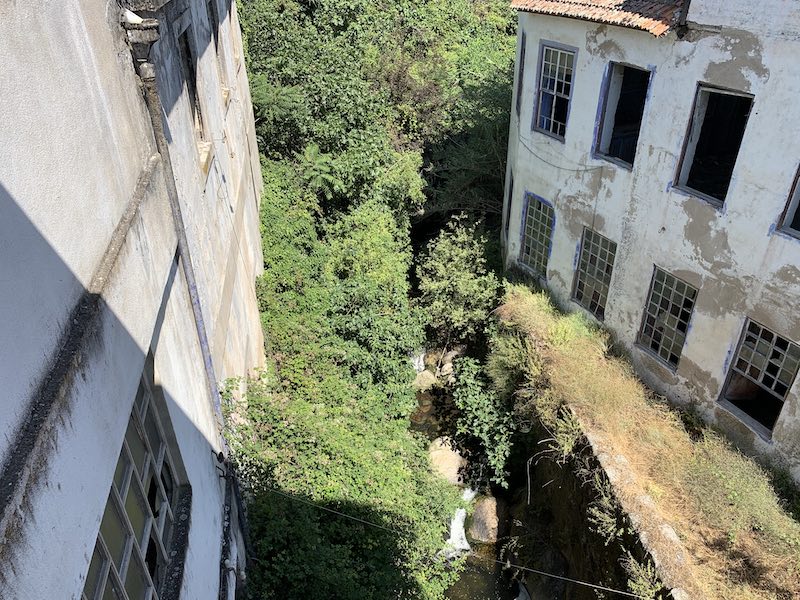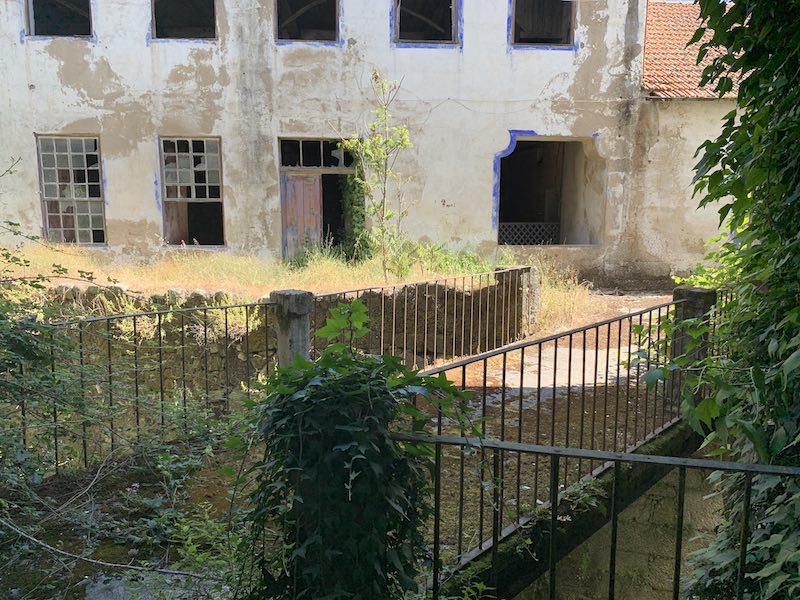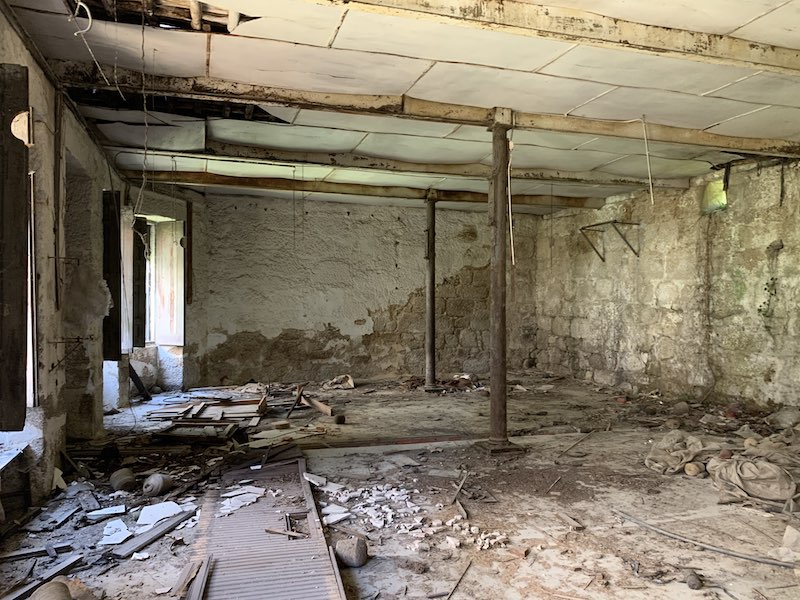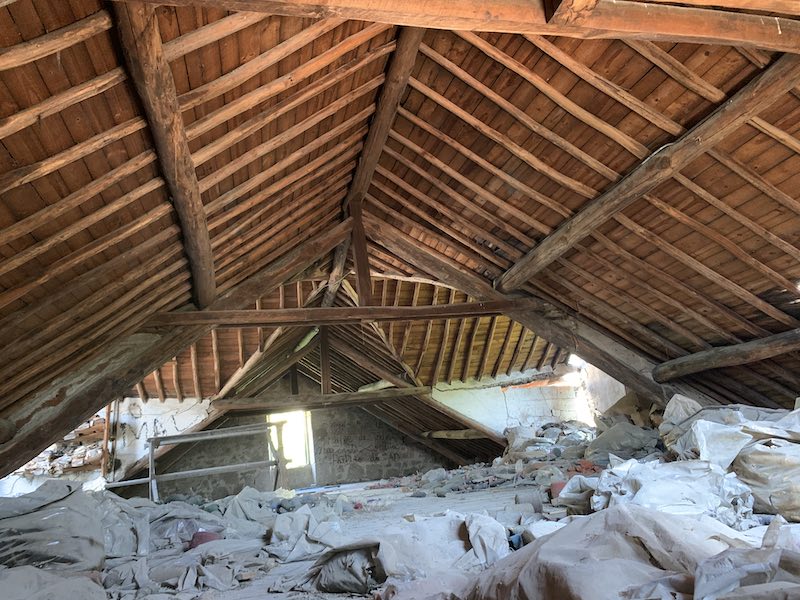 The old factory.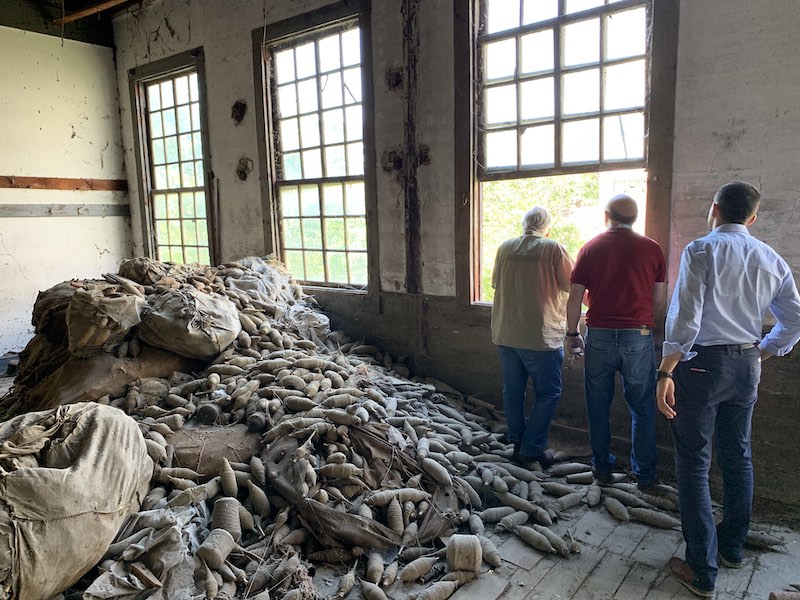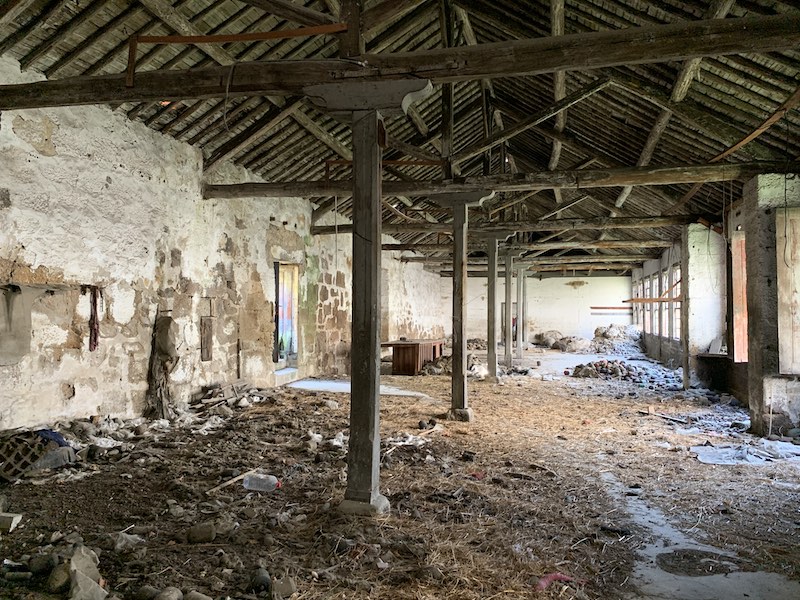 The stream. (Summer and early winter too.)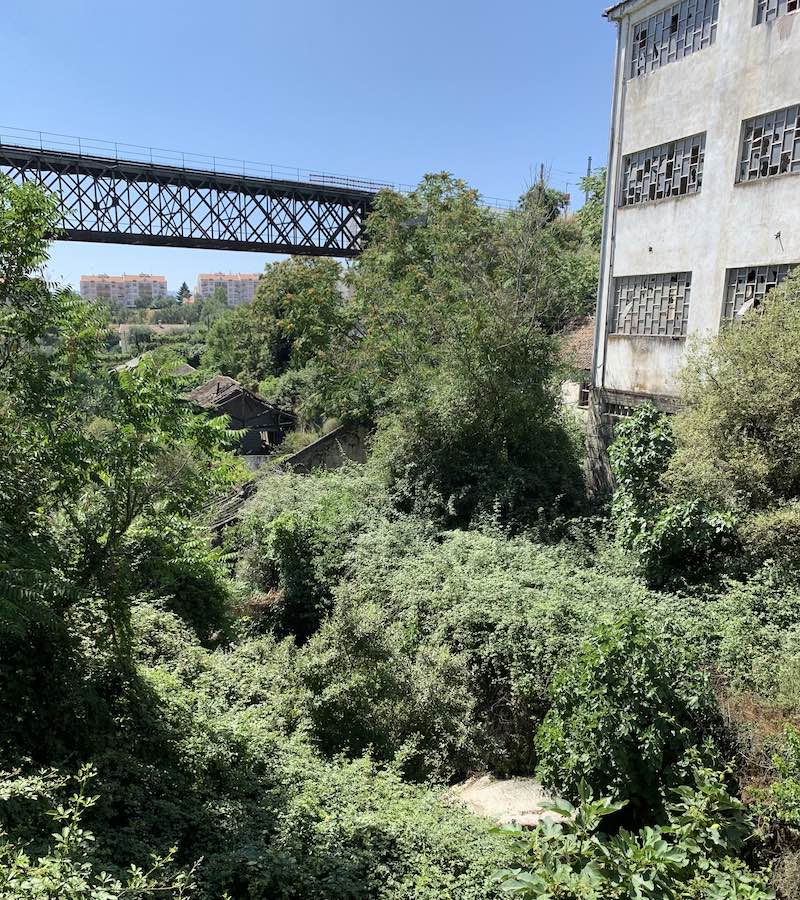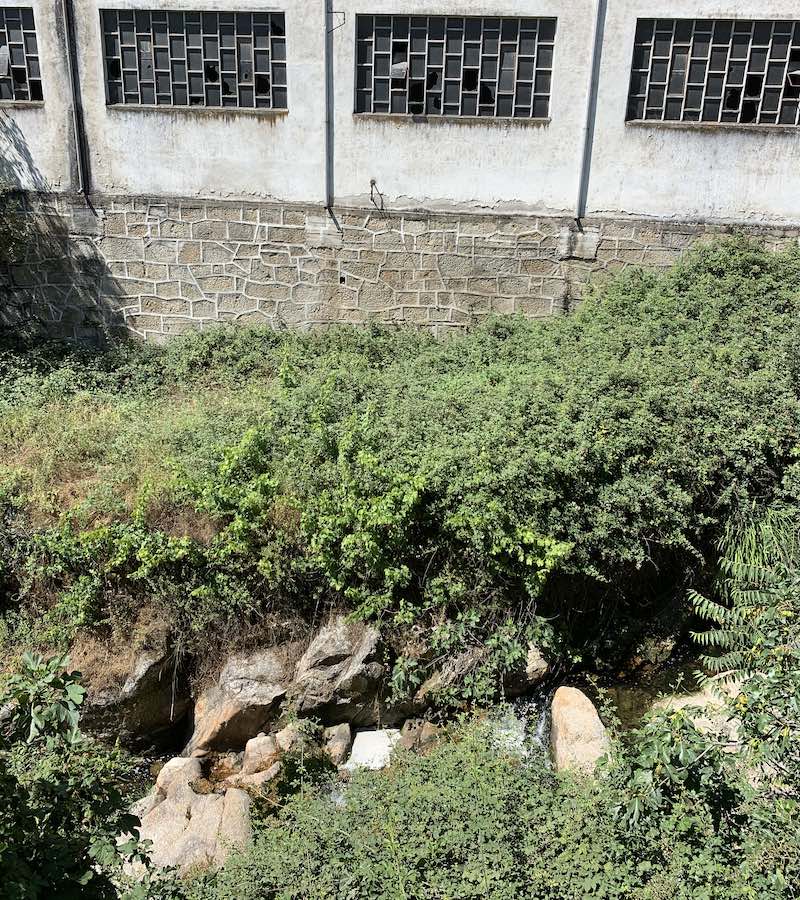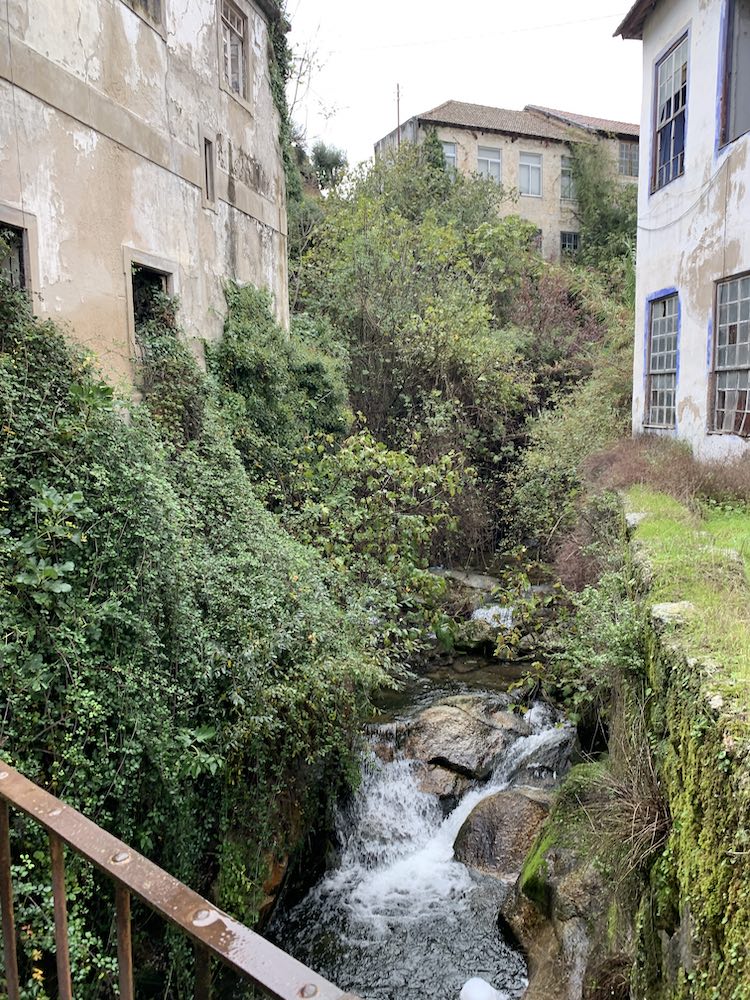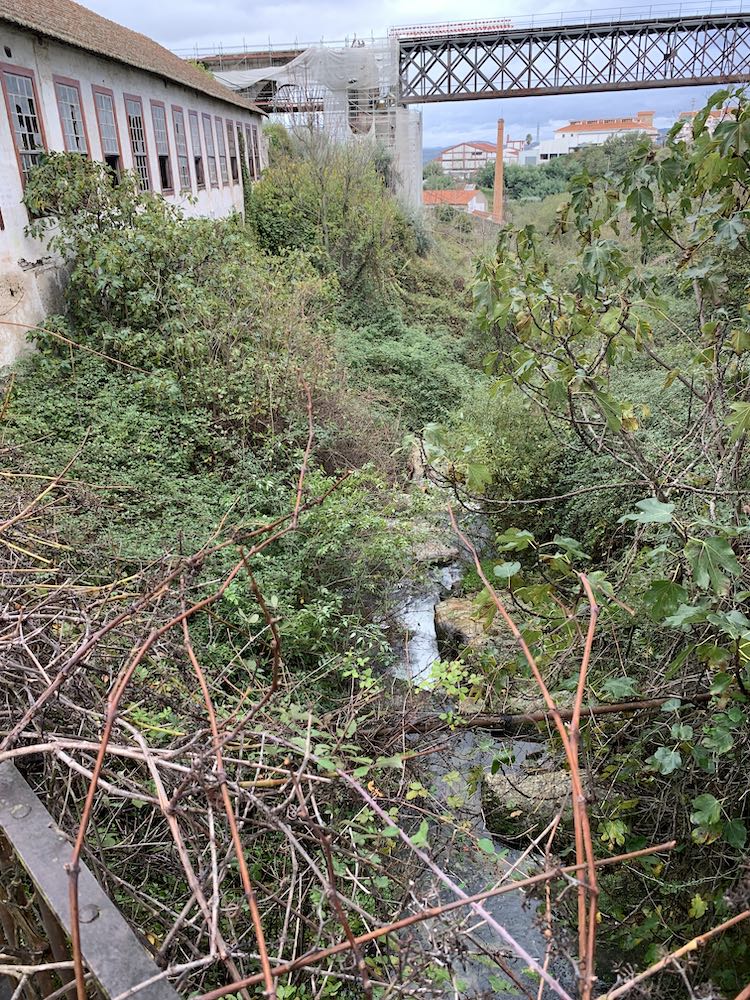 The terraced garden.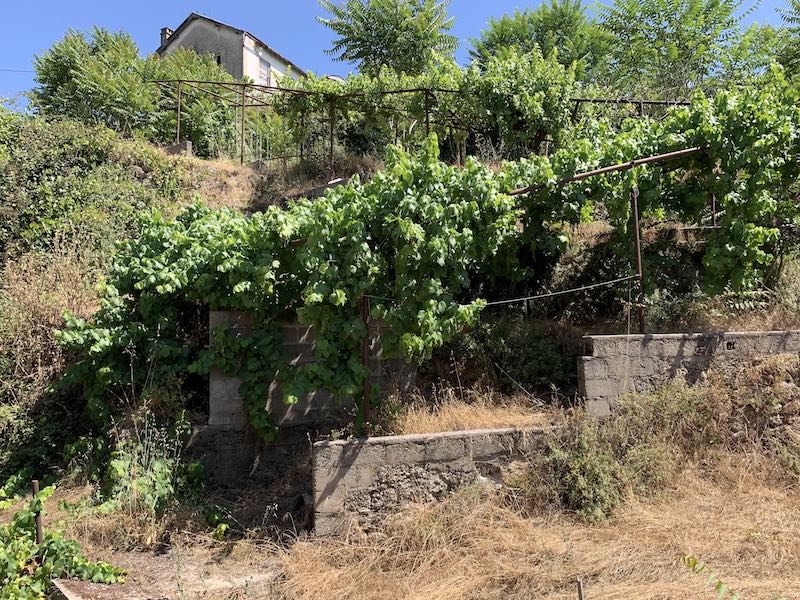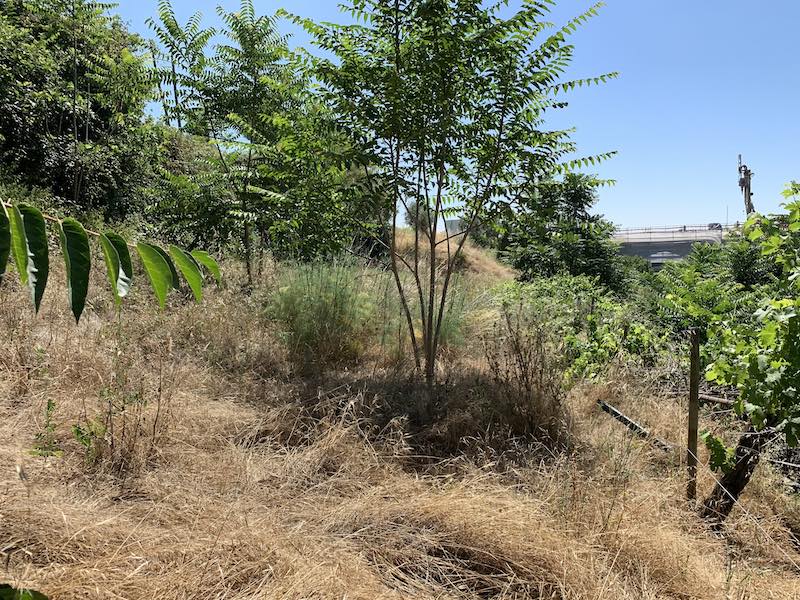 Renovations
The first more modern building can be renovated, fitout and operational with no notable issues. This however leaves two additional building which can only be made operational after each is completed in entirety and require some significant works. All can be carried out across multiple phases, with spaces accordingly repurposed during each until completed.
The main 1st building (~1970s) needs minimal roof repairs as it has a modern steel truss structure. It will require lots of new window openings however these are all entirely placed within existing lintels thus involve simple blockwork. Flooring would simply involve a new concrete surface for levelling. Once these are done each floor can be fitout independently.
The older buildings across the stream need much more work, the 2nd for the living/kitchen requires demolishing the roof dormers and rebuilding that part of the roof, repairing the rest, removal of the attic floor, plus entirely rebuilding the first floor (a solid iron frame exists for this however). The 3rd long warehouse, requires half it's floor to be repaired and strengthened which is fairly simple, plus some roof repairs which may include some new timbers and strengthening (e.g. with support columns).
The 3rd building (cohousing and workspace) also requires its front wall on both stories to be reconstructed. This can be done with moderate complexity by creating new concrete foundations and structural pillars using formwork around the existing timber structures to carry their load, before removing the old facade to build the new one. The ground floor already has stone columns, and the first three also extend to the roof as there is no basement in this section, potentially enabling the first one or two studios to be created without requiring this process be started.
1st building

minor roof repairs
install windows and doors to achieve interior sealing
top two storey waste pipes (exterior, on facade)
floors
first storey (road access) for kitchen, bathrooms and initial bedrooms
rudimentary fitout achieved for volunteers
top storey for standard rooms, lounge and an initial workspace
basic fitout achieved (around a dozen rooms)
pumped sewerage (required for all other floors/buildings)
ground storey for dedicated workspace
basement for auditorium/cinema
core fitout achieved (most rooms, 9 could be deferred per demand)

2nd building

significant roof repairs (gable demolition)
passage stairs, floor and new doorways
attic demolition and rebuilding first floor
windows and doors
underfloor heating in lounge
kitchen and lounge fitout
enhanced fitout achieved

3rd building

moderate roof repairs (replacing some rafters, reseating tiles)
facade work for first three sections better to defer to end
laundry, WCs and first–second studio better to defer to end
formwork for new concrete foundations, columns and facade
bridge repair (concrete)
walkways (concrete)
breakout room and roof terrace
windows and doors
repair and add new floor base
underfloor heating in coworking
coworking fitout
cohousing (completed by each owner)
full fitout achieved

others
may be completed at any time but not likely until third
conservatory
sauna
ramp paving (or concrete)
garages and their roof terrace
plunge pool
Fitout and specifications
All specifications, processes, and priorities are open for discussion in the community!
We'll be mainly 'budget' but we don't want too much of that typical budget chipboard aesthetic! So we'll invest in a few finishes that uplift, notably cork because it's local, along with that admitted trad shabby-chic look because it's affordable to go around flea markets and resurrect furniture. Things we won't skimp on are those that get used most, so solid wood kitchen surfaces and desks plus good handles, hinges, taps, sockets, etc.
The house will predominantly be on-grid electric, however many attempts will be made to reduce resource use and consumption by virtue of our collectivity. We will be resurrecting a novel technique for reducing heating in winter, whilst in summer we will benefit from natural cooling. The sauna will be wood fired, with its heat boosting a thermal store.
Workspaces
Coworking desks will give ~1.4m per person with simple adjustable chairs, most will have built-in USB-C (PD) sockets so adapters don't need to be dragged around nor clutter the place. Some desks could be specified as premium for a surcharge with an executive chair and display (included with premium rooms). There will be a variety of standing desks and banquettes.
Heating and cooling
During winter, underfloor heating will be used in the ground floor living room (thus residually heating the kitchen above), coworking spaces, and laundry. This will be powered by a thermal store heated using a water brake on a mechanical generator in the stream (whose increased winter flow corresponds to heating needs), boosted with electric elements. All other areas including bedrooms will use a combination of electric radiant infrared panels and convection heaters, on presence sensors thus avoiding wasted heating yet delivering instant heat when present. It is not expected that bedrooms should use heating throughout the night.
During summer the building shall benefit from the natural cooling of stone walls embedded into the hillsides, supplemented by ceiling fans in every room. There will be no A/Cs, however a dip in the stream or pool is always possible. The pool will be naturally fed and filtered from the stream through a sand and reed bed.
It is assumed all rooms would have fairly even temperature distribution through the use of the ceiling fans. An air circulation system could be installed for the top floor and kitchen of the 1st building, drawing naturally cool air in from the covered terrace next to the stream, and/or basement; these rooms would thus also need outlets. Vents for inward air would be located at ground level near the door to minimise sound conveyance, with extraction both in the shower and at the ceiling apex. The extraction vents would be connected to roof chimneys shared between two rooms and connected through sound reduction chambers. Without using fans, the stack effect will naturally draw cooler air from below into the room and out the roof vents. In the case of mezzanines, the fan would distribute the temperature differential. With inline fans, the circulation would be increased such as just before bedtime to evacuate accumulated heat. This would be done simply by activating the extraction fan. During normal use common areas would draw most of the flow.
Windows
All windows must be replaced, a significant expense as there's over 100, thus they will be standardised and supplied from China, which is at least 30% cheaper despite import duties. All 3m high from floor, and 1m wide. The living/kitchen windows are stone framed at different sizes, but will be adapted to take the standard window.
Most will have roller shutters and mosquito nets which allows for versatile use. The shutters can be closed at night for additional insulation, and on sunny windows can be partly closed, and will be automated. Double glazing will be specified only for the workspaces, lounge and library windows as are used throughout the day and thus more sensitive to noise. Losses during the day are nominal due to better ambient temperatures, and only part-time use of those spaces. Whilst PVC is the most affordable, the frames will be aluminium as again it has a longer life. (Wood is too expensive at this scale, although is more responsible, better for insulation and can be equally long lived.)
If costs are an issue the heights for bedrooms can be reduced.
Roof
The 1st building's roof will not carry any new loads but each truss will gain an additional central support to reduce its stress, extending its life. Insulation and ceilings will be carried by the new walls instead.
Plumbing
Private bathrooms will have mist showers (not rain!) with multiple nozzles for an enveloping experience that uses both less water (~5L/min) and thus also less electricity. Nonetheless there will be several large shared bathrooms with big (mirrored) windows that also have baths and adjustable shower heads for variation. All WCs will be equipped with a bidet nozzle/douche.
Every few bathrooms will share smaller water tanks boosted with instant heaters, delivering heat quickly to avoid running taps.
There will be a dedicated warm water circuit to feed water heaters, this will be circulated (to offset heat losses) and heated from the thermal store. This design avoids heating wastage and Legionella risks from having a central long-distance hot water circuit, with pre-heating in winter reducing peak load requirements.
Waste water will be carried by external pipes mounted on the facade, these will run the entire length of all three floors on the stream. This is ugly but greatly simplifies works and can be obscured by climbing plants and art, else if desired hidden with boxing. The pipe is not necessary at ground level on the roadside specifically to remove the visual impediment, nonetheless remains for the top floor. These all run to the corner which connects to the sewers in the road. For the ground floor and other buildings, a tank is connected to an ~80m pipe run starting at the last cohousing unit, running along the 3rd building, under the bridge and along the stone basement facade which thus provides the necessary 1m+ gradient fall. The tank is pumped up to the road level connection, which will be an automated system timed to engage only at the least disruptive times, but in any case well isolated underground at the back.
Security
Door locks will work with any contactless bank or transport card you're carrying or your phone, rather than requiring you be issued with a new card. Video and PIR sensors will be used at common access points.
Kitchens
Both kitchens will provide more than enough fridge space for everyone, and a separate larder having dedicated spaces too. We will favour simple efficient equipment such as stainless steel, however for our chefs and anyone suitably inducted we will maintain a small number of premium items such as ceramic knives. There will be a dedicated veggie station.
Flooring
Almost entirely ground (single-pass) and sealed (self-levelling) cement overlay (or possibly concrete slab), not polished, although a finer grit (double pass) would be used for kitchens.
The library and plus or better rooms will benefit from cork floors as these are low-use areas. The focus workspace and lounge will have parquet and main kitchen, terracotta tiles.
Bedrooms
All rooms are full of light benefitting from a huge 3m2 window with rollerblind and privacy curtain. Over time artists will add wall and floor designs.
'Standard' ensuite bedrooms are 2m70 wide, similar to a typical small bedroom, yet gain a plywood floored mezzanine which is wide enough for a double bed with walking space, extending half way into the room (2m50, 7m2). On the ground level (13m2) this leaves good space for dressing and open-plan bathroom facilities with cement floor and are thus extremely easy to maintain. These rooms are intended for single use but have a 140cm double bed. Fitout is basic, with only a clothes rail, some shelves, fitted lights and heating/fan. The windows overlook the lane and get evening sun.
'Plus' rooms look over the stream, getting morning sun, are better specified with some decorations including more use of wood, plus a cork floor. They're fractionally larger (deeper mezzanine having an extra 4m2) thus more suitable for couples and sharing, also having a sliding door for the bathroom. 'Premium' rooms are big, with a hob and sink for quick cookups, mini-fridge, and eating/working area with stool and some other decorative niceties. Studios are significantly larger with armchairs and table.
All bedroom walls use 25mm of plasterboard on both leafs for density and soundproofing, plus standard infill insulation. Service walls (generally every other wall and containing a waste pipe) will be decoupled (double track) with a large void for improved acoustic damping. Premium rooms will additionally have a sandwich of woodfibre providing further decoupling of non-service walls. Mezzanines will be mounted on solid pillars to prevent vibrations passing between neighbouring units.
The upfront costings do not include insulating the outer walls, this is only included for the 1st building in the deferrable costs and would have no benefit with single glazing.
Top floor rooms may have ventilation extractors, with a roof outlet shared between two rooms
The following is a quick preview of a standard room with open-plan bathroom, whilst premium have enclosed bathrooms.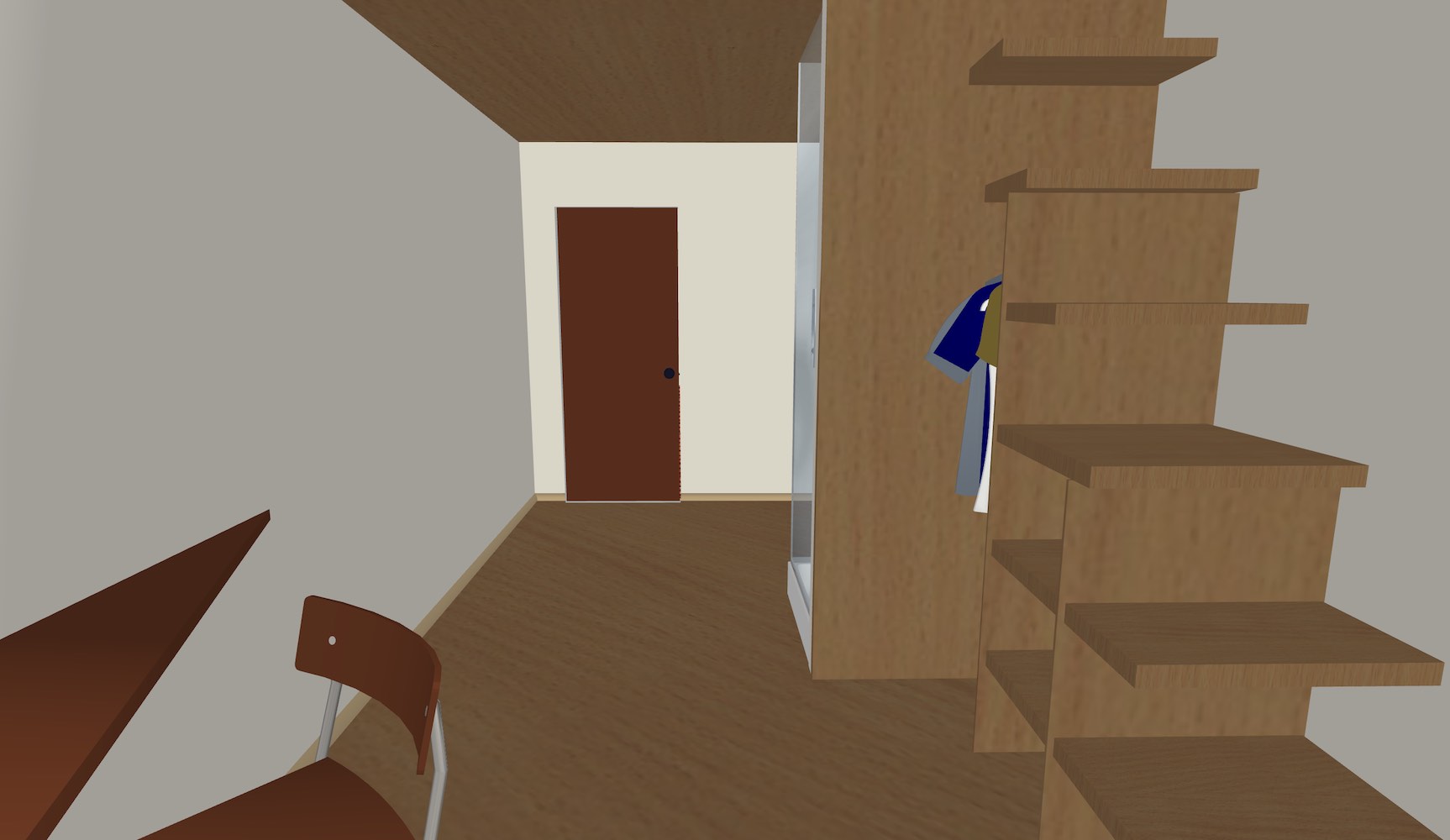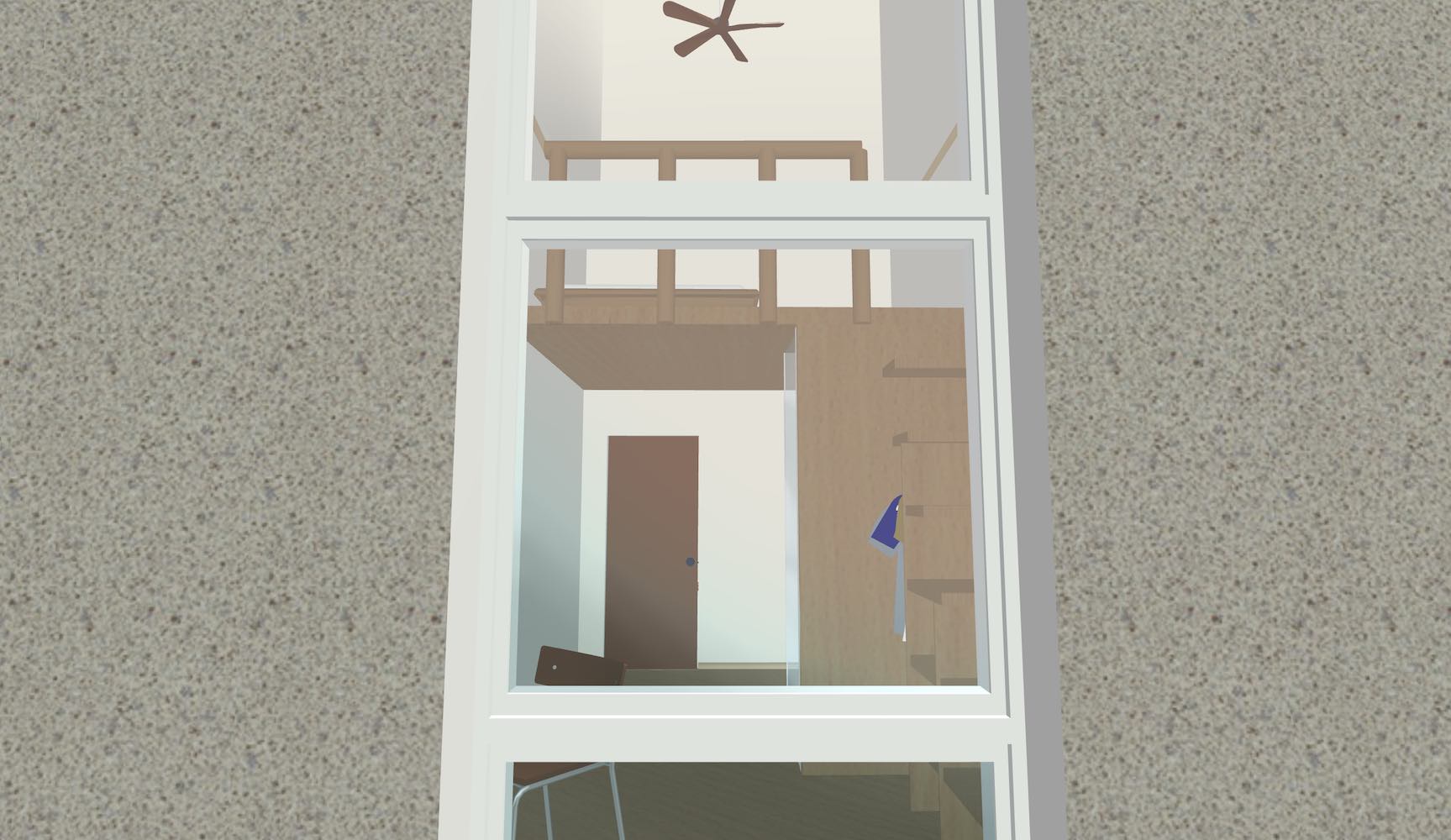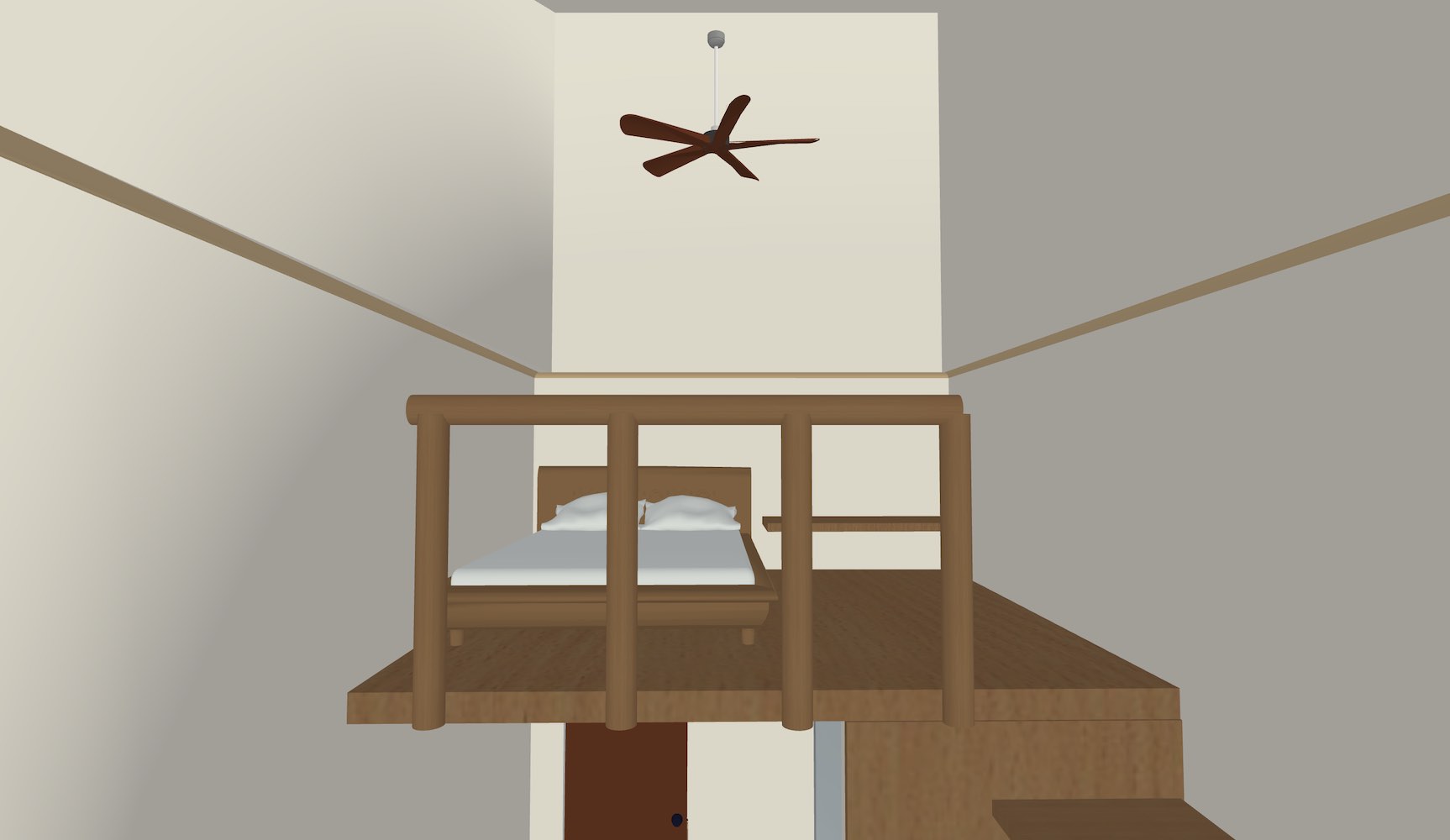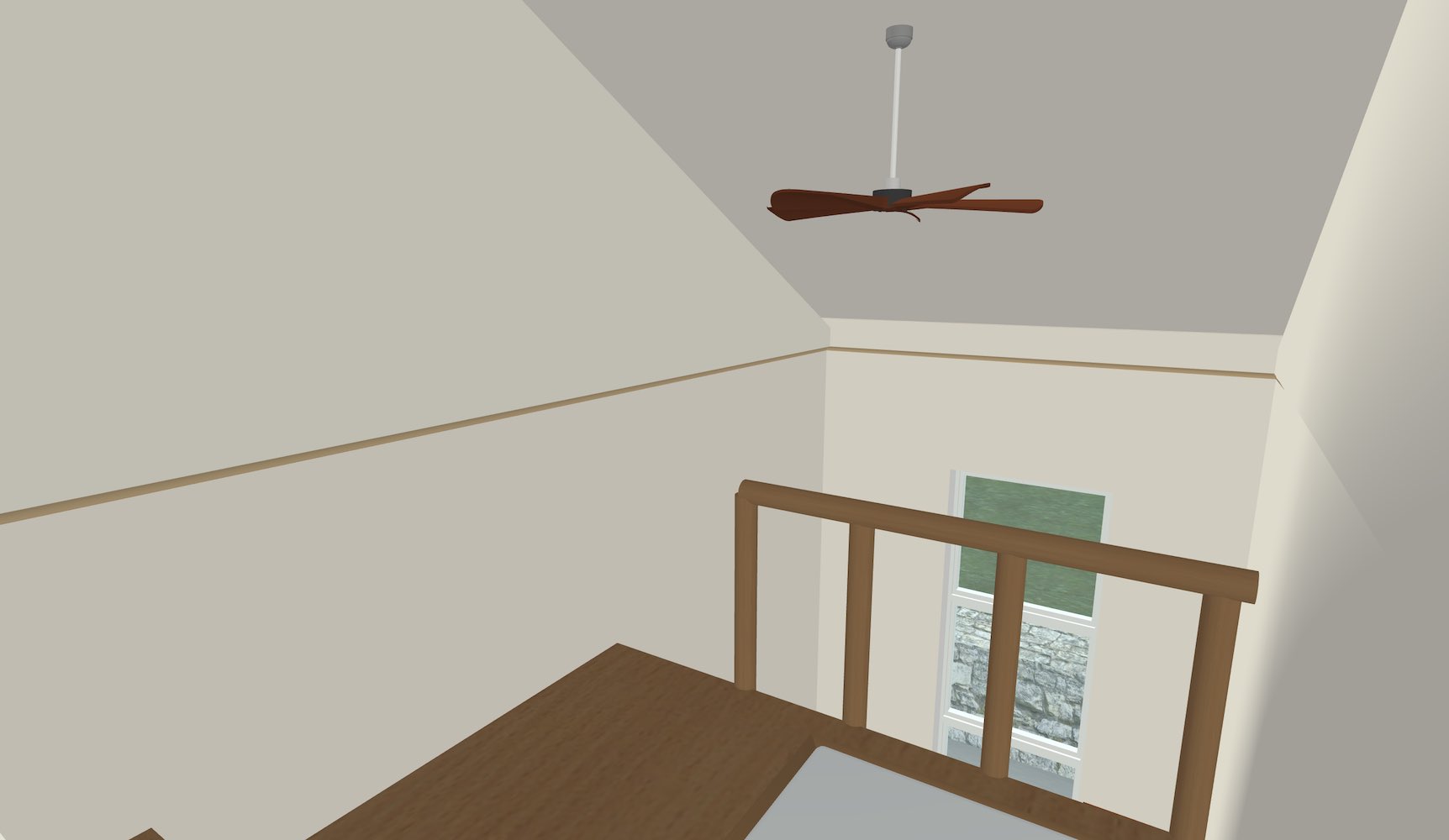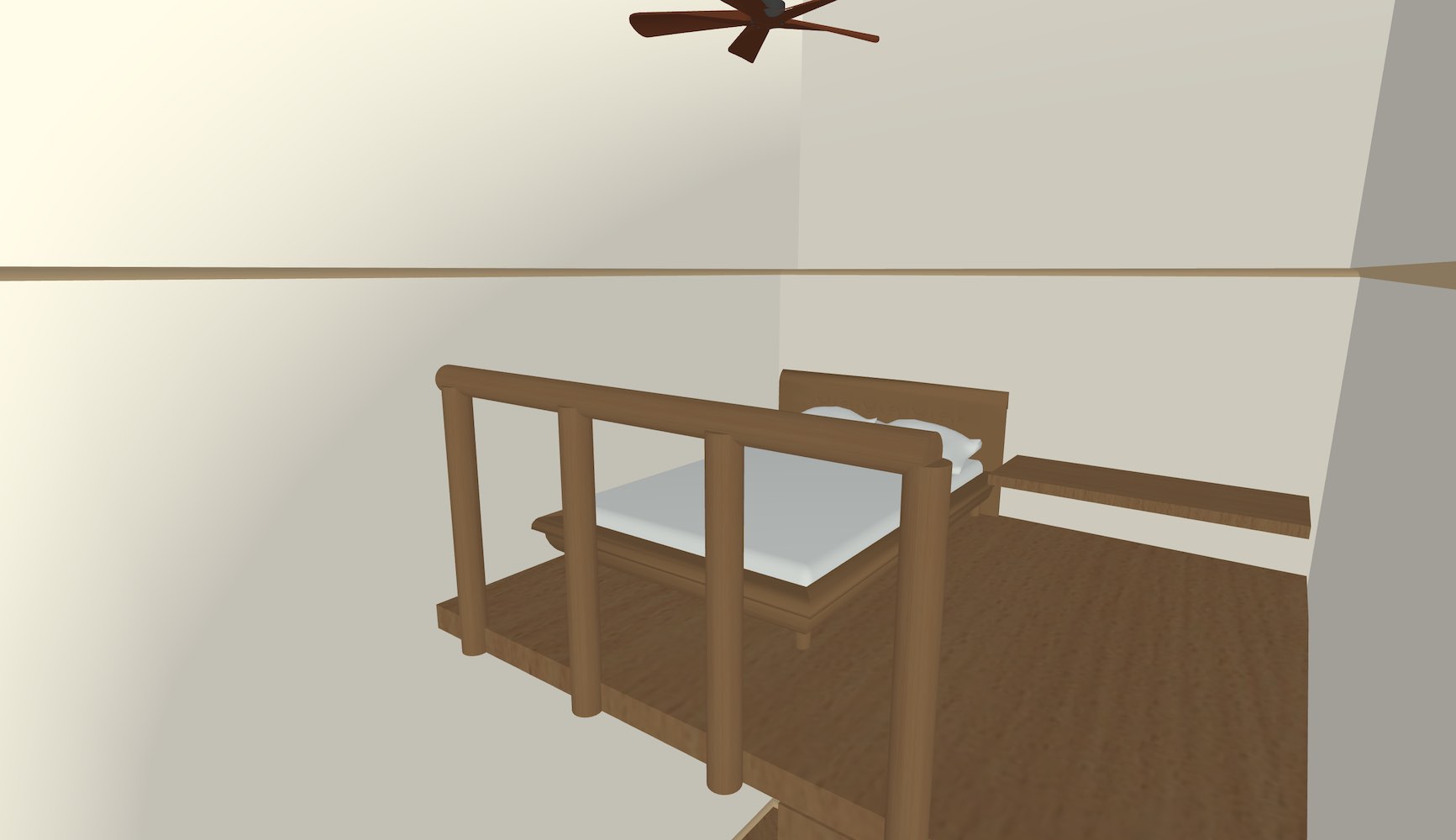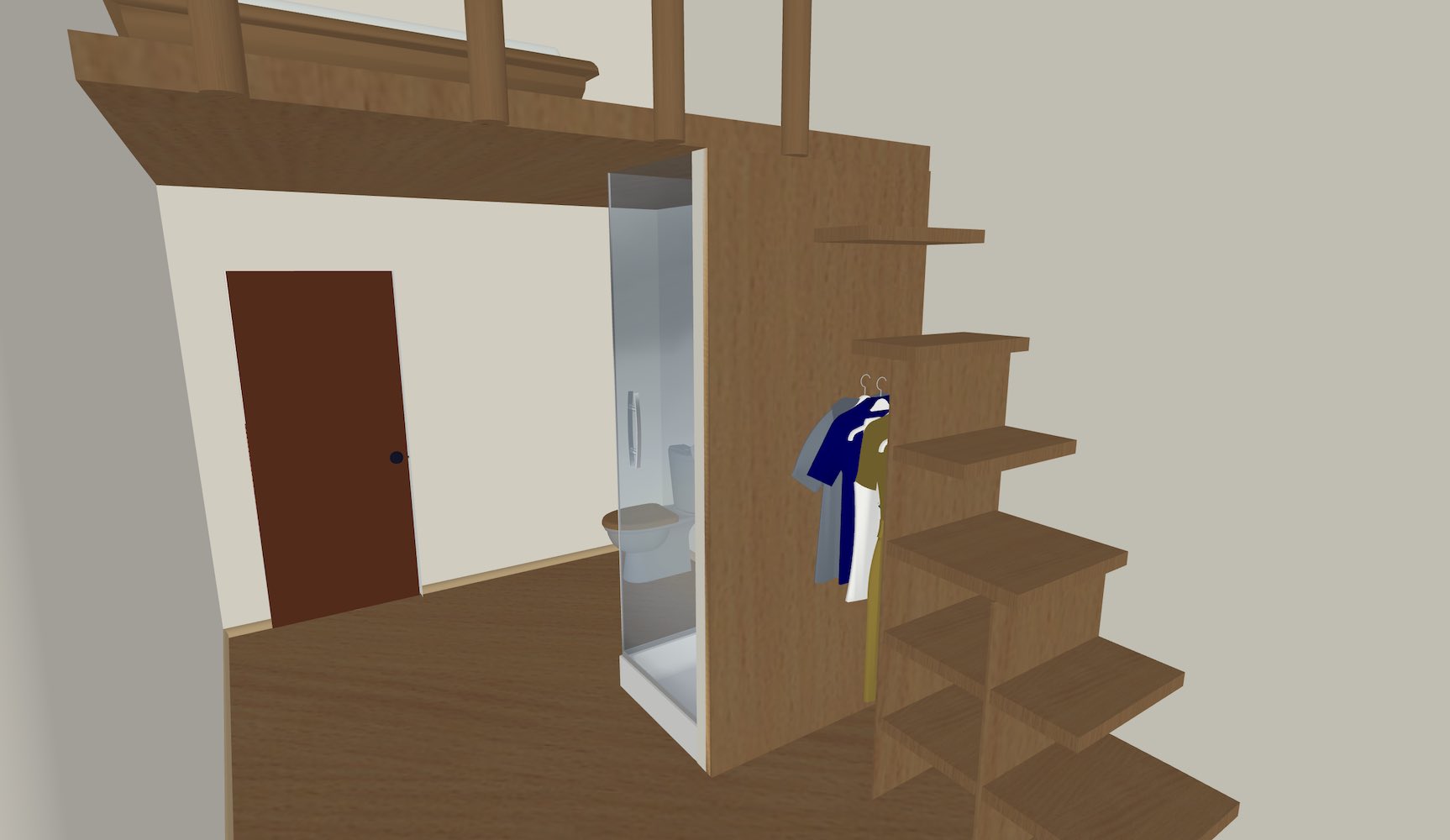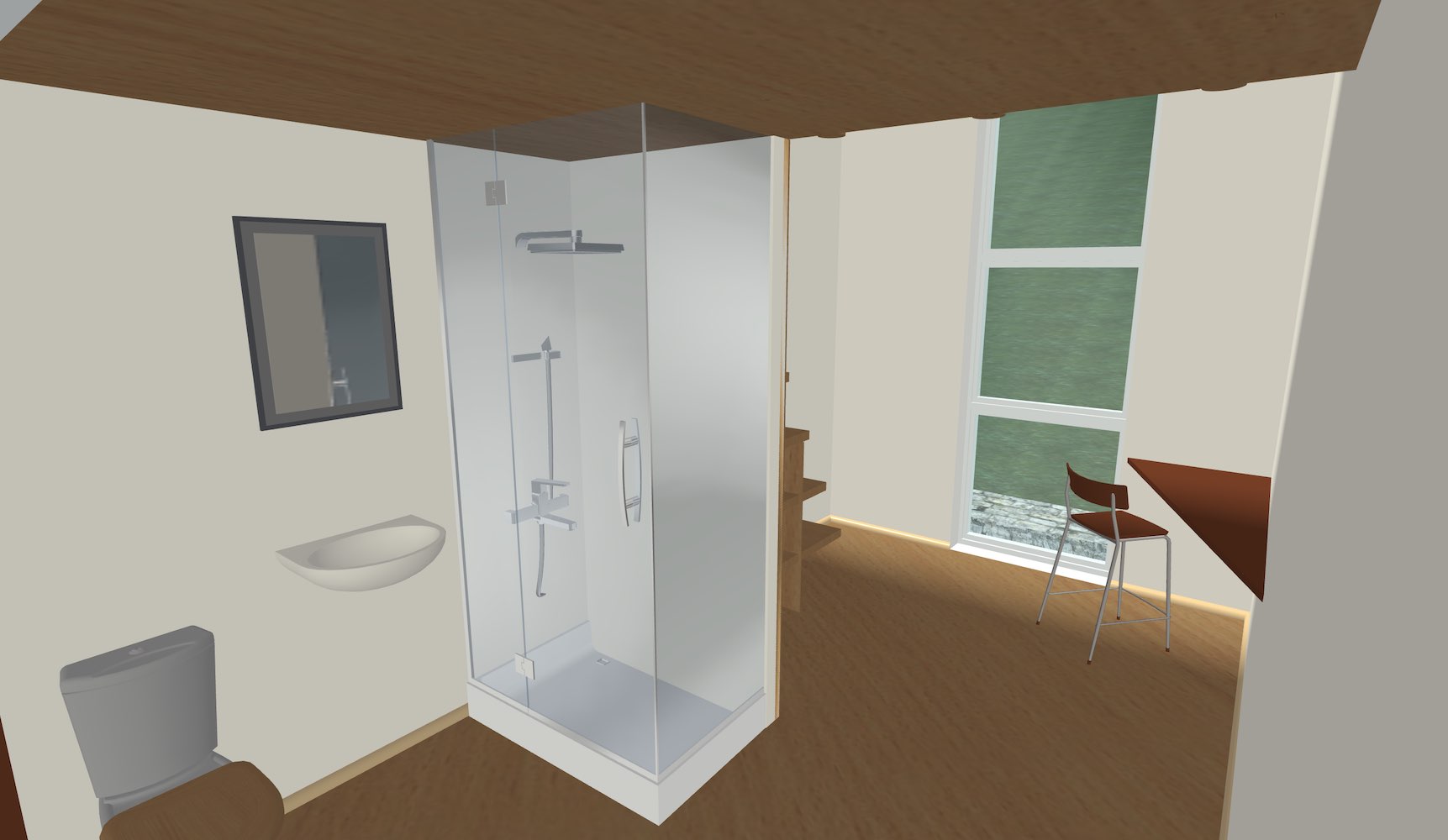 Tech
We'll use a professional system with many WiFi hotspots running at low power (except outside) to reduce interference and electrosmog, and you'll be able to seamlessly roam around without loosing a connection or dropping a videocall. This will use a dedicated power-over-ethernet backbone, connected to a switch with multiple internet providers which will fail over automatically, and allow you to choose between them.
The location has fibre so bandwidth will not be an issue, although individuals will be throttled if they abuse it. All our online management systems (see security) will be cached locally, and these will be provided by a platform.coop of which we will be members, thus its future direction will be ours to help decide.
We prefer local face to face interaction and as such activities and outings will be written up on boards in a public space, however we shall also use a dedicated coliving app to ensure everyone gets last-minute gathering and household notifications, especially for booking and using facilities. You'll be able to opt in or out of specific topics and actions.
Cohousing
This property's 3rd building is ideal for cohousing, with each of its 7 units having an anticipated cost of ~€35k. As a further note, the owner of the property has an additional adjoining house at the top of the terraces above the property and having views all around, with a large flat 1000m2 terrace/plot, this could probably be negotiated down to the same cost as the studios would be, thus is arguably a much better deal if you wanted more space.
Only plumbing, electric and air extraction connections, door and windows (both full height, double-glazed with roller shutters) will be provided with no internal decoration, floor/mezzanine, nor ceiling finishing. Everything is for the purchaser to specify, however available collective labour may be used for the works and a basic fitout package could be done from €5k. Bear in mind that if you want to rent it, you need to make it appeal and standout versus the other units.
Each has floorspace of 55m2 including a half mezzanine; the unit width is ~4m80 with ground floor depth of (including small bathroom) 6m50, and 5m on the mezzanine which extends above the bathroom, doorway and passage, thus the front of the unit's depth is also 5m with full ceiling height to the roof apex at 6m60. It could be extended the full length for two bedrooms. The front wall is ~3m70 high with two windows reaching 3m whilst the mezzanine wall would be ~2m40. It would be possible to install skylights, good at the rear over the mezzanine. Inter-studio walls will be deep (as they enclose the timber structure) with woodfibre insulation. Floor will be ply and suitable for parquet or tiling.
The owner may engage a rental management contract with Hub House and the unit will then be listed with the others at their chosen price, however this may not be any lower than the studio price, and every booking will incur a fee (reviewed annually). A monthly community maintenance fee shall also apply, however shall be lower than that for colivers. Else the owner may rent it themselves, however they must register their guests on the Hub House system, and inform them of the community contract. The owner and their guests will have use of the whole property. TODO: move to questions page
Cohousing shares do not pay dividends, however there's nothing stopping you holding multiple classes of share. The reason for this is that it is up to the owner to specify their space, and no offence but it might be awful, or you may simply leave it empty. Such activities would denigrate the collective offering and should not thus be rewarded. If you rent it, all booking revenue is yours, after your costs contribution, and if using Hub House to manage rentals, a corresponding fee.
The following quick render gives an idea of a possible open-plan layout, with a super-king bed on the mezzanine and 3-seat sofa below. Note the extremely high ceiling which in this layout has impact in both the sleeping and lounge area. With lockable cupboards under the stairs and next to the door, even a lockable wardrobe, and you'd be all set for renting and return home whenever you fancied.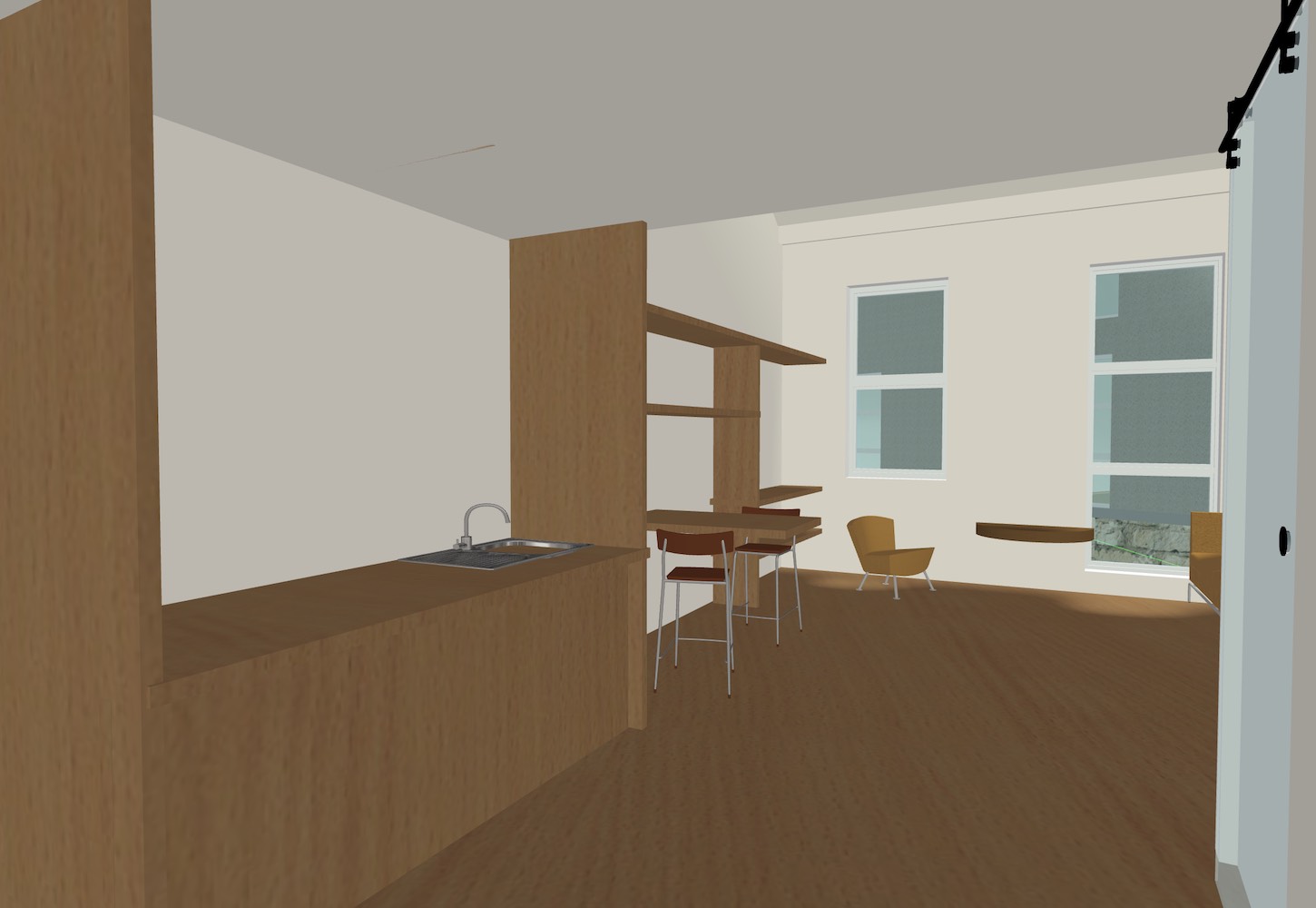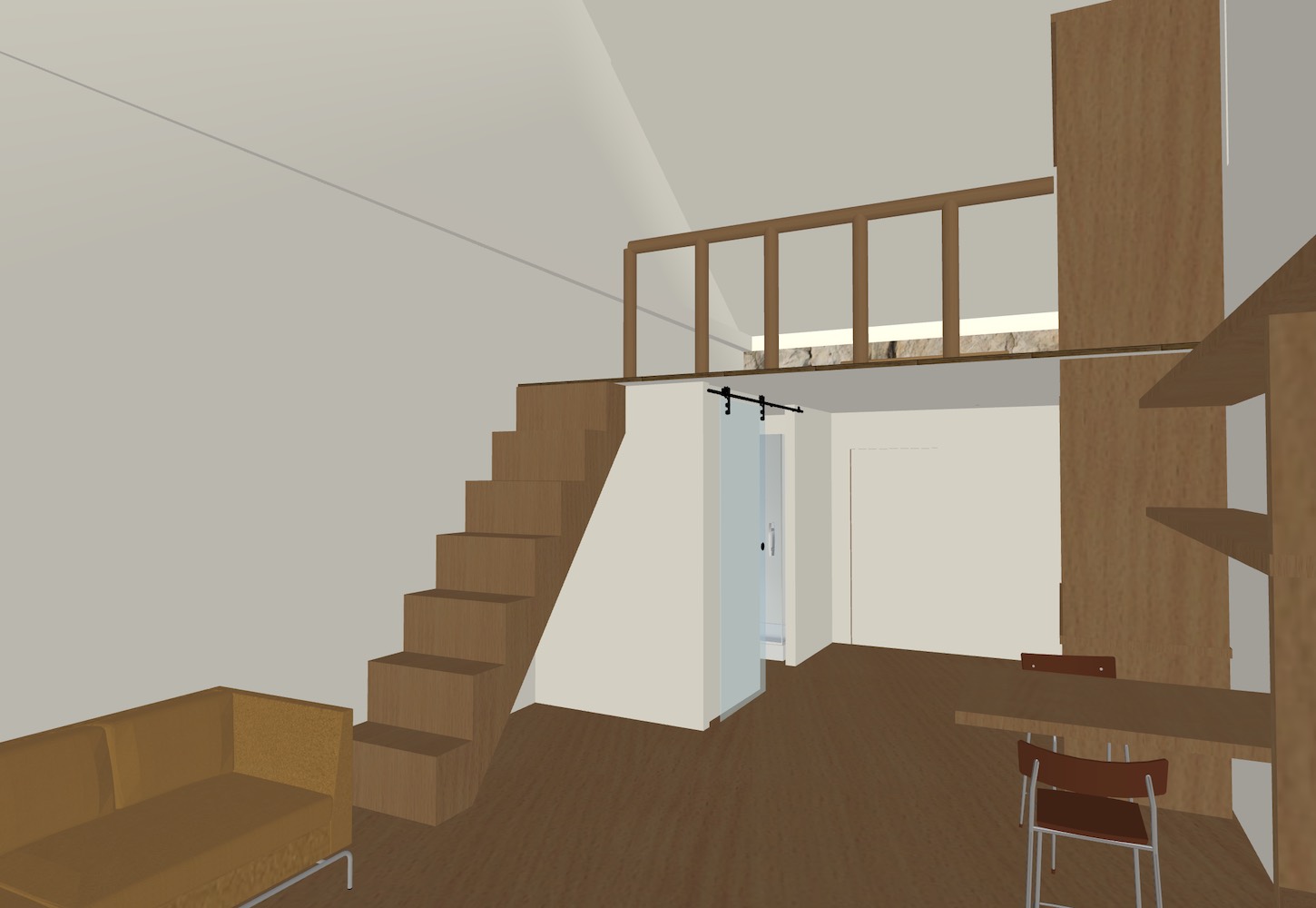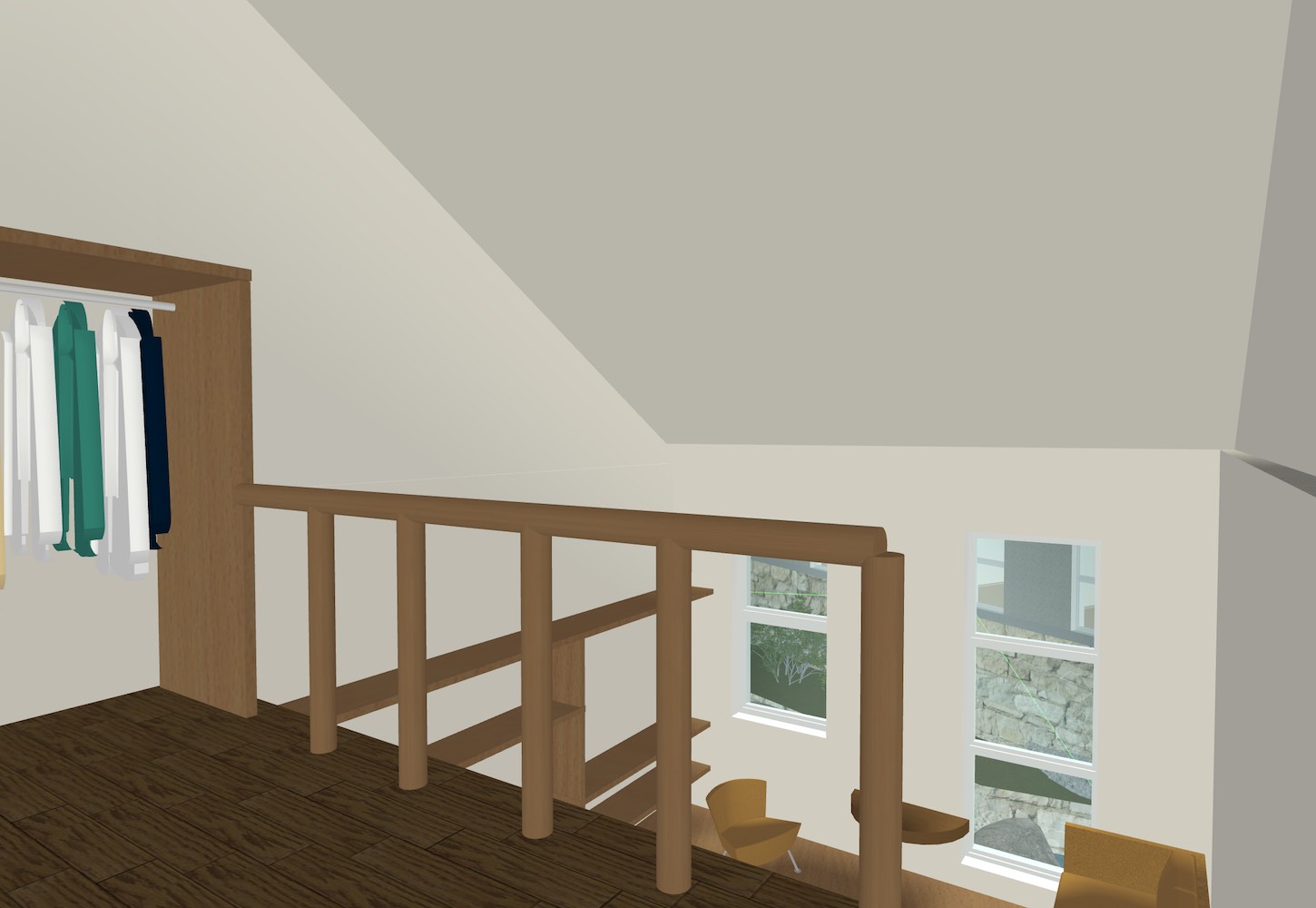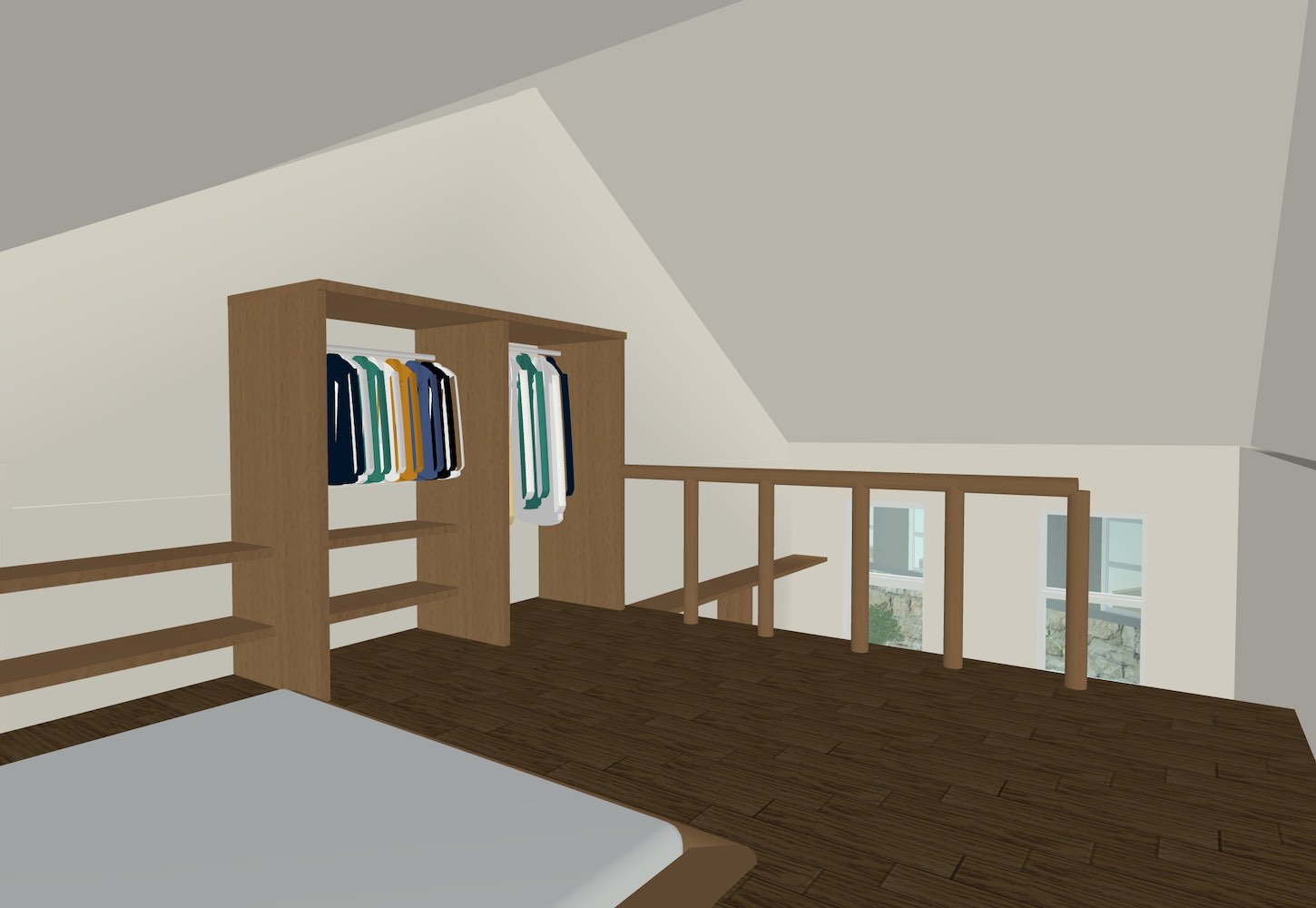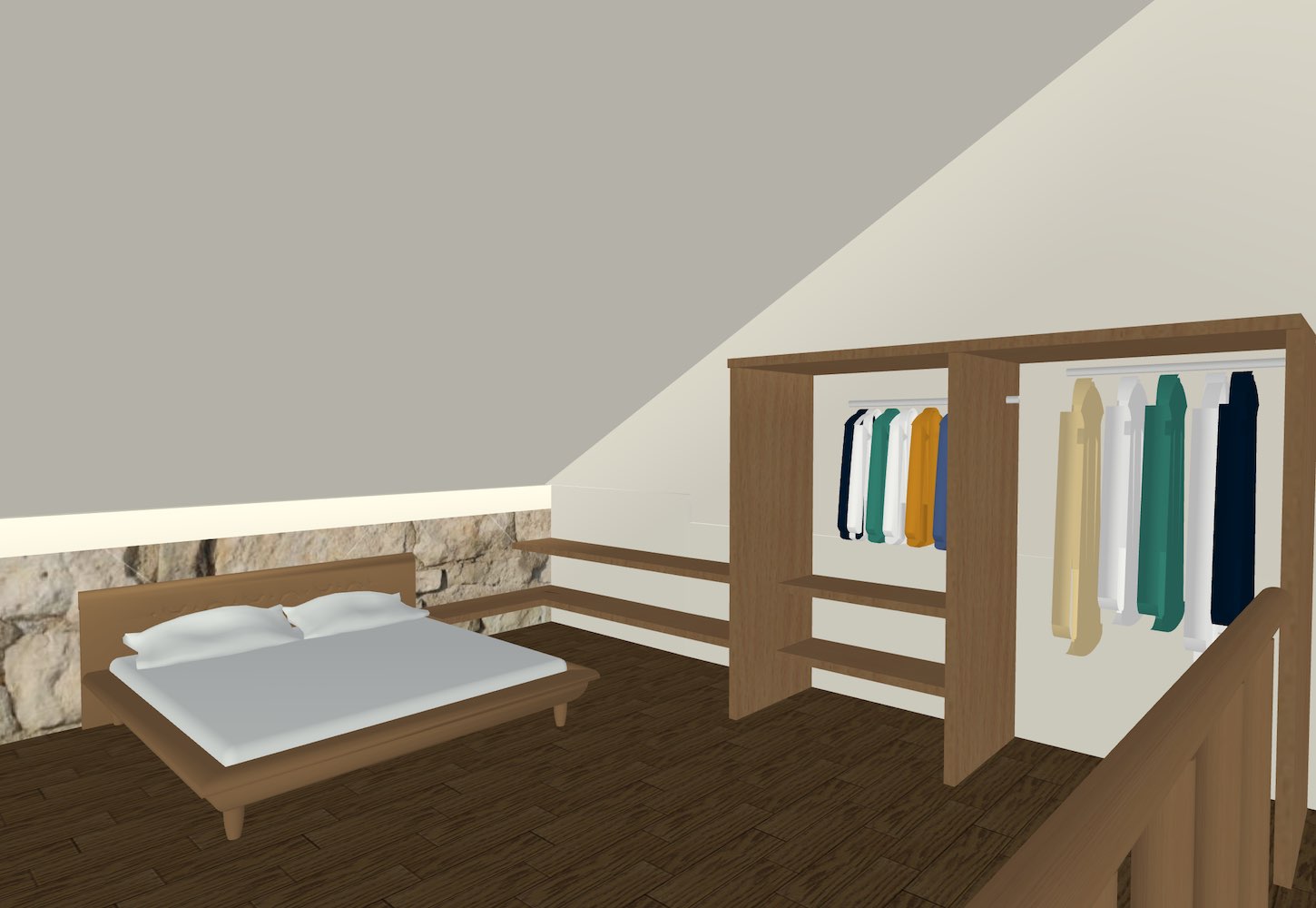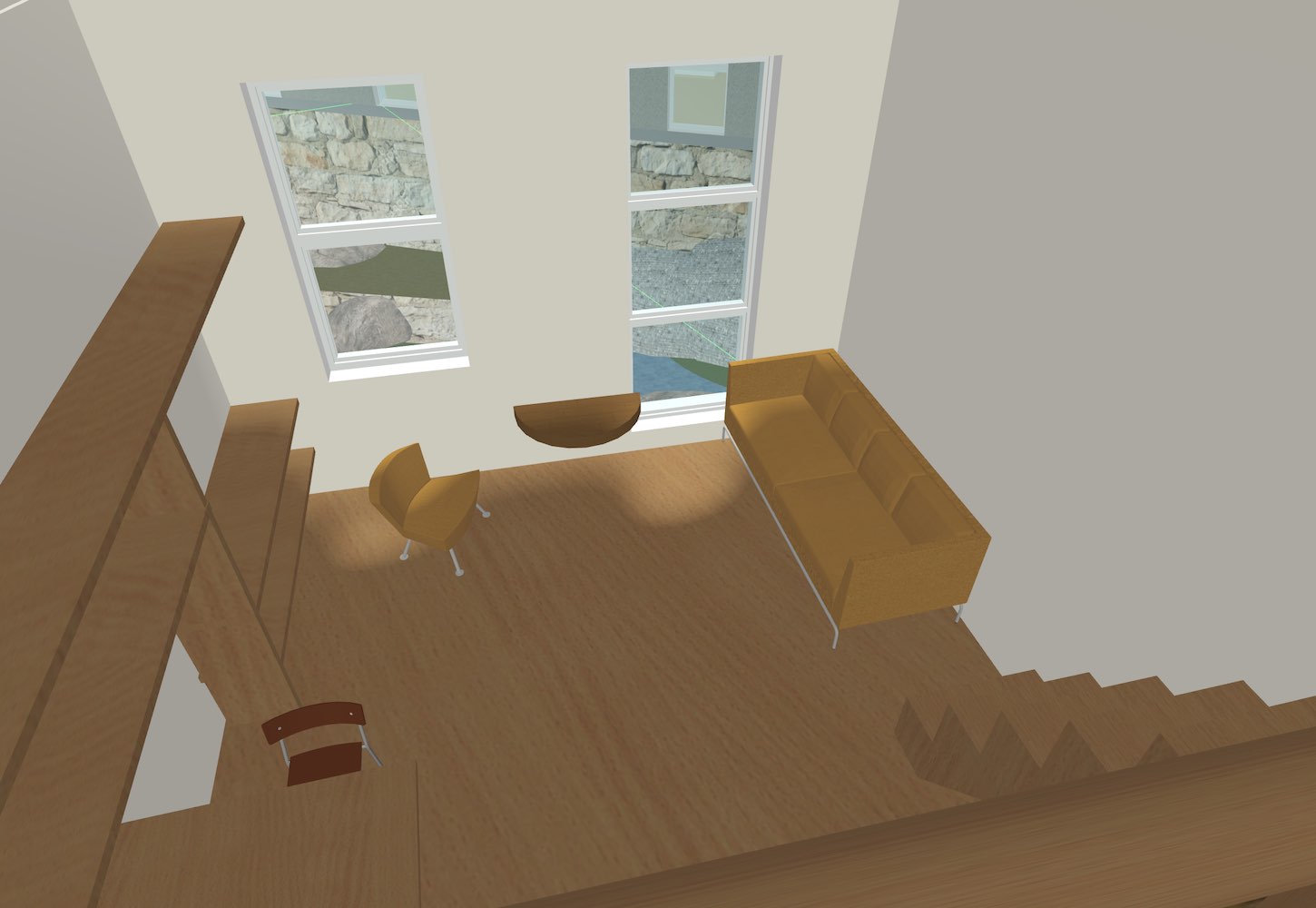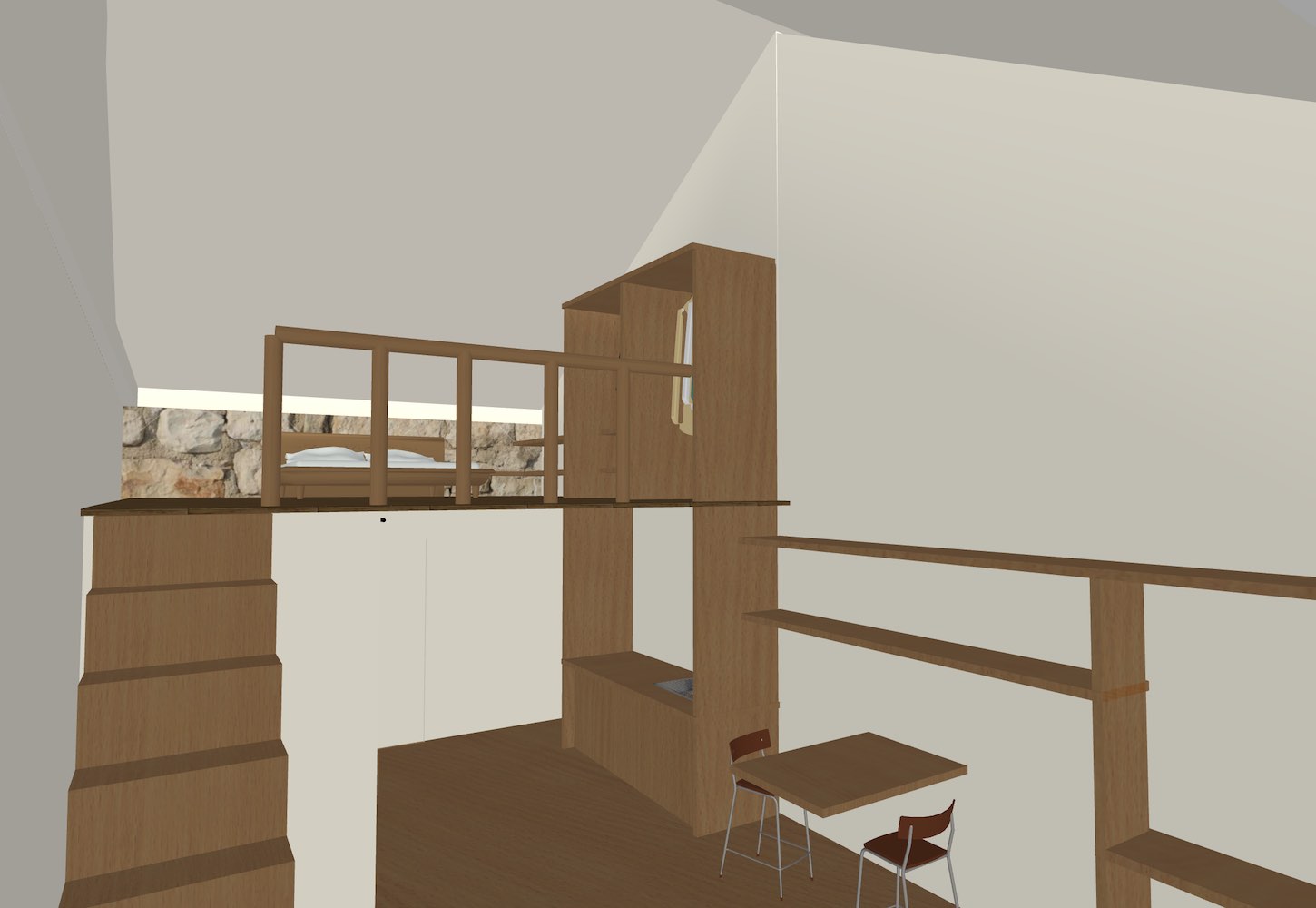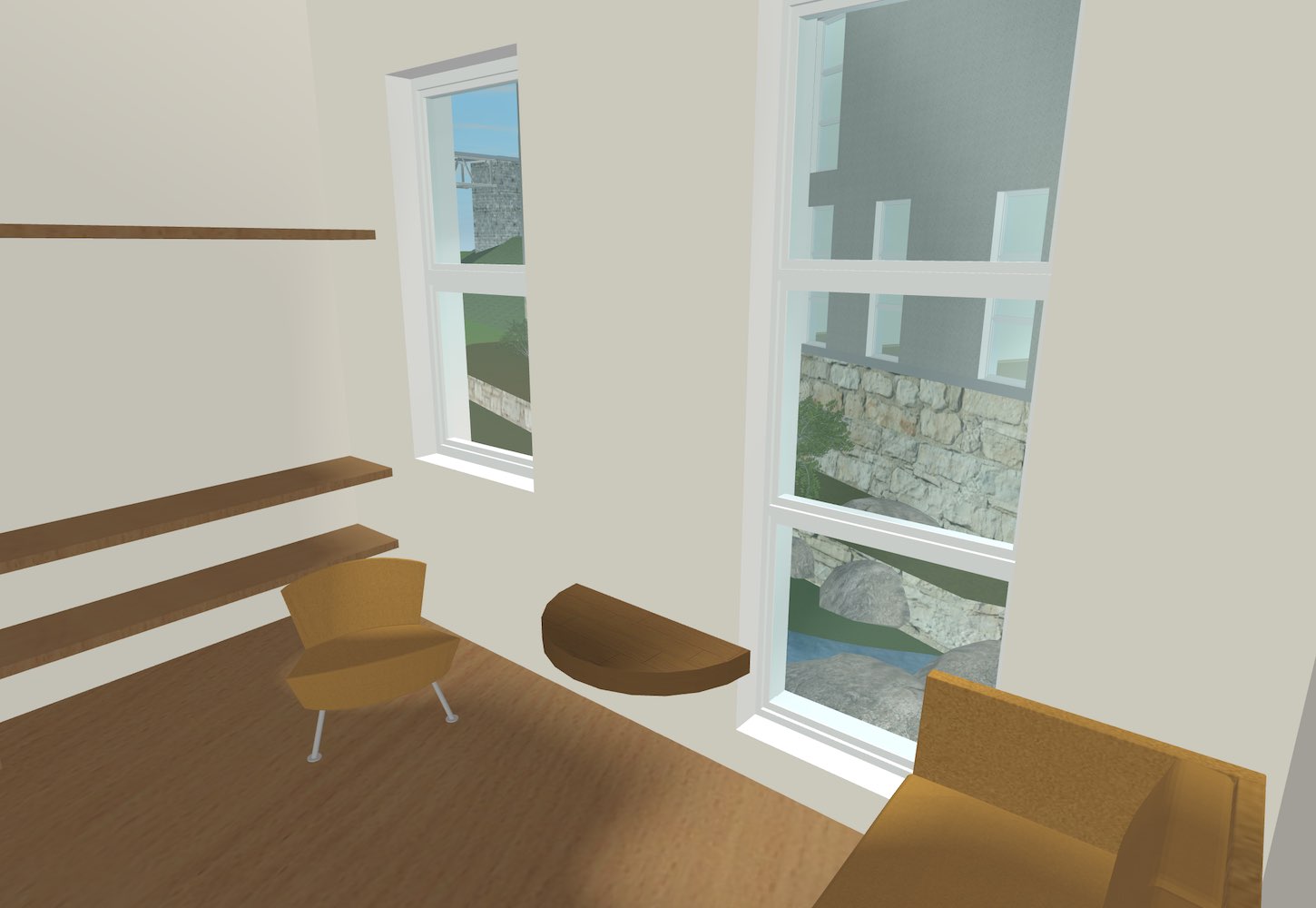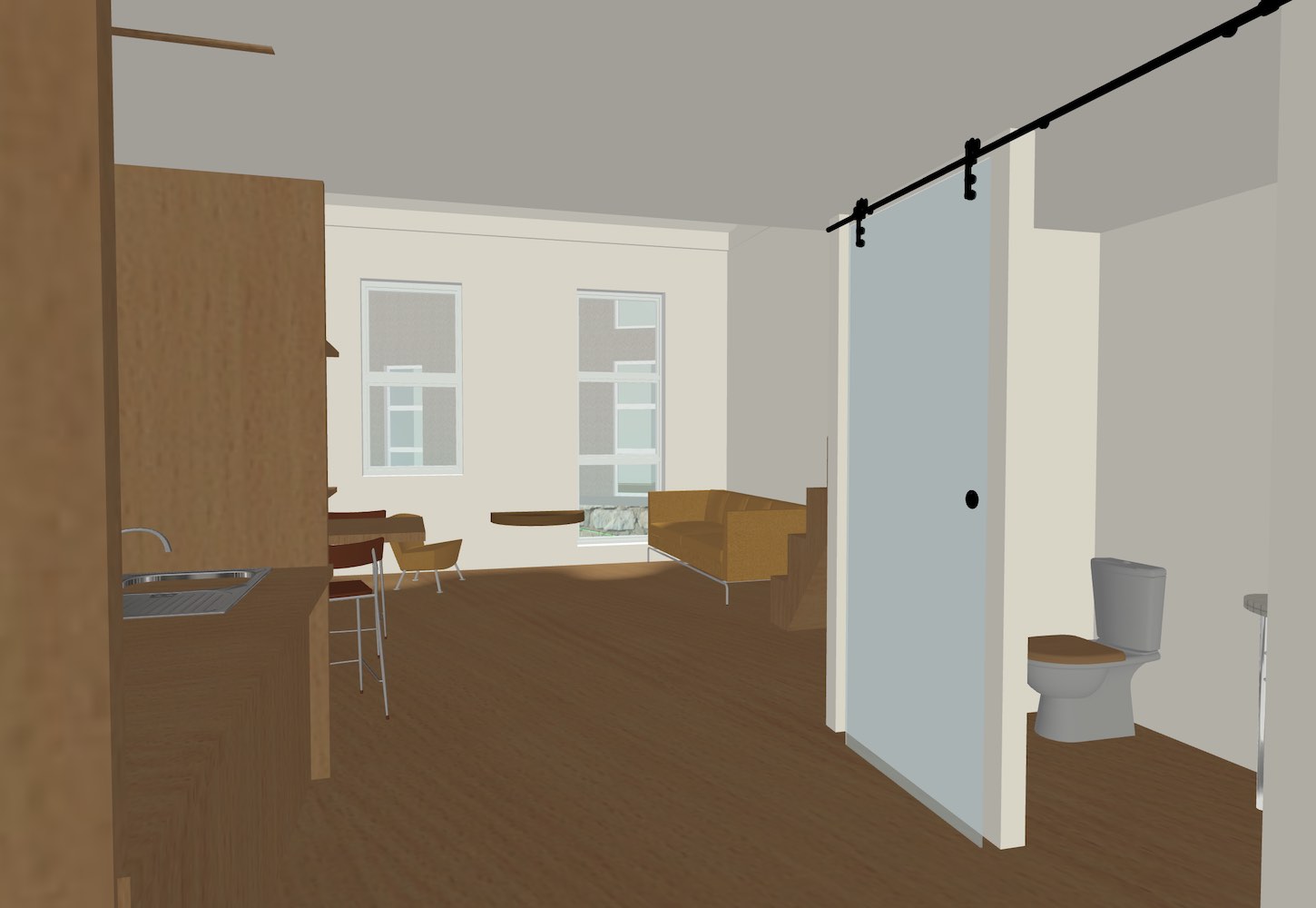 Operations
Rentals
Notes
the ruins below the modern factory and under the railway bridge have been acquired by the railways company so we can surreptitiously help the nearest one fall down, also means there'll be no development in front