📌Not sure what this is all about? We're creating a coliving space as a co-operative, co-owned through crowdfunding and as a social enterprise offering rentals. This page details our plans and status for this property candidate…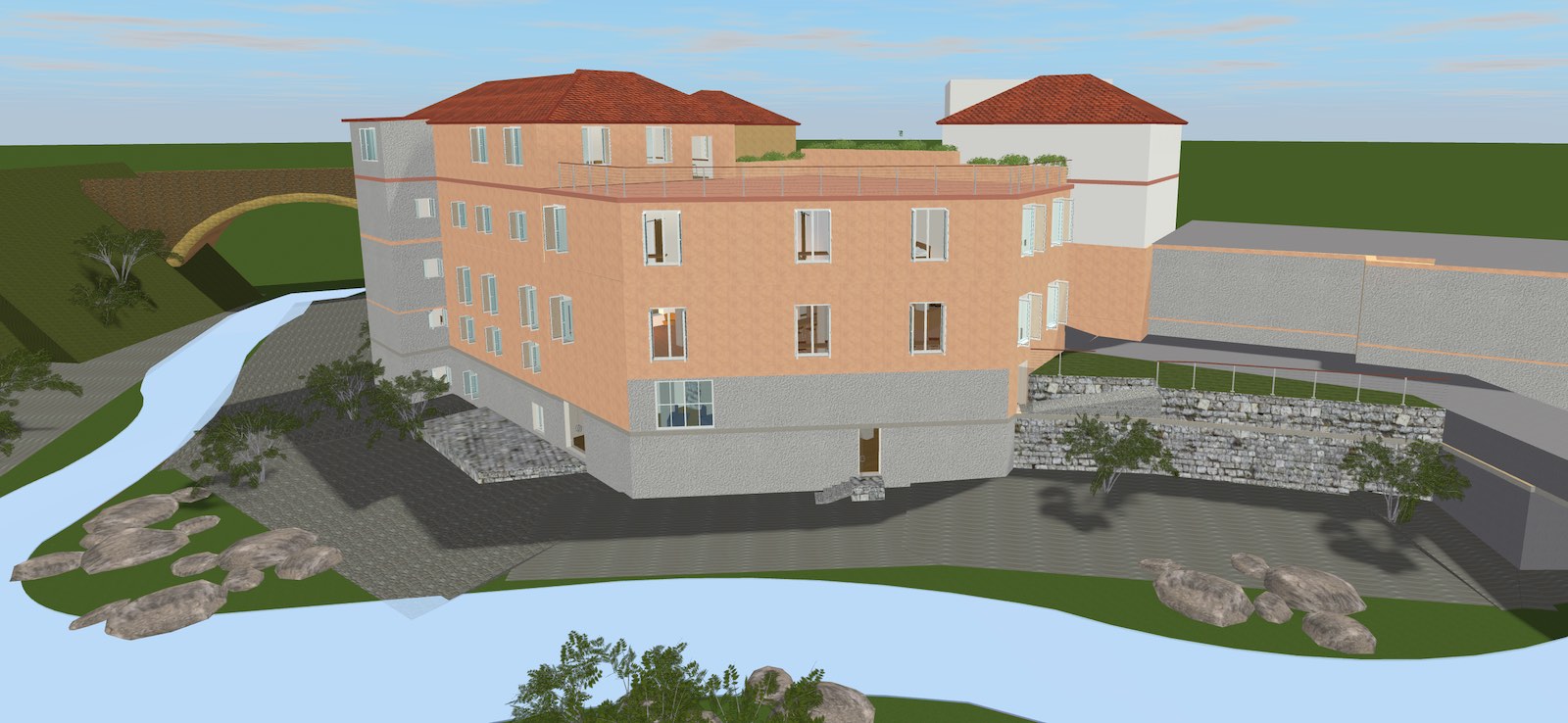 Attractors
✅ nature — walks on doorstep, 15mins drive up mountain, 30mins to seaside
✅ city — 30mins drive; fab for exploring, authentic dives and culture
✅ services — nearby shops, fibre internet
✅ spacious — tons of common space, sociable and quiet
🆕 affordable — can be acquired with few members and with low participation
🆕 progressive — can be fitout bit by bit, floor by floor


an ancient mill with a more recent extension perched next to a stream
no mosquitoes, that I noticed during the day anyway (unlike the coast and inland on the pianura Padana—arrrrgh!)
feels rural, at the bottom of mountains and natural park, even if actually also the edge of the burbs
apparently solid with no structural works required (except 5m2 of roof)
Detractors
ugly suburbs, but immediate surroundings are nice
no garden, only a huge roof terrace, but is on a long 'private' section of stream
it's Italy — lots of bureaucracy and some legal/operational juggling may be required, but 🍕
not a great winter getaway; only passable as mean temp is 10° with highs around 16°, about 3° better than London, yet much sunnier (London: 2 days clear, 15 showers; Genova 9 days clear, 9 showers)
the immediate woodland walks aren't the best, a tough ascent up the mountains to better trails without a dropoff
huge amount of machinery to disassemble and remove, but only on secondary floors
roof terrace needs resealing/tiling (huge area)
quite awkward layout with random levels and column placements making it difficult to define rooms which are a bit small and only half being ensuite, but hey there's lots of common space
dubious transit; hourly bus but with long wait for train connections, but only 10mins pickup and close for bike
all facades to do (but could be partly ignored for a while)
Status
📢Given a slightly revised approach and assuming your pledges are now out of date, should you be interested in joining or investing in the co-op for this property you'll need to let me know directly to be included as we proceed. jacob@hub.house or +33652516291
Structural: survey is being organised
Planning: looks positive; agent will facilitate meeting with council
Incorporation: co-op rules pending debate
Funding: founder committed (studio); pledges pending notification by email after survey
3rd Sept
revised plans giving 4 micro studios and 1 additional ensuite, reducing share costs
The area — Genova, Italy🇮🇹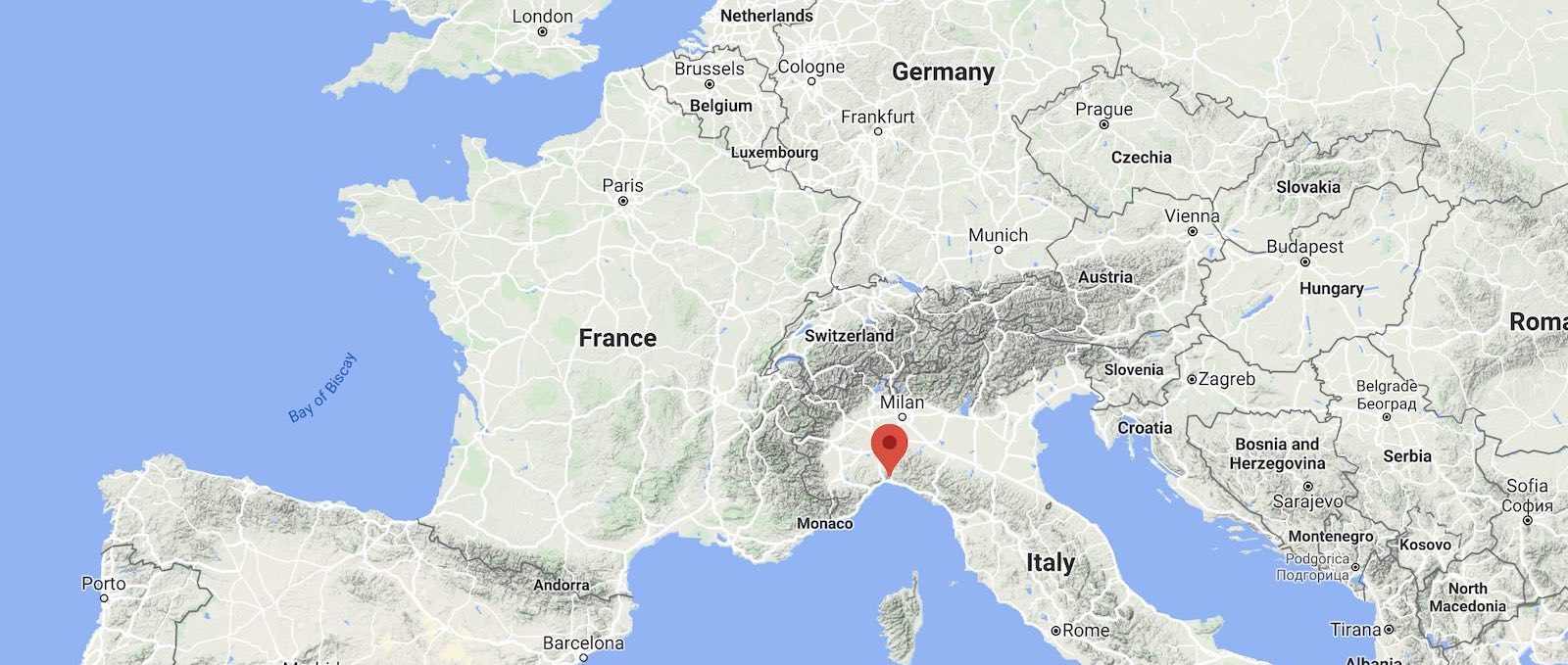 a fantastic city, gritty and pretty — described as 'a pearl covered in shit', maybe it's the next Berlin(!?); lots of places to hangout and explore, with a huge medieval quarter; funiculars and lifts to help you traverse its elevations
only 1h30 by train from Milan; can be reached overnight via Paris (Thello), Munich, Vienna (Nightjet); or the same day via London, Paris, Munich, Zurich
has a well served airport, with year-round daily flights to London, Paris, Amsterdam, Munich; regularly to Frankfurt, Tirana; plus seasonal to Barcelona, Madrid, Copenhagen, Moscow, Palma, Vienna, …
Click photos for locations/details. I can't stress enough that these are selected, the suburbs are
UGLY
and depressing, if maybe not as much as England😂; for the sake of comparison the last photo is a stretch of typical road 10 mins walk away on the way to the village during March.
The locality
Right on top of a clear stream, which is pleasant but not quite as pretty as one might hope.
At the end of the lane there's a very basic shop and a bar, and 15mins walk (or hourly bus) in the local village of Campomorone there's a small supermarket and other shops. There's a bunch of local restaurants nearby, some decent. And sports grounds/pitches.
A few hundred metres along the road, a path climbs through the woods for hikes, and then joins an abandoned tourist tramway making a trail winding up to the monastery at 800m for a 2h hike, with restaurants along the way. For better hikes and rides the mountain peak is a 15min drive. The nearby woods are a bit bleak in winter and mountains rather steep for biking up but popular with e-bikes.
15mins bike or 10mins drive is the local station of Pontedecimo (also serving Milan) which would be the usual dropoff and pickup point. There's some more shops and a weekly market but better off going into the city.
The coast is a 30min drive / 1h transit with decent waterfront and mostly pebble beaches, although most is edged by road. There are good spots and indeed some sand too, but a longer drive is needed to get to the better places, there's also a quiet section of coast with an old railway converted to greenway. Kayaking is 40mins drive on the coast, but also rivers, plus some rock climbing and via ferrata.
It's possible to hike across and down to the coast plus various other routes returning by transit. The Alta Via dei Monti Liguri 440km hiking route passes; similarly for mountain biking plus many technical trails are within a few km and one can do day long circuits such as along the peaks.
The property
1050m² on 5 floors • 470m²+ common • 360m² outdoors • 200m²+ undecided
28 desks • 9 bedrooms • 5 studios • 1 dormitory
typical occupancy around 15 • max 22 (singles) to 35 (twin-sharing/doubles)
first floor — sociable
lounge and breakfast-bar 60m² with sofas (or ~30 event seats)
roof terrace 200m² (~16 for yoga)
8 pods 40m2 dorm with terrace
call room 5m2 looking over the stream and trees
ground — accommodations
1 studio 30m² +ensuite, kitchenette, 2 windows
4 micro studios 15m² +ensuite, kitchenette, window above stream
2 plus 10m² +ensuite, window above stream
3 standard 10m² +ensuite, window onto courtyard
4 basic 10m² with shared bathrooms, various windows
ensuites are 3–4m²
3 shower rooms with WCs, 1 bathroom, urinal
lower ground — purposeful
kitchen/dining 180m²
casual workspace 55m² for 12 desks
casual breakout 50m² with 4 desks and sofas
coworking terrace 15m²
terrace 35m², next to bridge
2 WCs
basement — focussed
focus workspace 55m² for 12 desks (or ~30 event seats)
library-lounge 50m² with several semi-private armchair nooks
sub-basement — undecided
auditorium 100m² up to 40 seats for cinema and talks
stream terrace ~25m2
main hall 55m² only 2 windows, columns in the centre
sauna
hall 35m² one window
plunge pool and terrace ~40m2 (difficult access)
The same owners also have the adjacent house of 130m2 across two floors, this would make an excellent space for more studios however whether the co-op might undertake this itself is debatable as it's better to add new locations rather than expand a single location.
Rendering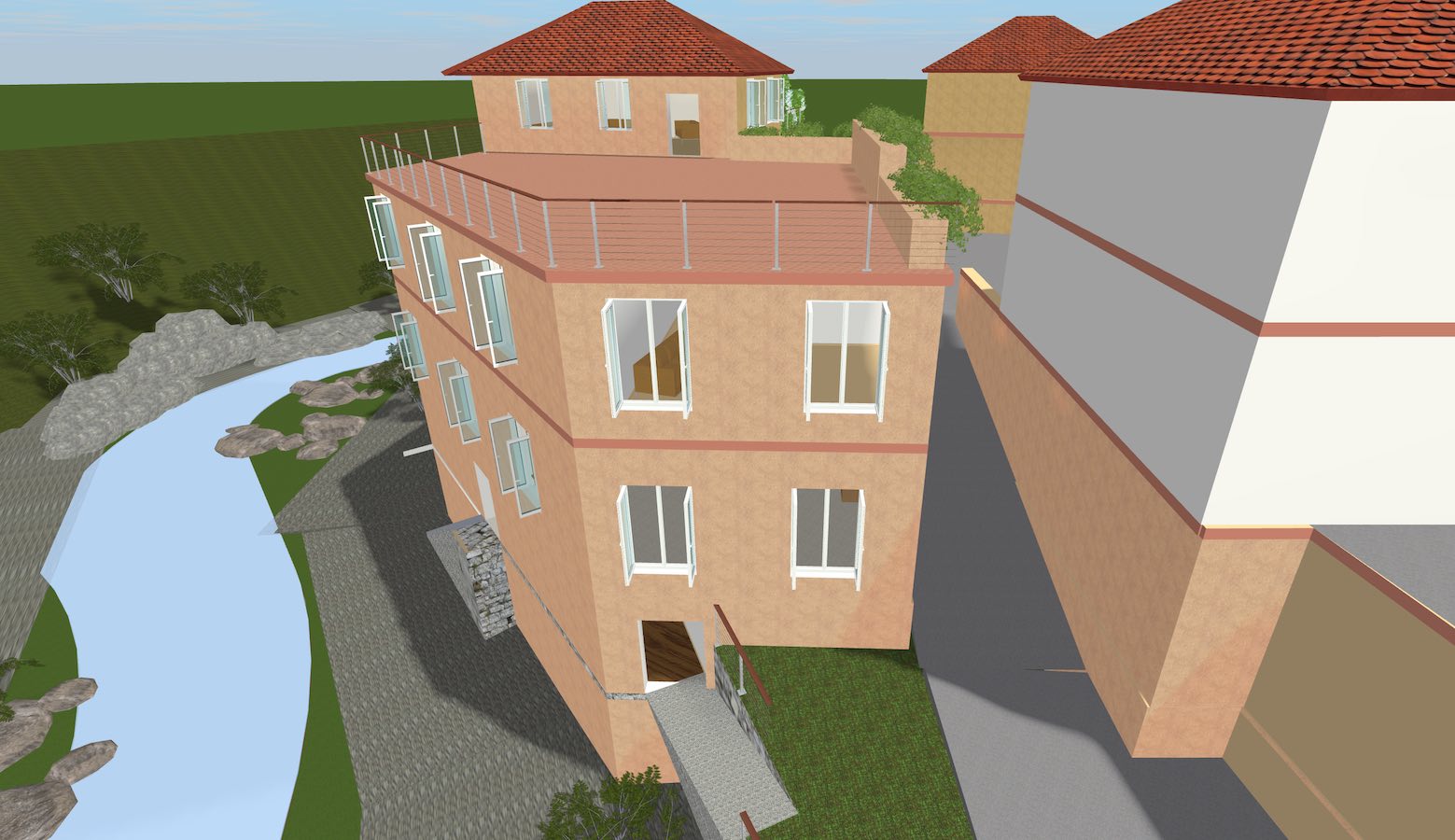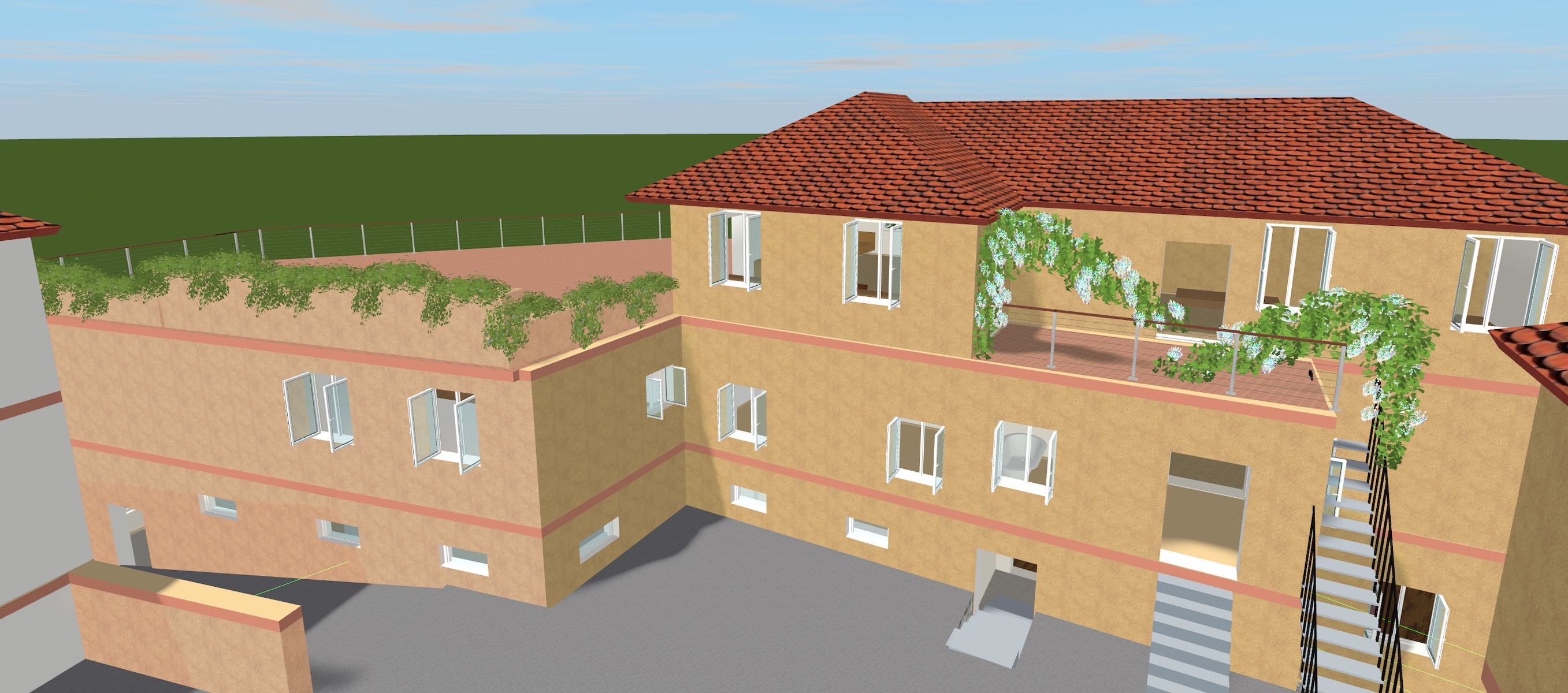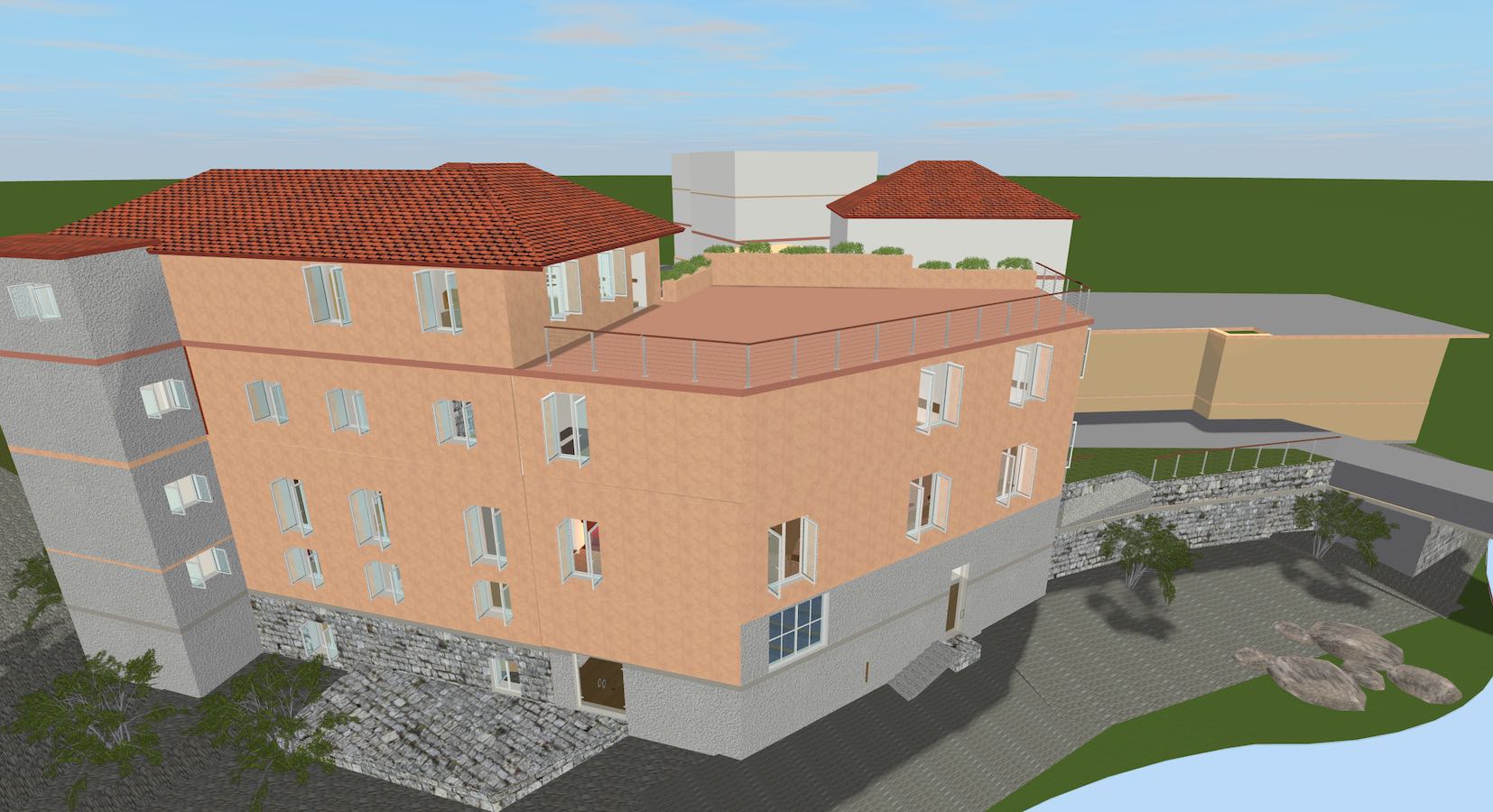 Costs
~€75 000 acquisition
~€155 000 basics (shared bathrooms and limited common spaces)
~€180  000 finishing (all rooms and common spaces)
🎁During startup, running costs should be covered so every member visiting to help is welcome and need only contribute to some costs. The rates apply only once fitout is complete…

Show notes…
†For dedicated units, expenses are per-person at the additional occupant rate, thus covering and including coworking and common facilities.
If only 3 micro-studios are possible share costs will increase by about 6% for shares on a standard room and more for studios but their sizes increase by 5m2.
Includes 20% margin, which if unused I will propose we invest in further improvements (e.g. auditorium, conservatory…) as opposed refunding.
Minimum shareholding will be 10 days which is ~€525 for a pod. Dedicated holdings need not all be paid up upon membership, however timeframes would have to be established.
Whilst works on this property are not significant, shares are not cheaper as there are less bedrooms, and with many more common spaces. 2–3 addition bedrooms could be added on the first floor as there would be enough other common spaces, providing the auditorium is created, or the sub-basement is used. Alternatively 1 bedroom could be created at the back of either breakout, although it could not be included in the planning application thus 'grey'.
Should additional rooms be created, member's use would increase accordingly, and we could thus each choose to withdraw the corresponding value or keep it. The value is not however particularly notable for those with small shareholdings, being with a month of shares only 4 days extra use or about €350.
Dedicated unit shares do not include fitout (can be arranged) nor maintenance, and are thus cheaper than fractional shares for both acquisition and expenses.
The return is indicated for use versus rental, i.e. purchasing shares and contributing to expenses, versus paying rental rates, is cheaper after this time. But of course overlooking any other benefits and based on low rental rates which may be increased in future. Intangible benefits such as allocation of revenue surplus towards events and programmes is surely the better return.😍
Plans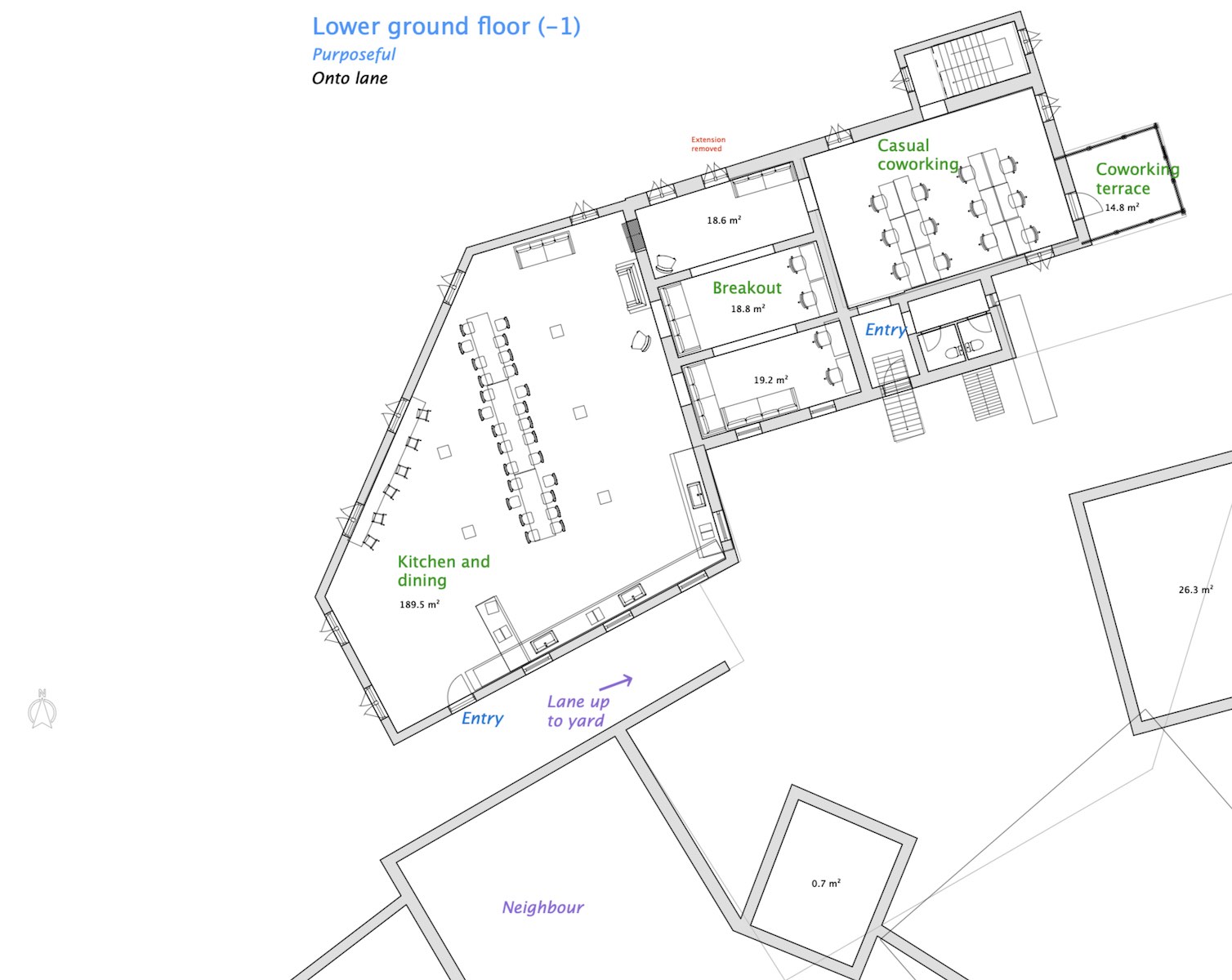 dedicated coworking, purposeful spaces for different working styles
no chipboard, instead seagrass, plywood, oak, plus rustic floorboards and cement
streetart murals and sculptures, ever-changing to keep things interesting
shared bathrooms are independent, not communal, plus an actual bath
soundproofed, multi-layer bedroom walls, and covered hall floors
reduced wireless use, wired internet integrated with USB-C power at desks
desks with USB-C power, no need to carry your power adapter back and forth
smarthome technologies, automatically reducing power use for lighting and hot water
keyless access, using your phone, any contactless card, or fingerprint
Approach
The property can be undertaken progressively; membership and fitout need not be rushed. Given the low acquisition with uncomplex works for basic usability it means just a couple of members can acquire the property. But as I'm likely the only majority shareholder this will have to wait until I sell my current place.
This property is adequate such that I'll consider moving in myself and 'camping' to manage the works (actually given it has fibre, is rather better than the French town I'm in currently!), whether employing labourers (as budgeted) and/or with volunteer help. Then rooms could start being brought up to spec for those of the equally adventurous members willing to participate!
Startup phase members (probably limited to members in the first six months up to 30% of capital) will now gain a discount (~6%) on fractional shares given that the property will not be fully usable, with use-contributions as a simple cost split. This obviously means costs for those joining later will be slightly higher (~2%).
It is thus advisable that only those of you truly interested in actively participating in the project become members at this early stage, as it'd be good fun whilst only partly functional! During startup phase votes would be by shareholding, not co-operative, this may however be revoked using a vote under co-op principles (prevents being held hostage by yours-truly as a majority shareholder, until there's more members).
👨‍🌾If you're more rurally inclined or this doesn't suit, there's a few of you considering doing an eco-build in Portugal or similar, and if this one doesn't work out you could count me in too—get in touch and I can connect you.
Fitout and function
We would repair and utilise existing surfaces rather than fit new ones, workspaces and basic bedroom floors will be a mix of rugged floorboards and patched up/polished/sealed cement. New flooring (likely seagrass) would be put in place for the pods, lounge, breakouts, bedroom hallways and the ensuite bedrooms. This provides noise reduction and feels homely but would have to be replaced fairly frequently (every 10 years for the common spaces). The kitchen/dining and roof terrace floors would be tiled using cement or plain terracotta tiles (likely seconds).
Expand…
Kitchen and dining hall
On the lower-ground floor, this is a massive common space with high ceilings and big windows mainly north over the stream but also catching evening sun. Multiple workstations would allow simultaneous independent or coordinated cookups; some sofas, a breakfast bar, and a super long dining table.
There is only the one kitchen, therefore it is less than ideal to those particularly sensitive to other's cooking smells. One station would however be reserved for veggie use, and all would have extractors. It may be worthwhile creating an additional kitchen and dining area in the sub-basement next to the stream. The breakfast-bar in the lounge would not be for cooking (well, other than toast).
This room could have a large fireplace although would then need a long chimney pipe (whereas in the lounge would not). Partially adaptable for other uses by moving tables around, and has a door onto the lane for easy shopping.
Laundry
Ideally the rooms off the proposed auditorium would be used for this as it provides access to either the bridge terrace or stream terraces, whilst being completely isolated. An alternative would be to place on the roof terrace. Initially a kitchen corner would be used.
Lounge
On the top floor next to the roof terrace. Simply sofas and beanbags with a small bar-kitchen ideal for breakout breakfasts. Would have a plain wall for film projections (albeit not ideal as needing curtains to be pulled over its six windows and three doors!).
Bedrooms
On the ground floor between the two more lively floors, yet would be well isolated from them with direct access yet no traversal. The differentiation between basic rooms and plus/premium is primarily window size/outlook and an ensuite bathroom. The better rooms would be fitout with nicer materials and furnishings, whereas basic rooms are self-explanatory. Pods share a large room on the roof so are of course more social, and have their own entrance.
The pods and basic rooms share the independent bathrooms on the ground floor (i.e. immediately down one flight of stairs from the pods), one of which would have a bath.
Studios
The larger studio is being purchased by yours-truly, leaving 4 micro-studios, 1 or 2 of which would be available dedicated.
The studios are compact at about 19m2 including their ensuite, having a large window with adjacent kitchenette and seat looking over the stream. They accommodate a 1m60 bed and will include a fold-down bunk for sharing and children.
Workspaces
There'd be two workspaces each with 12 desks, one casual and lively with common tables, near the kitchen (likely generally with music playing), and another on the floor below being quiet and focussed with desks facing away. This latter could also be used for events such as presentations as desks would be against the walls. Both spaces have adjoining breakout areas, with armchairs, fitted upholstered banquettes to work with feet up, plus some additional desks.
The casual coworking also has a small terrace which would be fitted so that one may perch and work hanging out over the stream to the east (catching morning sun, but shaded at all other times so no screen glare!).
There's a call room at the top of the stairwell, a couple of steps below the first floor. It would have an isolating door and a window overlooking trees and the stream, but you could arrange the desk and background as you prefer.
The focus workspace has a small 10m2 room off it, which might be used as an art studio or for other specific activities.
Auditorium
This is a possibly significant improvement however not terribly useful until the community is larger and with a cost of around €15k (~4% or €100 on a share for standard rooms) likely not a great investment. It utilises the sub-basement extension (not main hall) with stepped seating to provide a cinema space (comfortable and relaxed for 20+), or event space for talks and workshops (up to 40 could squeeze in). Could have ramp access from the bridge terrace utilising an existing doorway, to provide shed space for bikes etc plus direct access for events, and with an additional ramp or steps, kitchen access to the stream terrace.
When not in use it has a 25m2 open area overlooking the stream, suitable for use as an artist's studio or for other activities, and adjoining the wheel room (down some steps).
Would require a new lightweight timber floor and partial destruction / lowering of the canal walls, however a pipe could be maintained for water features/pool. Removal of the canal and the raised floor fixed to the columns, would avoid flood risks.
SmartHome coliving
The goal in using such technology is not just to improve usability—but also to reduce wastage and the prevalence of technology itself…
To reduce RF and congestion on WiFi, desks will be equipped with USB-C power sockets having integrated ethernet thus laptops would use wired connections rather than wireless when plugged in. If beneficial this could be rolled out to bedrooms, negating the need to carry power adapters at all.
Hotspots would be set to low power with more of them, to reduce each individual hotspot's RF reach. User location would however be much easier to identify, in most cases to specific common rooms. Access via a private address (anonymised MAC) will not be permitted. Strong data use privacy would however be effected and no proxy would be employed, however fair data use would (i.e. fairly divided amongst active users with a reserve).
Lighting in common spaces would be always-on LED mood strips. These would be supplemented by additional fixtures that controlled by smarthome switches, automatically turned off after-hours and reset to off by presence sensors.
Bathrooms would also use presence thus occupancy will be knowable, e.g. when all are full this could be displayed in the pod room. Also significantly reduces interaction with switches (could even be extended to bathroom doors not having handles and locking upon presence).
Presence would additionally be used in bedrooms to turn off fixtures upon departure and to know occupancy, obviously this represents a minor privacy concern, but if one doesn't want to be found, there's plenty of places to hide, and a blanket block could apply after hours except for security reporting.
Main entrances and bedrooms will all be equipped with smart locks (in addition to keys) working with any RFID emitter/card. This approach means video could be minimised if used at all as each member would be responsible for securing their own access identity. Use of a key (or bypassing) would trigger video.
Bedrooms will be equipped with their own dedicated power meter, for winter heating billing. Rewarding those who prefer to use duvets.😂
Heating will be mixed, using only a few convection heaters for background air warmth without unduly disturbing air quality, and infrared panels for focussed warmth and only turn on when there's people present. Some panels in workspace, breakout and dining areas will have selective control for those whom are sensitive and prefer to turn them off.
Note: RF and battery-powered smarthome comms protocols/devices are not suited to scale, rather powerline (PLC) is, however this property has limited scale and very infrequent use/polling thus RF with batteries is adequate, however inadvisable for entry doors, which may require a backup power source.
Other
Entryways are small yet there are many with at least one per floor to the exterior via steps, allowing changing floors outside or inside via the common staircase at the back, which is again narrow albeit can pass on landings.
A sauna would be great, and can be squeezed in somewhere likely near the plunge pool. A firepit for outdoor gatherings should be possible on or next to the stream terrace, plus of course there could also be a pizza oven and BBQ somewhere too.
The roof terrace could be partly green, or at least have some flowerbeds, it could also have a glass conservatory, and even be netted if mosquitoes prove problematic.
The roof terrace would of course host yoga, easily accommodating 16, but in inclement weather the focus coworking could hold six people, else 12 in the dining hall.
The roof over the parking would be removed to provide more light from the south, notable for the casual breakout, kitchen and two bedrooms. The small lavatory extension off the lower-ground above the stream would also be removed.
Operations
Expenses include a contribution to volunteer stipends, if the community looks after the property and themselves, these could be reduced. Volunteers would only be allocated a pod unless there's availability, thus has limited appeal for a community manager but it could be subtracted from rental capacity, room capacity could be swapped with pods, or the manager could simply be given a corresponding discount on a room.
as compared other colivings, whilst this location is not as good (compared an island/seaside), we have a good proposition by virtue that their rooms at around €1000/month are generally equivalent to ours at significantly less; even the cheapest coliving only offers a shared room at €450 and without dedicated facilities
there's adequate capacity to infrequently host smaller events and gatherings around themes/activities; artist residencies, particularly over winter when they could be offered a room instead of pod
a board would probably not be designated for this property (there's not enough capacity to give it away); instead a single chairperson would be elected having the same oversight responsibilities and reward; if multiple properties join a platform, they could then share their representatives as a collective board
smaller share issue (reduced capital requirements) but much more flexible on investor allocation; at this scale the percentage of co-owners doesn't matter as much, rental guests would be just as welcome, as would reduced flexibility
Photos and video
To watch the video simply rotate your screen to portrait on mobile, else go to YouTube.
I made two visits whilst on a bikepacking trip (mountain bike touring); first time I descended from the mountain to meet with the agent, whom was a little pressed so I only got a few photos. However I returned a week later and shot some video (albeit first time using portrait mode), without the agent so a bit surreptitious, although I left my bike on the bridge — upon returning someone appeared (perhaps a neighbour tending their vegetable plot!) so I was forced to use my non-existent Italian to exchange some pleasantries about biking in the sun and how nice the shade was… no mentions of breaking and entering.😅
View all photos
Works
Currently use is split between specific habitation and work areas, thus new use zoning must be obtained to extend the existing housing on the first floor to include the ground floor. All other floors will remain classified as workspace, although we'd use some as the 'cafeteria'.
As most of the works only effect non-load bearing partitions, repairs and replacements, this simply involves filing a notification of works commencement (CILA) by a technician who checks the plans meet regulations but the works would not require a builder to be employed as can be carried out oneself. Permissions would be required to change some of the windows enlarging some (stream side), blocking a couple, and also creating a couple of new ones.
The property has sewer, water, and gas connections.
Windows will be the largest single cost before commencing any area and as they vary in size there's no possible reductions in purchasing. During the startup phase many of the existing windows could simply have their single-glazing repaired.
Facades would be planned for works in around 10 years to spread costs, however repairs along the lane would be undertaken sooner.
Acquisition
structural survey
initial planning confirmation
confirm early members
co-op incorporation
membership contracts
you must let me know if you'd participate; as primary backer it'll be a few months before I sell my place so we likely won't proceed beyond this point until then
purchase contract, deposit and planning submission
deed transfer if approved, else deposit returned
Implementation
setup
new sewer connection (pipe exists but not connected) and creation of first ground floor bathroom
temporary bedrooms and facilities on first floor for volunteers
replace 5m2 stairwell roof; a bit difficult without scaffolding and will require creation of an access hatch
preliminary
roof terrace sealing (e.g. tar/geotex); has some currently minor leaks
ground floor windows
ground floor prep and repairs (boards, plasterwork, flooring)
partitions for bedrooms
fitout shared bathrooms
basics
lower-ground windows
lower-ground floor tiling
kitchen and dining
casual workspace
electric heating
finalising
roof terrace tiling
first floor windows
pods
ensuite bathrooms
basement windows
basement flooring
quiet workspace
enhanced
other terrace tiling
auditorium, etcetera
facades
✨If you're interested in participating in this property as an early member, drop a quick message to Jacob directly, as otherwise he won't know to include you. jacob@hub.house or +33652516291
🤝Want to help? Obviously if you join and visit early there'll be plenty of ways to get involved! From disassembling all those beastly machines… to drawing on the walls. A cofounder who can speak Italian and is good at sales might be particularly useful too.


See all the properties, checkout common questions and join the discussion.

💬 Summary and discussion   Make a pledge