Not sure what this is all about? This is a report on one of the property candidates for our crowdfunding campaign to create a co-owned co-operative coliving space! This property was sold just before our visit was scheduled.😭
OKAY  🔨 effort
GREAT  💰 cost
DODGY  🚌 transport
DODGY  ✈️ access
OKAY  🛒 shops
OKAY  🏙 towns
GOOD  🧗 activities
GOOD  ☀️ climate
GOOD  ⛰️ nature
OKAY  🌷 garden
OKAY  🏠 building
DODGY  🏘 hood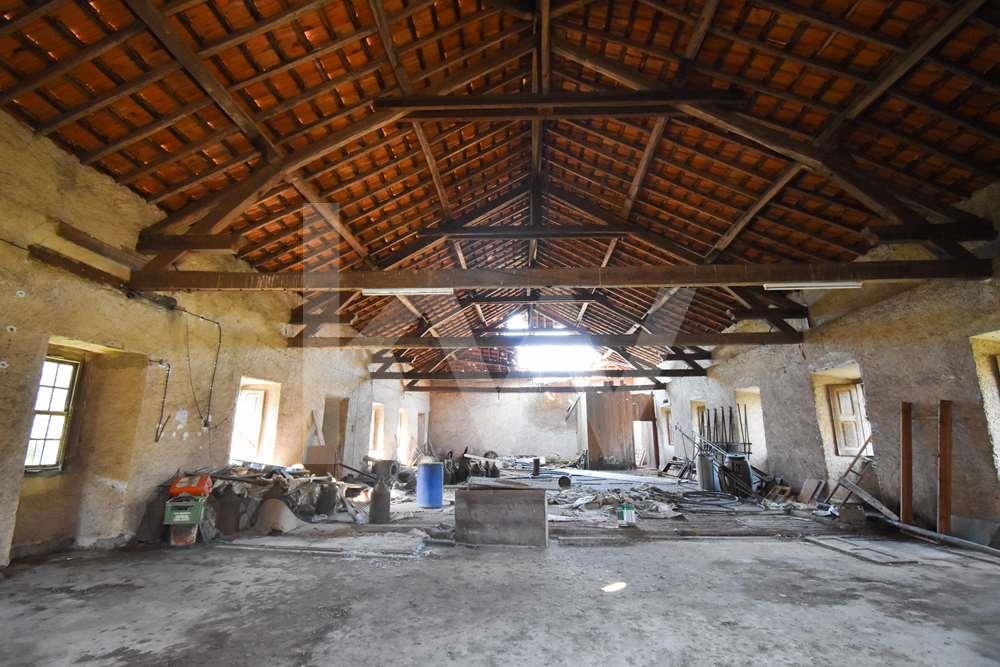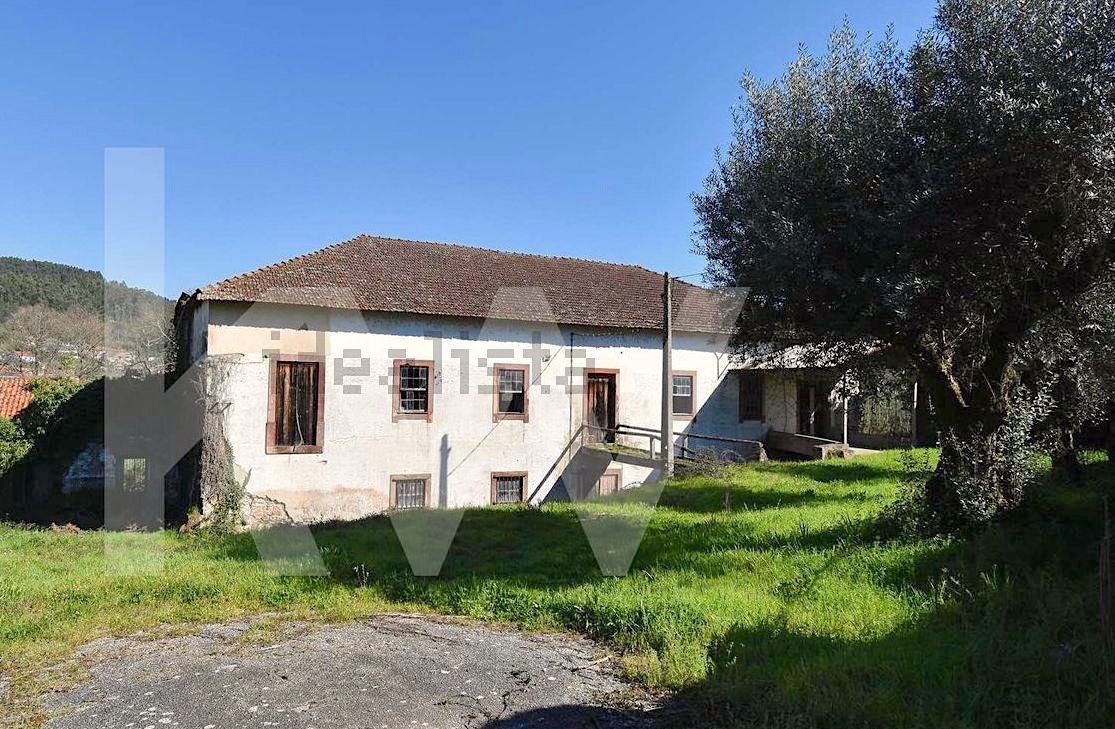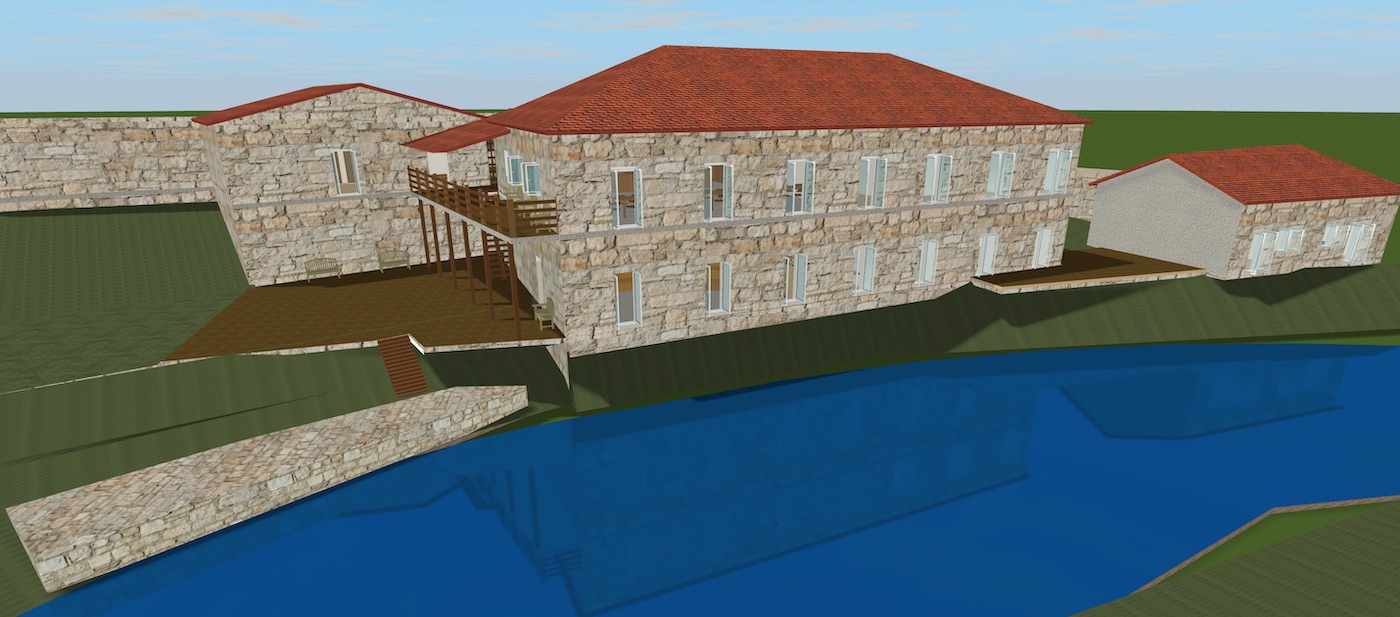 ▶︎ Comparison with prior candidate / Covilhã
➖ more convoluted access — with change or pickup, and slightly longer
➖ restaurants and shops require drive, but one on doorstep
◾️ swaps 30min walk for 25mins drive when going to town
◾️ swaps noise from sexy railway line for a road
◾️ on a quieter, larger river
◾️ less impressive nature but on doorstep
➕ daytrip distance to sea
➕ slightly better climate
➕ closer to an actual large town/city
➕ more rural
Attractors
old open-plan mill building thus enables optimal layout and space use for coliving
affordable purchase, (possibly mostly) solid and small enough not to be worrisome
perched next to a river with fab swimming areas in walking distance
reasonable winters and year-round activities (only two months below 15° mean, still 20° highs)
bus, mini-mart and woodland tracks for walks on doorstep
fairly rural, amongst cabbages🥬 and tiny villages
town has some decent eateries
mix of room types for flexibility, most ~25m² ensuites; plus 2 studios (cohousing)
tall ceilings, with mezzanine rooms, and an imposing kitchen / dining hall
some land for cabbages🥬 and potential to host vanlifers
village has fibre internet
reasonable for seaside daytrips
achieves a balance amongst most criteria
Detractors
next to a road (not too busy??)
slightly awkward accessibility, requiring changes or a 15min pickup; both airports around 4h (3h with pickup)
all fitout to do, including pumped sewerage, and some structural works (fair, given the price)
some of the hillsides (one side of the valley) were burned several years ago and must thus regrow
only one town (yet 45mins to small city)
The area — Serra da Lousã, Portugal🇵🇹
☃️6–13–18° 🏖31–38°  ☀️12 days  🌧8 days
the local (small) city is Coimbra about 1h30 by public transport, either a once-daily direct bus (two others with a change), or frequent to a village 15mins drive; trains are then 1h Porto, and 1h45 Lisbon
yet at 45mins drive, Coimbra is good for a weekly trip together, and as a scheduled pickup/dropoff but a little too far for on-demand pickups
direct overland access to Coimbra is possible by overnight train from Madrid and Irun (French border for TGV connections), or coach (Flixbus: 7h direct Madrid, 19h direct Paris)
the tiny immediate village has a mini-market and a bakery/cafe; a bigger village (Góis) is 20mins bike/10mins drive with small supermarket, weekly market, and a couple of simple restaurants
the main town (only slightly larger) is Lousã, 25mins drive, and has a number of decent places/restos to hang out and eat; including a boutique hotel-restaurant, an artisanal burger/beer joint (and another), plus a couple of good local eateries such as Villa Lausana
the immediate countryside is quite non-descript except for a river beach 5mins walk plus a lovely tiny gorge and natural swimming spot 20mins bike/40mins hike
nearby one can do canoeing, (beginner) rappelling and canyoning
around Lousã offers more variety, at the base of the Serra do Ceira with its valleys, pretty villages and good hiking paths; there's also a bikepark with a club organising MTB races and trailrunning; other activities include deerwatching
a bit further (45mins+) gives more choice such as lots of waterfalls; the national park and fantastic seaside beaches are about 1h15 drive so reasonable for the odd daytrip; the mountains are 1h30
Some pilfered photos… the local swimming spots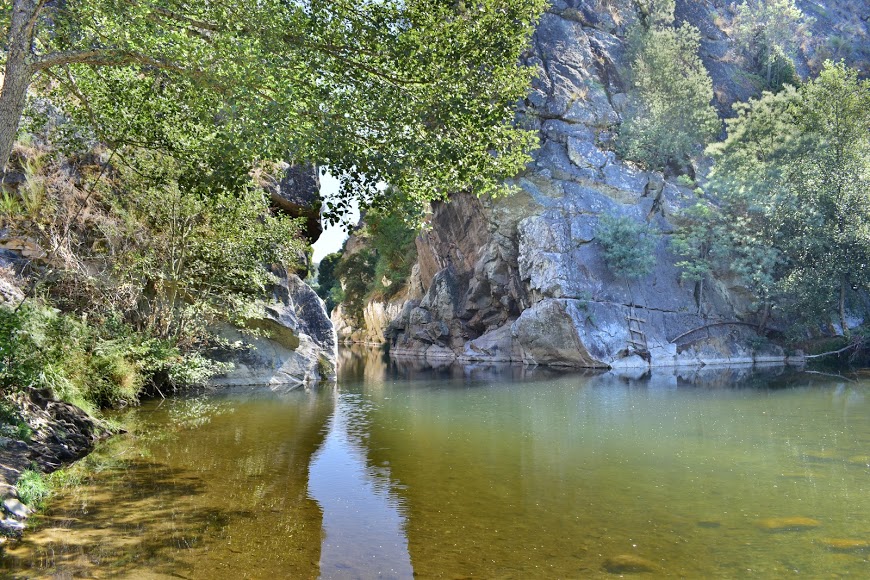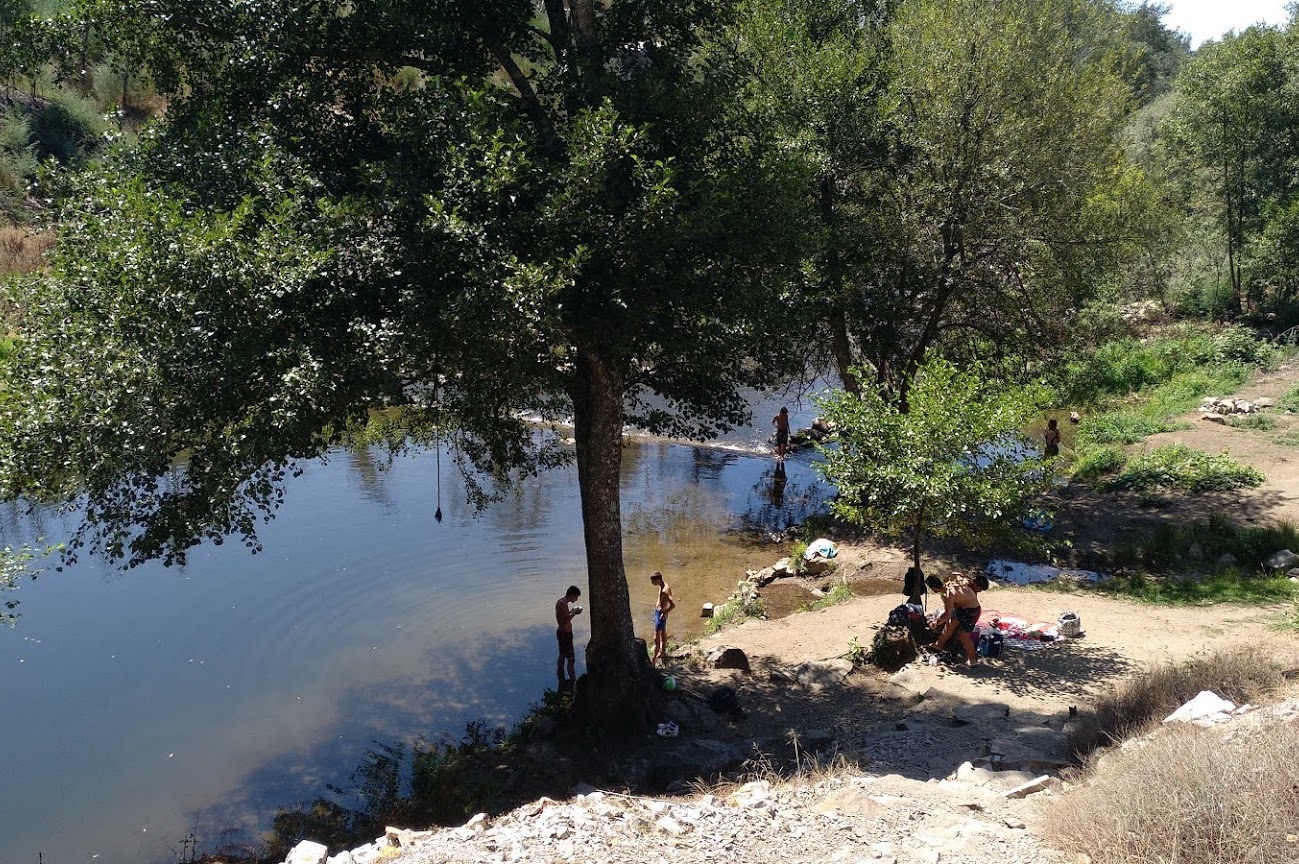 not too far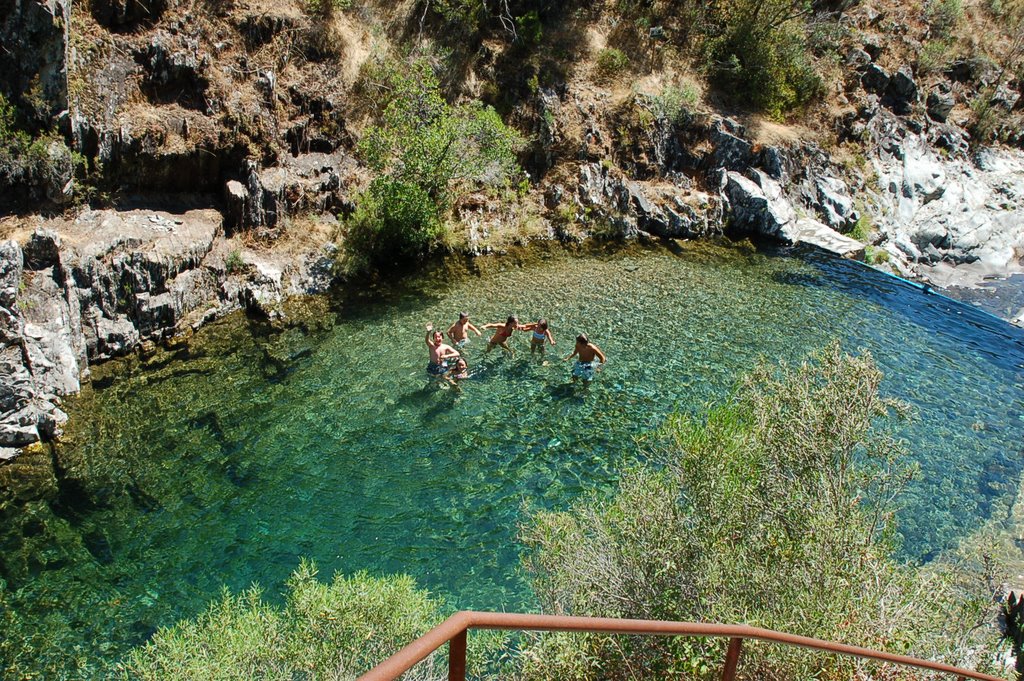 The property
750m² across 2 floors and 2 outbuildings • 700m² garden • 2400m2 land
Accommodations (12 fractional, 2 dedicated, 1 dormitory)
Typical occupancy around 16, max 24 (singles) to 36 (twin-sharing/doubles), including 2–3 volunteers.
2 studios 45m² ensuite (15m² mezzanine), kitchenette, tall river window
4 premium 29m² ensuite (12m2 mezzanine), tall river window
4 standard 24m² ensuite (9m² mezzanine), courtyard window
4 basic 11m² with shared bathrooms, restricted window
10 pods 60m2 dorm with tall river window, and 3 bathrooms
Indoor common spaces (360m²)
kitchen/dining 150m² (with sofas and open area)
lounge/cinema 90m² for ~24 presentation seats
plus ~14 lounge seats
quiet workspace 30m² for 8 desks
lively workspace 85m² for 16 desks (with sofa)
Outdoors (~3100m²)
courtyard-terrace 60m² (upper; adjacent road, kitchen and pods)
courtyard garden 250m² (lower; adjacent lively workspace and studios)
balcony–terrace 50m² (above river; adjacent lively workspace and studios)
terrace 150m² and river decking (lower; south-east, above river, adjacent lounge)
kitchen balcony 30m² (above terrace)
kitchen garden 30m² (below road)
terraced land 1900m² (below road)
riverfront garden 500m² (bottom of land)
sauna
There are three distinct outdoor areas. The courtyard is adjacent and a little below the road, requiring a new wall, and at its bottom having a high balcony hanging over the river. At the south end below the kitchen, a terrace area is next to the river with some decking.
Continuing along 170m of riverbank, is terraced land. The far section flattens (widening to 25m), suitable as an open riverfront garden space. It is better distanced from the road and would be isolated once trees grow back. (The trees were recently cut.😢)
Locality
3D model
Just a very quick rendering!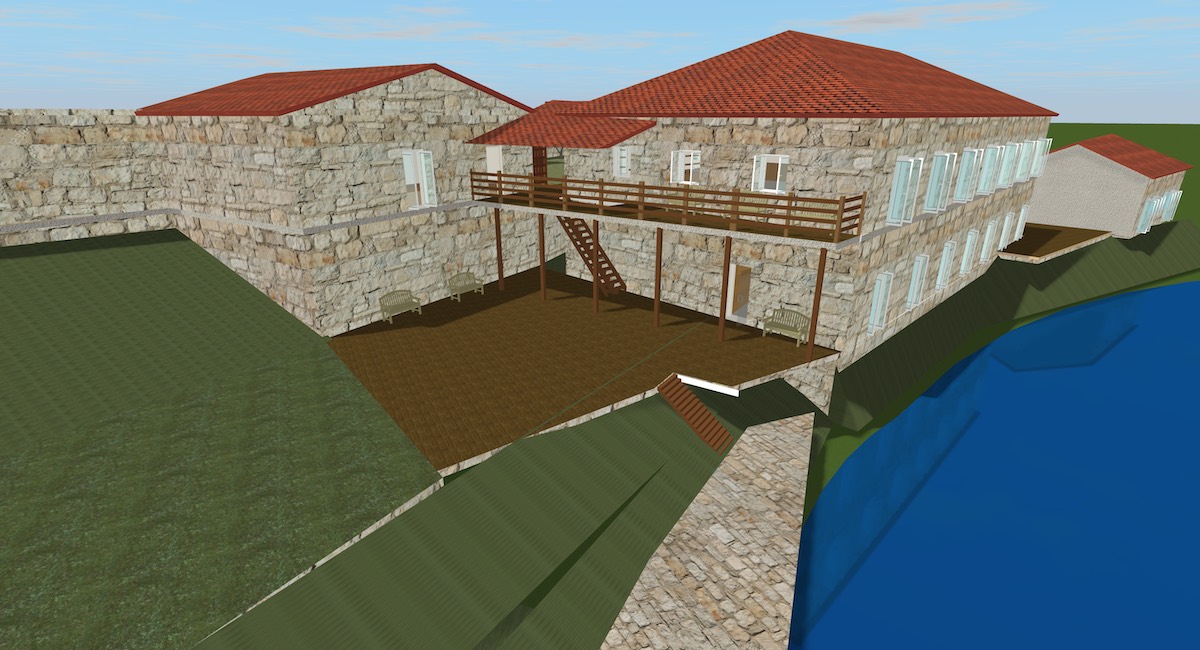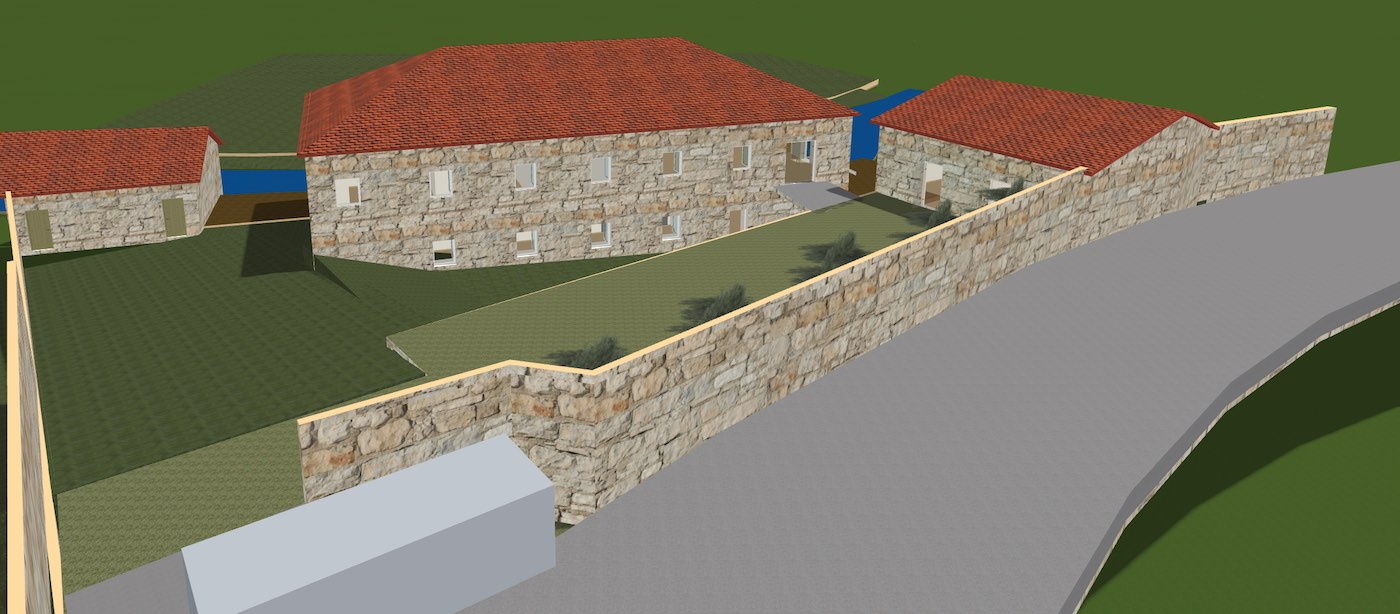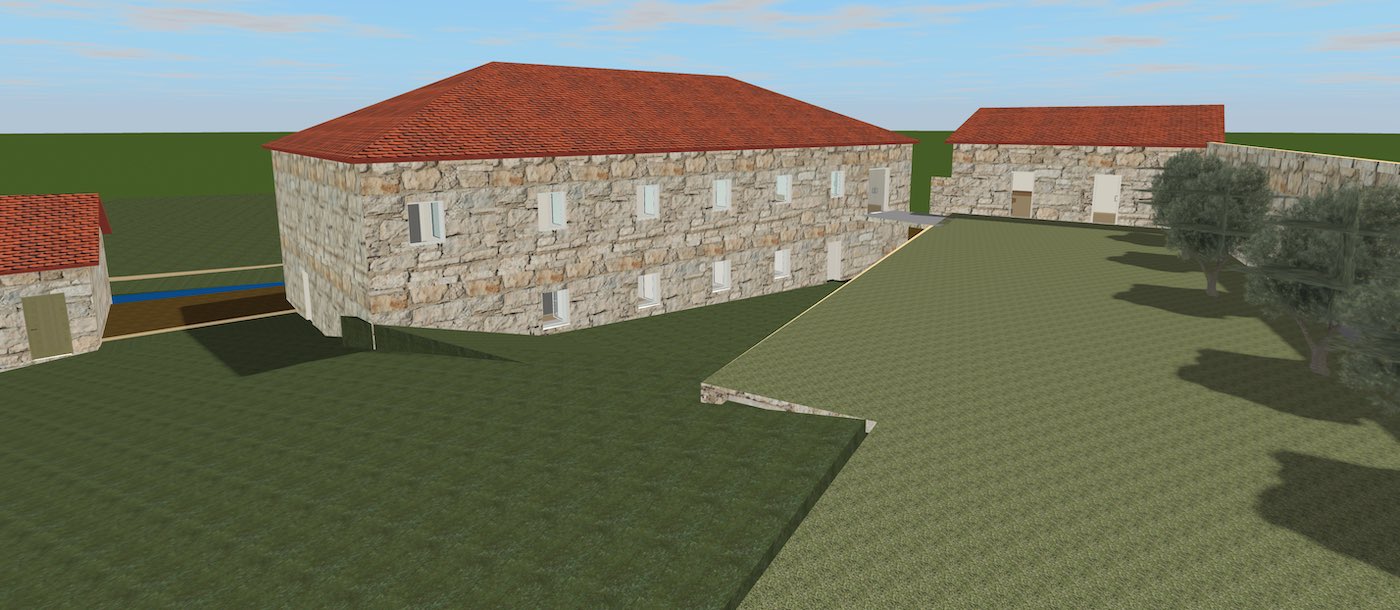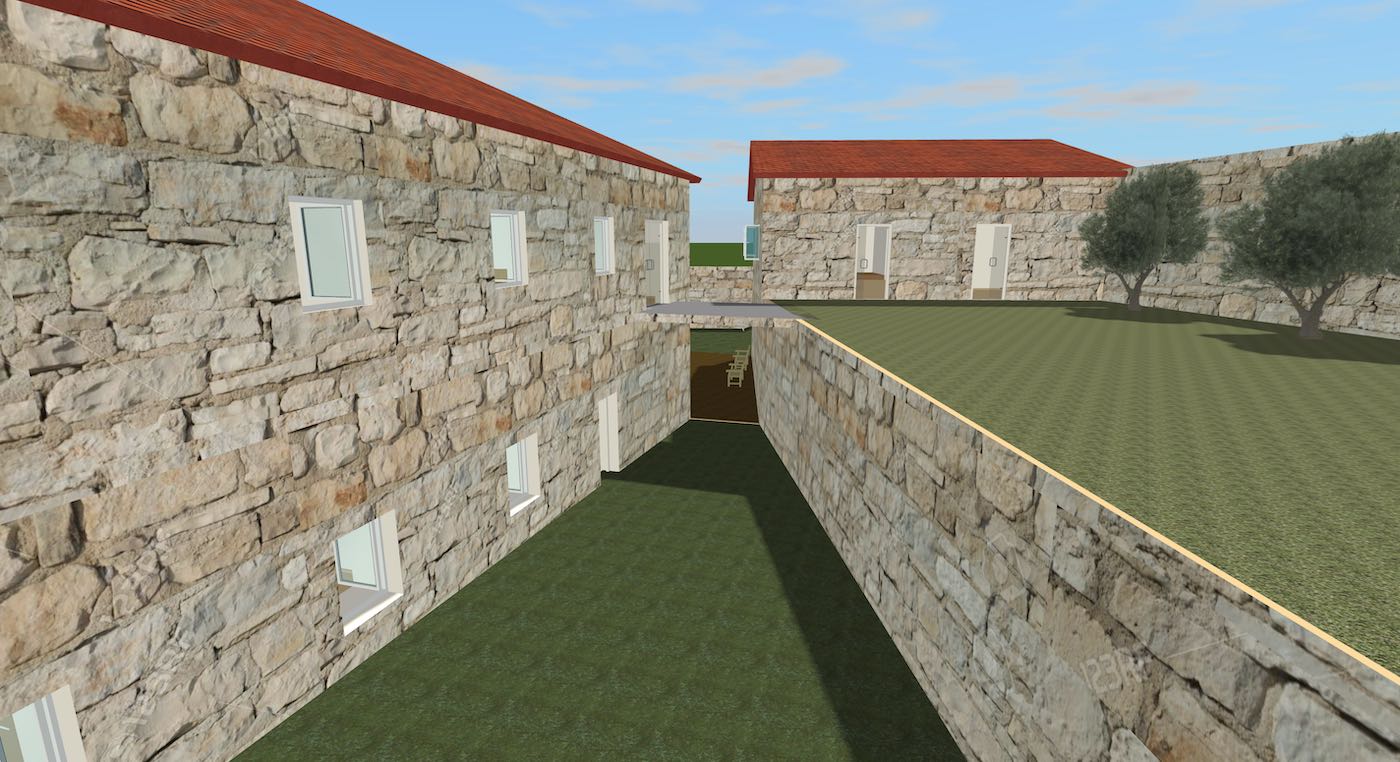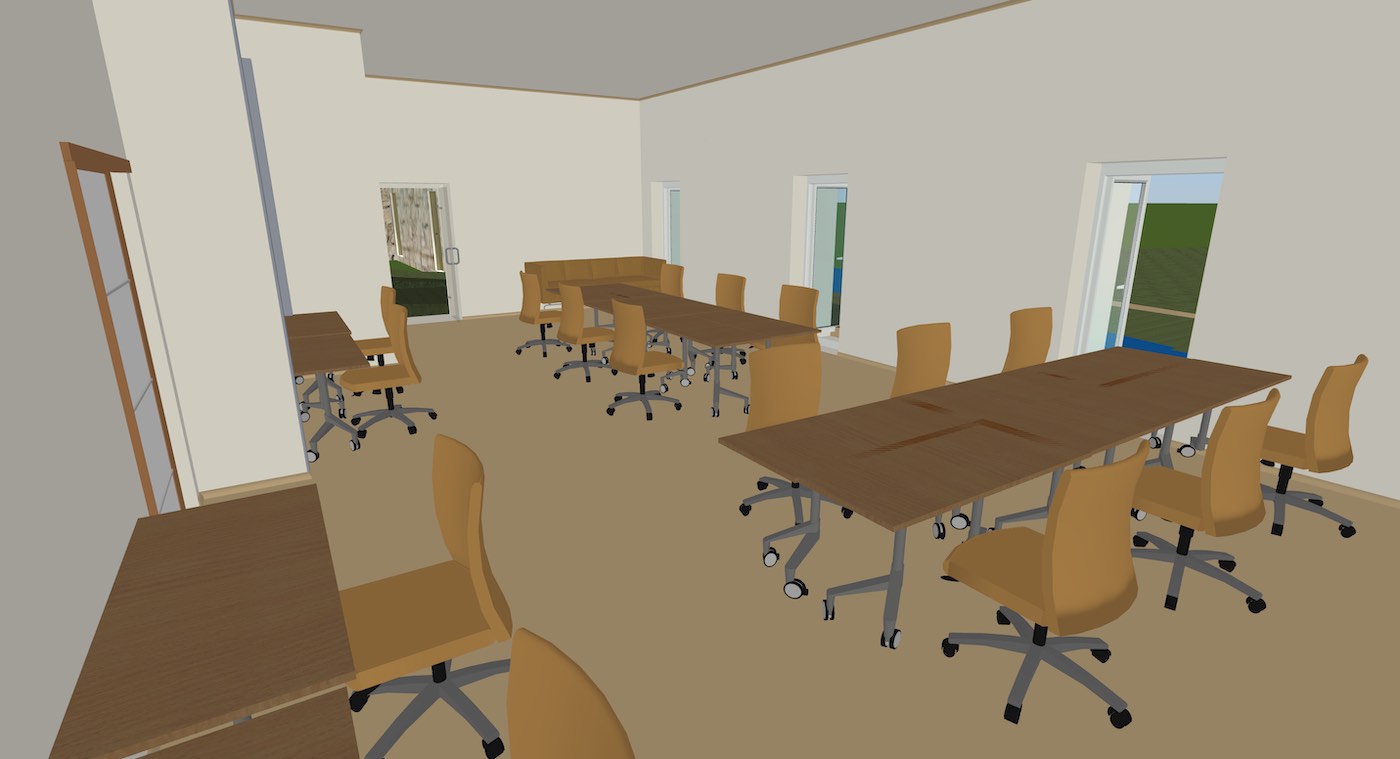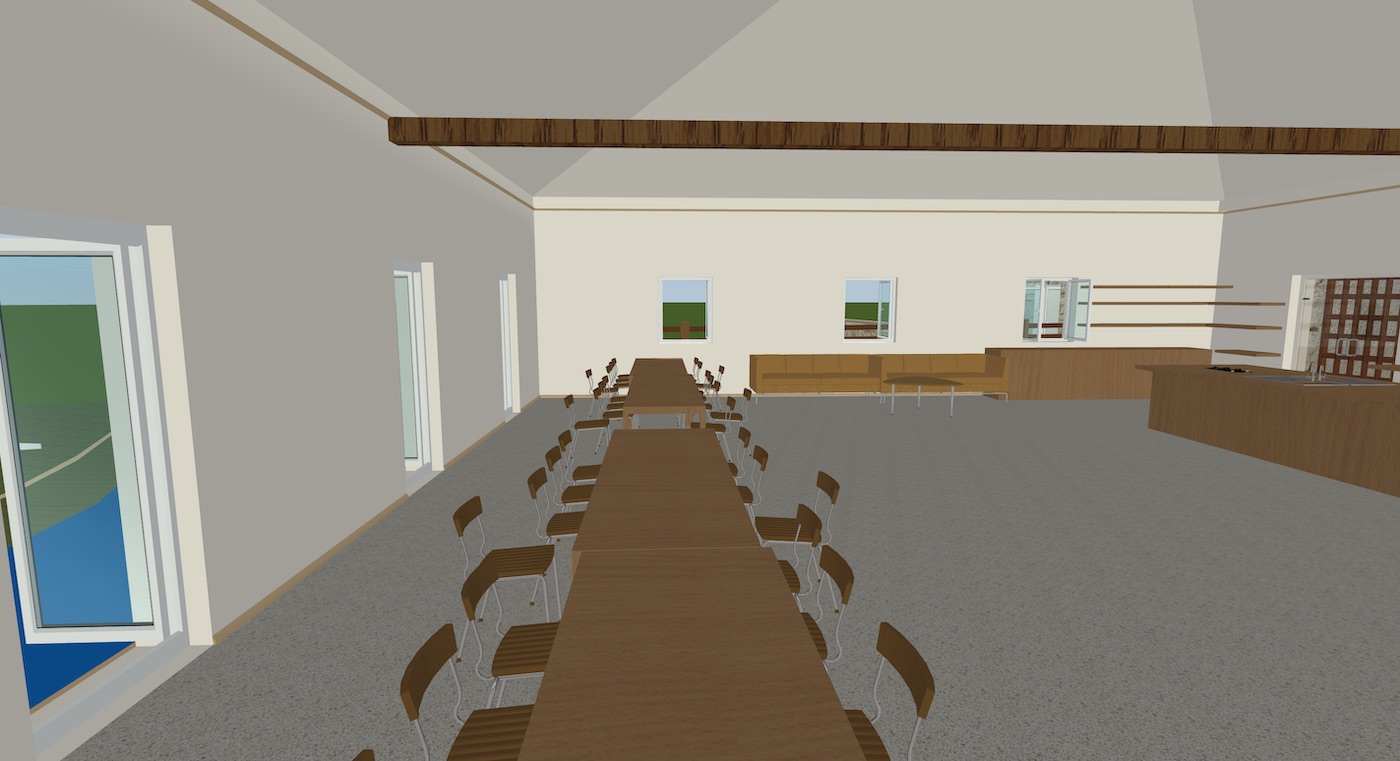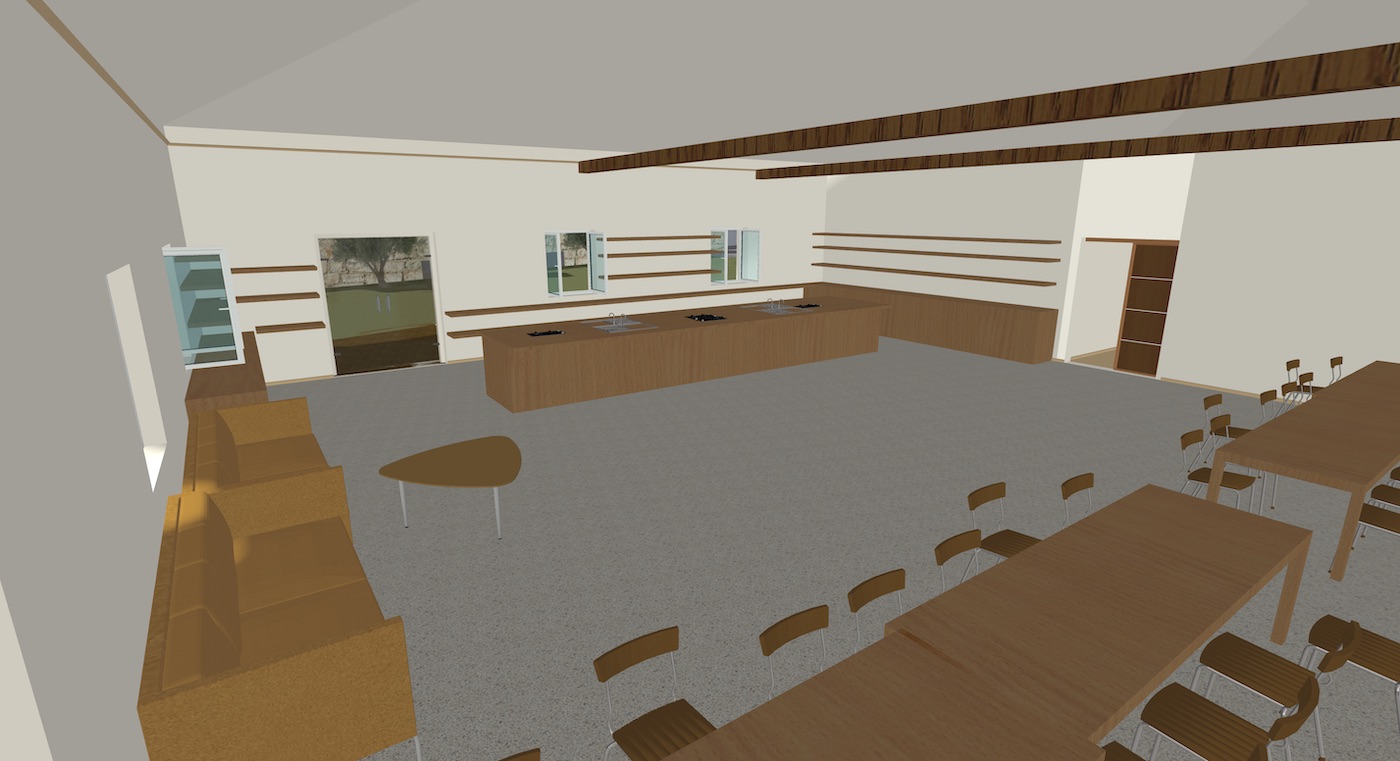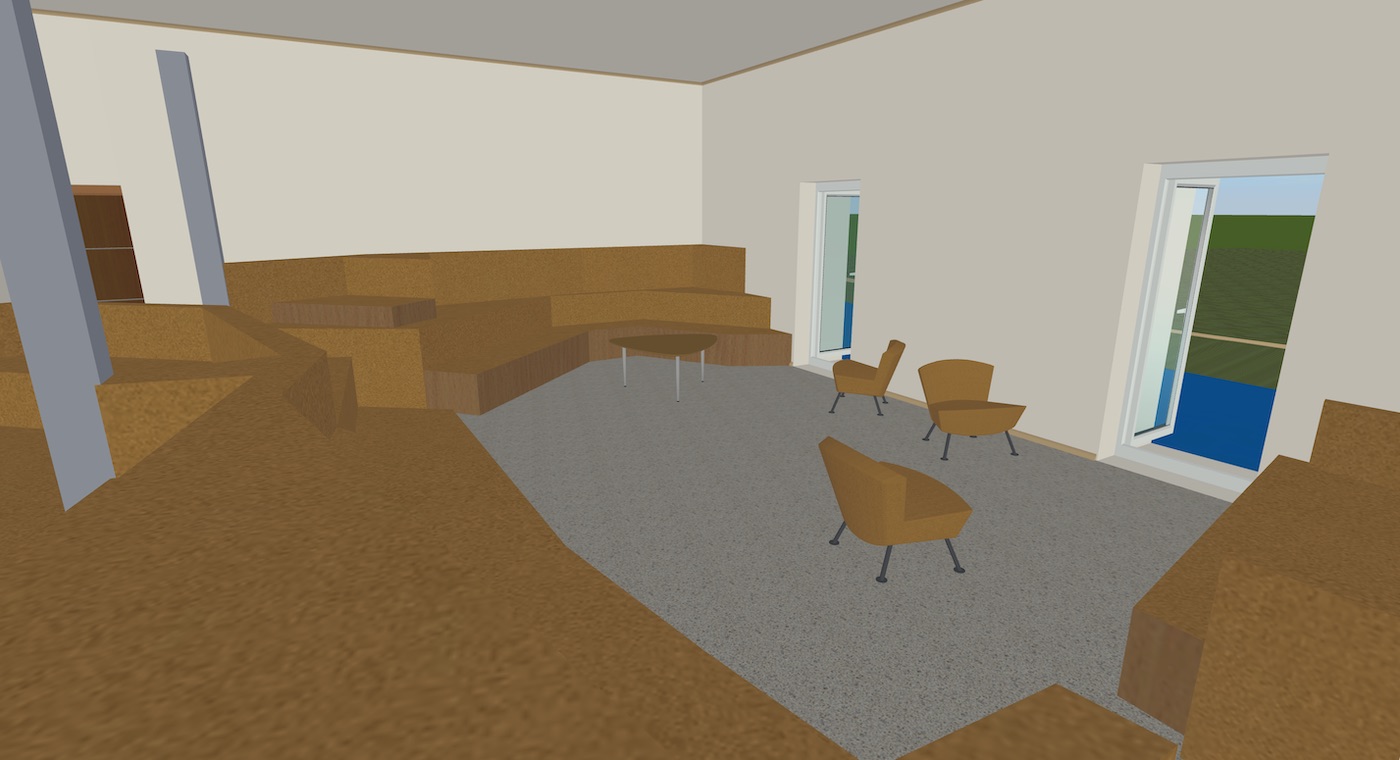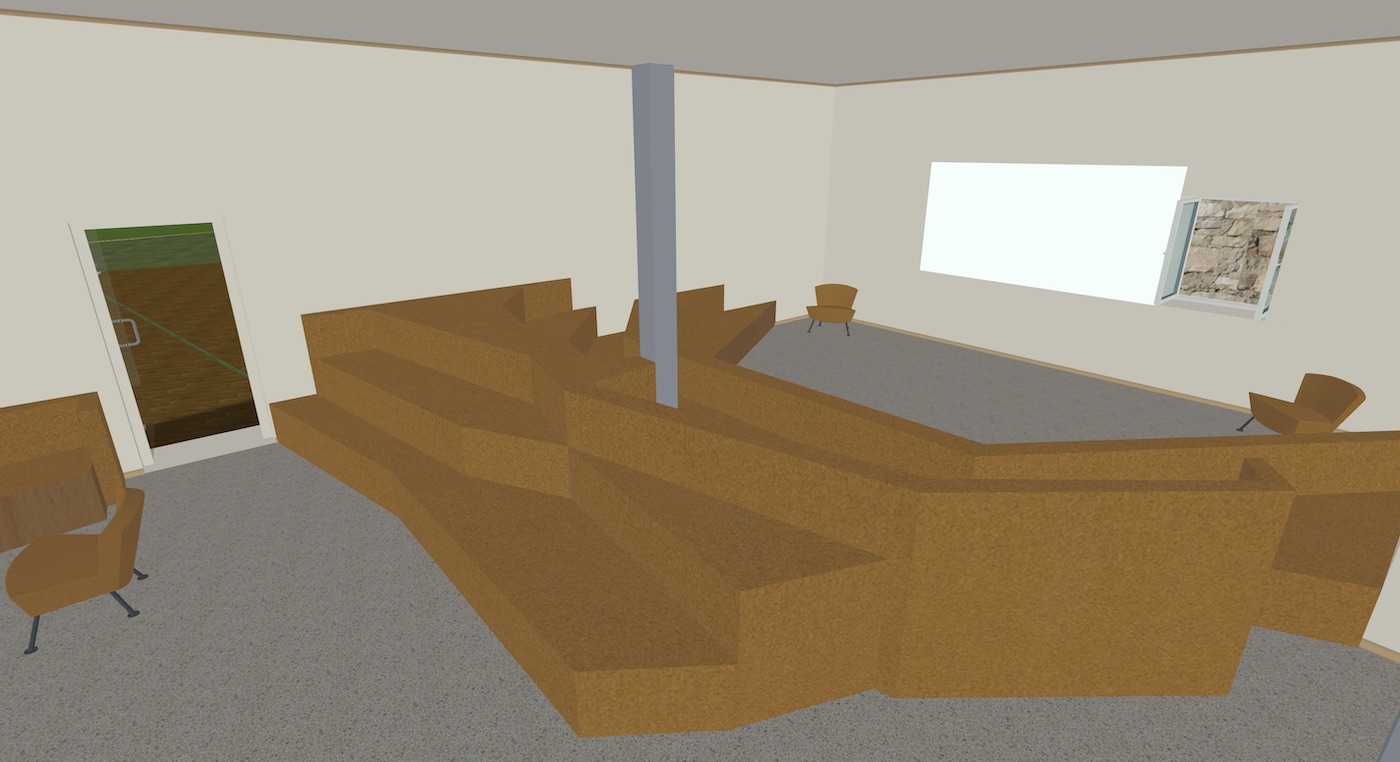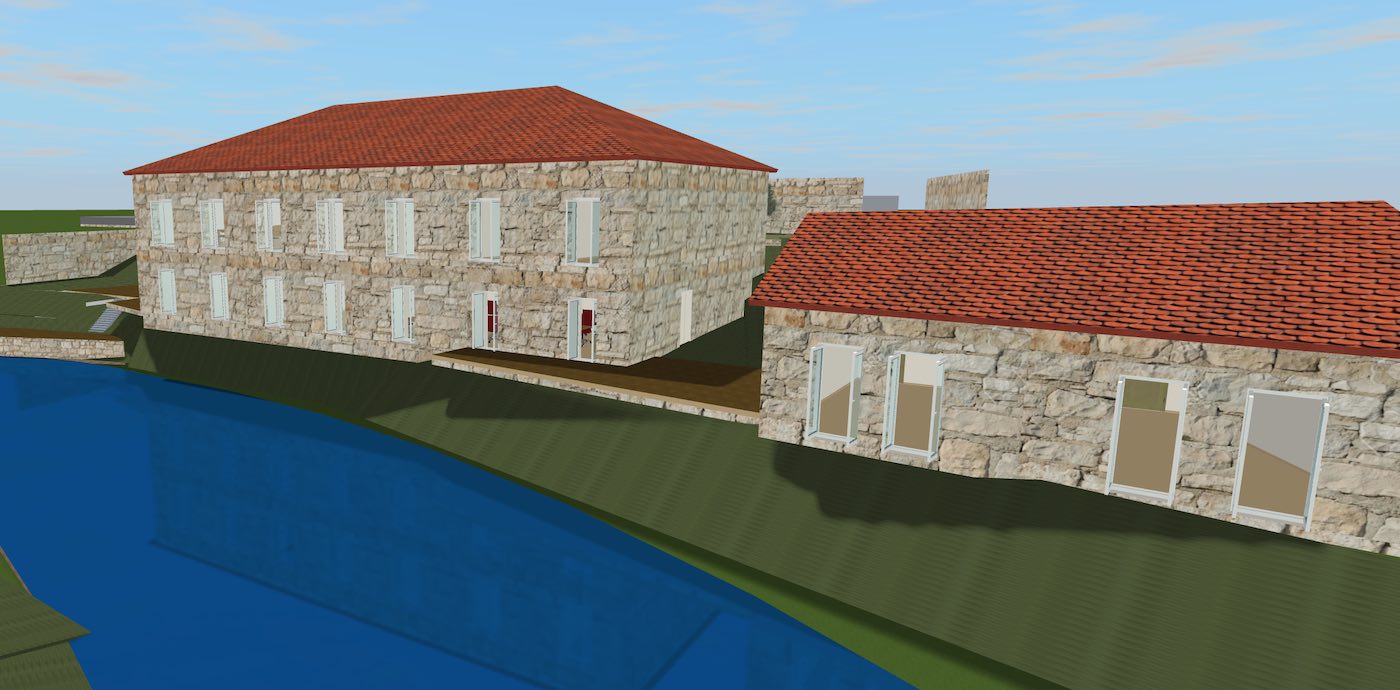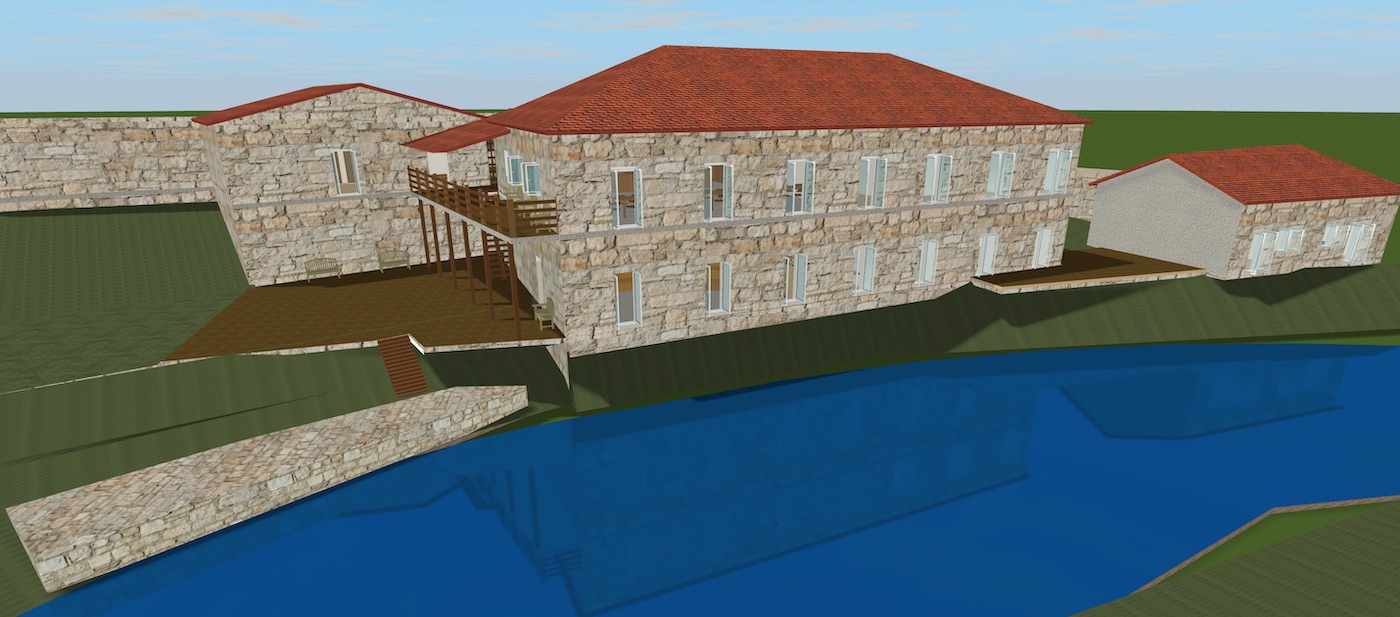 Plans
Fitout and function
Kitchen and dining hall
On the upper floor, this is the primary common space, and partially adaptable. It is open across the full span of the building with exposed beams and roof. In inclement weather it could accommodate 12 people for yoga without unduly inconveniencing breakfast, and at other times with tables pushed aside gives 70m2 for up to 24 people, or for workshops and games.
The kitchen itself has a 7m-long island with 6 workstations, 4 sinks/ovens, surrounded by copious storage and fridges, thus allowing simultaneous independent or coordinated cookups.
Lounge
On the lower floor below the kitchen. As planned here (send ideas!) it has two sections with built-in seating so is purpose specific unlike the dining hall. The back side (with only one window) functions as cinema and presentation/discussion/workshop area accommodating everyone simultaneously (at a squeeze), whilst the front side has windows over the river functioning as a relaxed lounge. Both sides can be used to lie back and work with feet up. This arrangement allows both to be used with an element of overlap due to only being semi-separated. (During events to avoid disruption one could instead chill on sofas in the kitchen or workspace.)
Workspaces
There's two workspaces on the lower floor facing the river, one quiet and focussed, the other lively.
As the only dedicated quiet area is the focus workspace, and as there's no call room, those needing quiet spaces to make calls would be expected to use their own rooms at such times if none of the other common areas are adequate.
Bedrooms
Standard and premium rooms both have mezzanines with a compact ensuite toilet and shower below, premium are slightly larger and have a full-height window over the river, whereas standard have a standard window onto the courtyard.
Pods share a spacious separate building off the kitchen balcony, with a big window over the terrace and river; plus three large ensuite bathrooms. The four Basic rooms share two bathrooms, the rooms themselves are however small with no outlook as the windows open into a path, facing the wall of a terrace. Yet these are only slightly more expensive than pods whilst being quieter with more privacy.
Other
Unusually there is no internal staircase (or rather it would be removed), meaning the main circulation between floors is outdoors, with a covered staircase between the lounge/terrace and kitchen, or open through the courtyard from the workspace to the kitchen. This arrangement improves isolation from sounds and smells, whilst encouraging outside interactions.
Given that's there's lots of nice cold water, a sauna would be great, and can be squeezed in somewhere. The riverfront garden could feature a firepit for outdoor gatherings, plus of course there could also be a pizza oven and BBQ somewhere too.
Many specs similar to #53/Cravinos, but without the water brake for sustainable power although it may be possible if a small weir could be built albeit having very limited production.
Structural works
roof for collapsed end section: 1 beam, purlins and rafters, plus new tiles
minor tile reseating and repairs
new first floor joists for two sections, and new floorboards
enlarging of all river-fronting windows to full-height (lintels and window openings exist, so not complex)
screed floor for entire basement and outbuildings, with UFH for common areas
new window lintels (6) in out buildings
new exterior walls to seal outbuildings for conversion
Fitout works
windows (18 full height; 16 standard)
exterior doors (4)
roof/ceiling insulation and plasterboard
partitions
flooring
sewer tank and pump
all water and electrics
interior doors
terrace, balcony and decking
exterior walls for road and riverbank terraces
Photos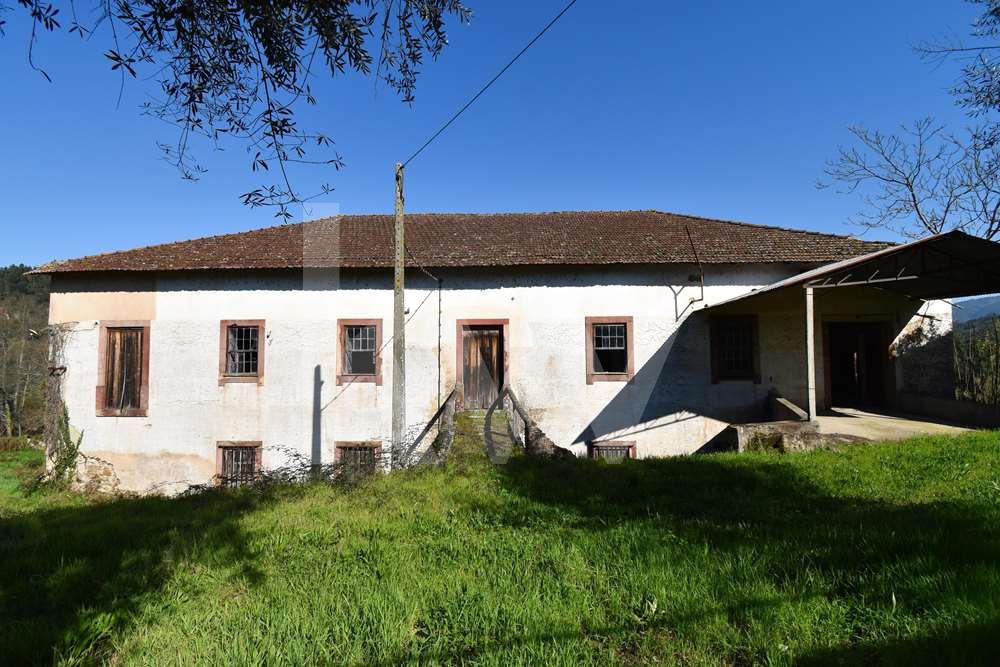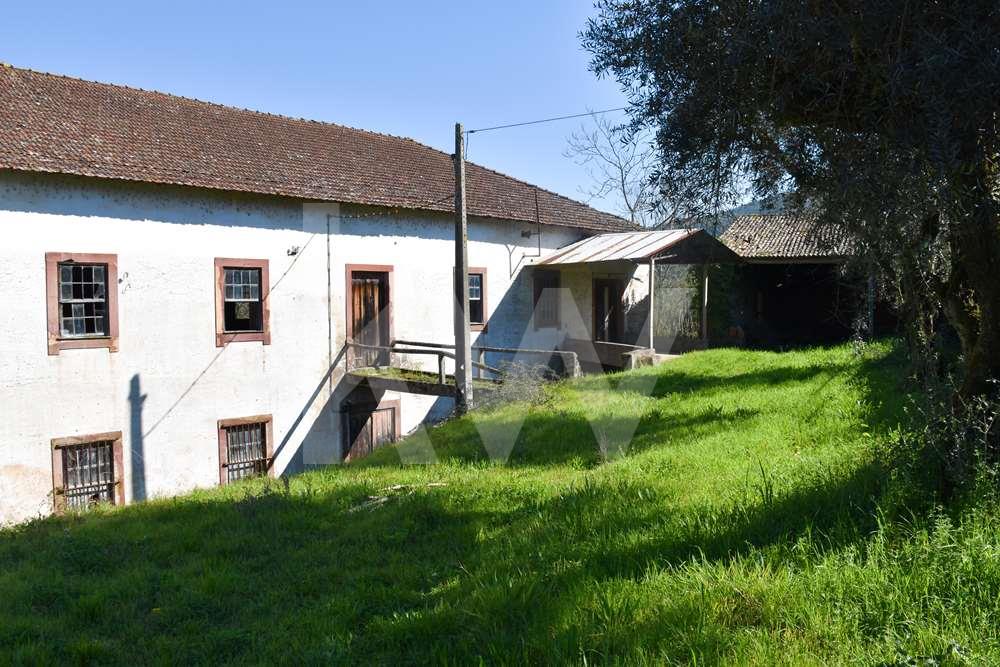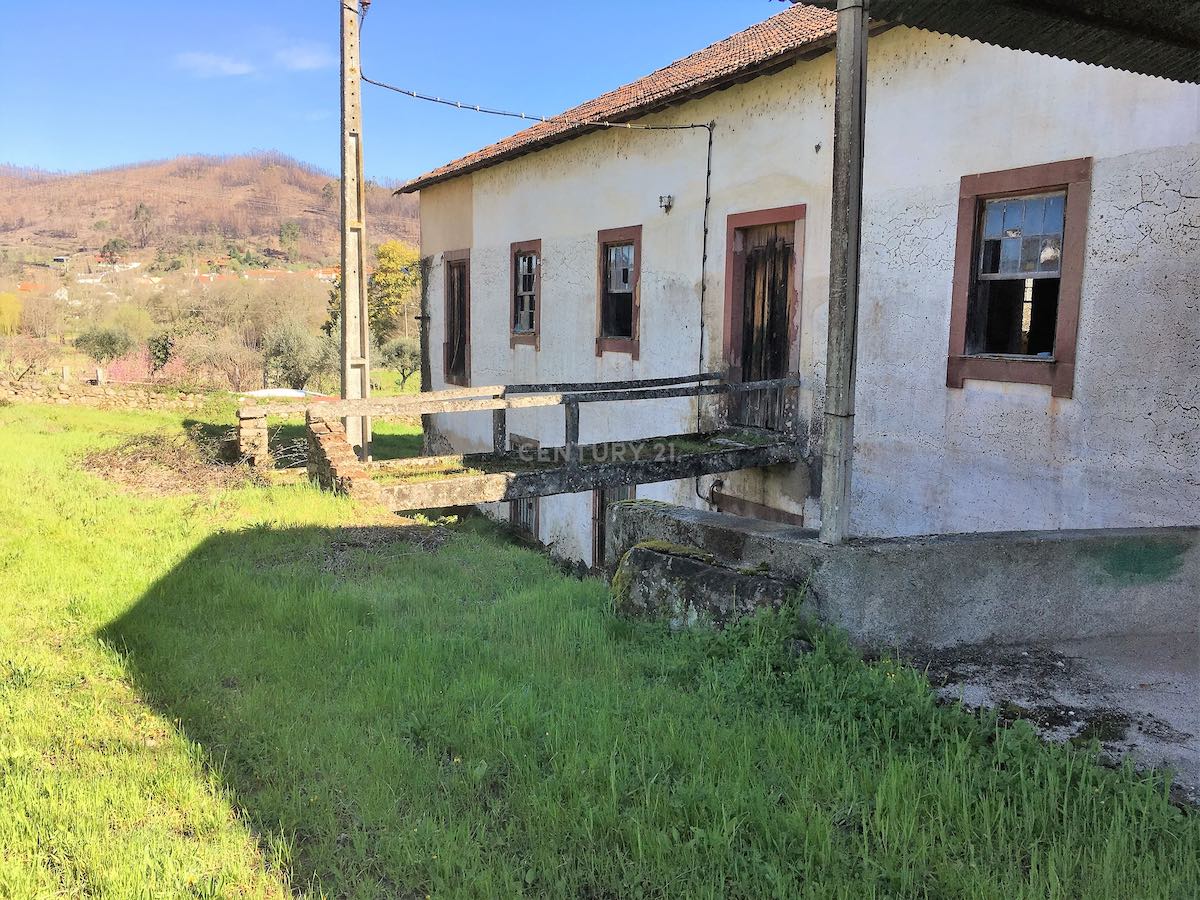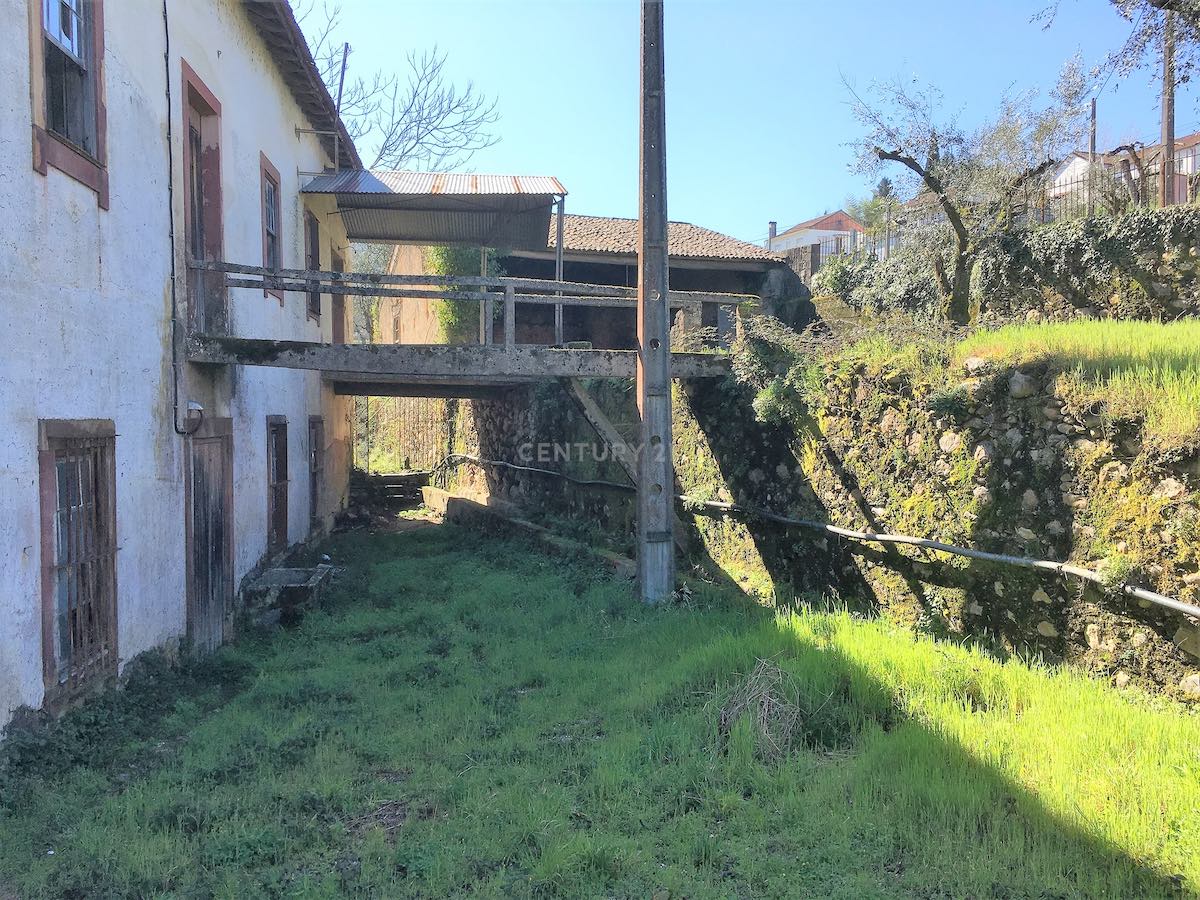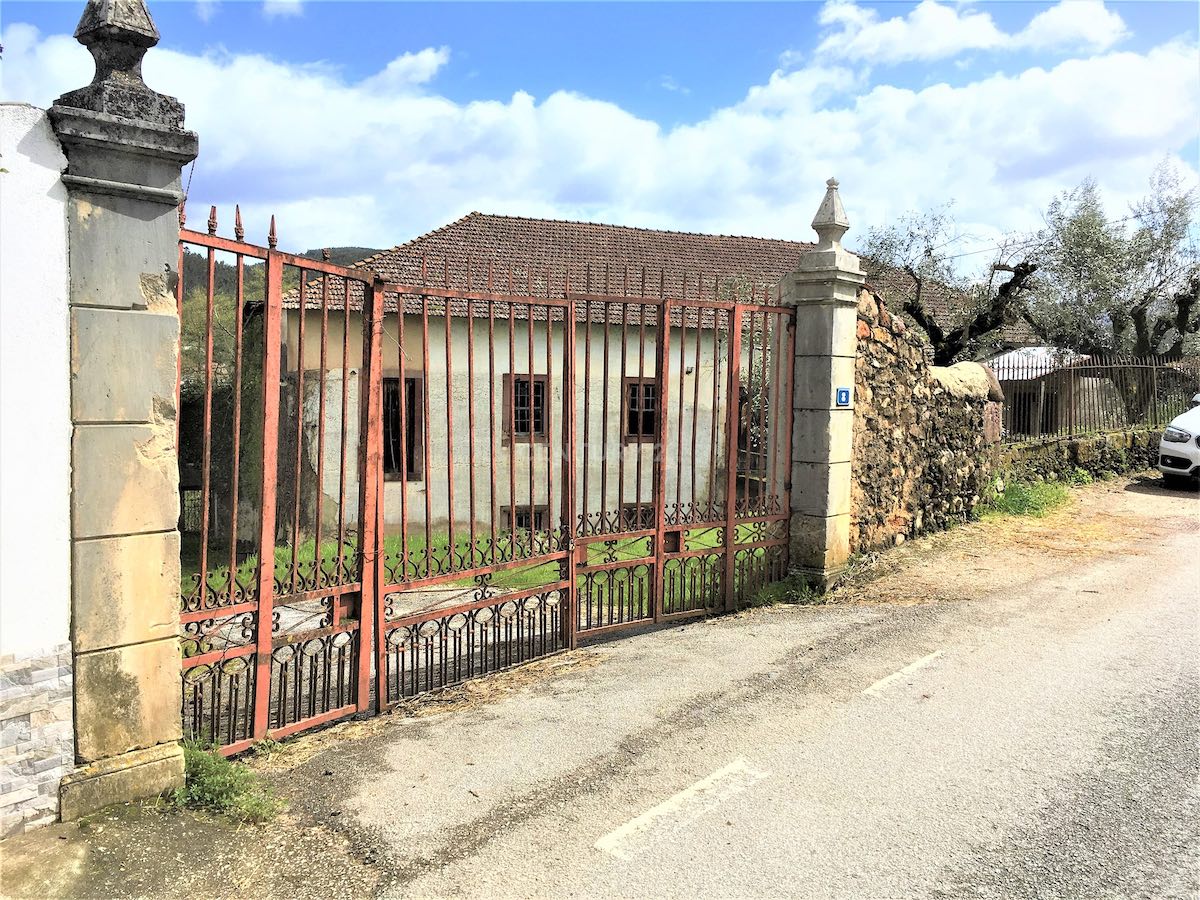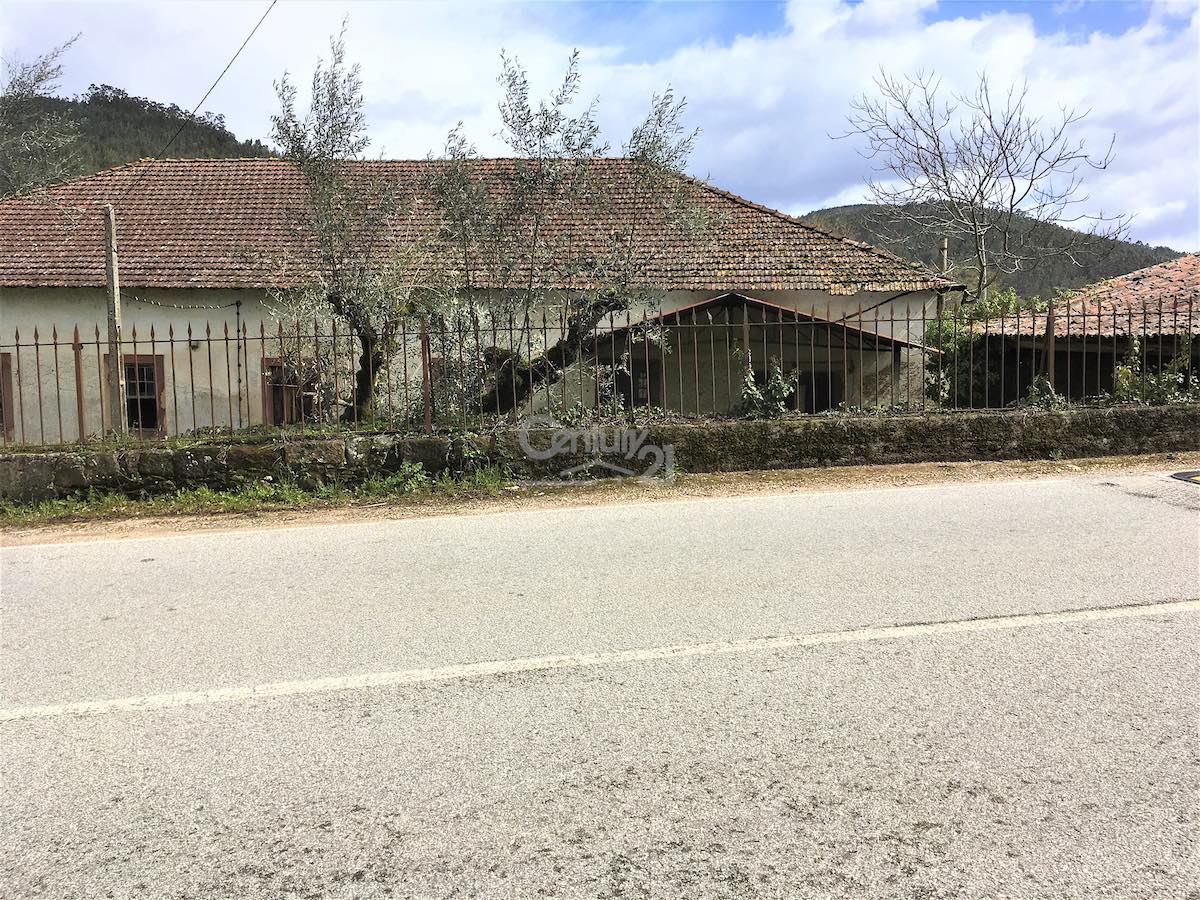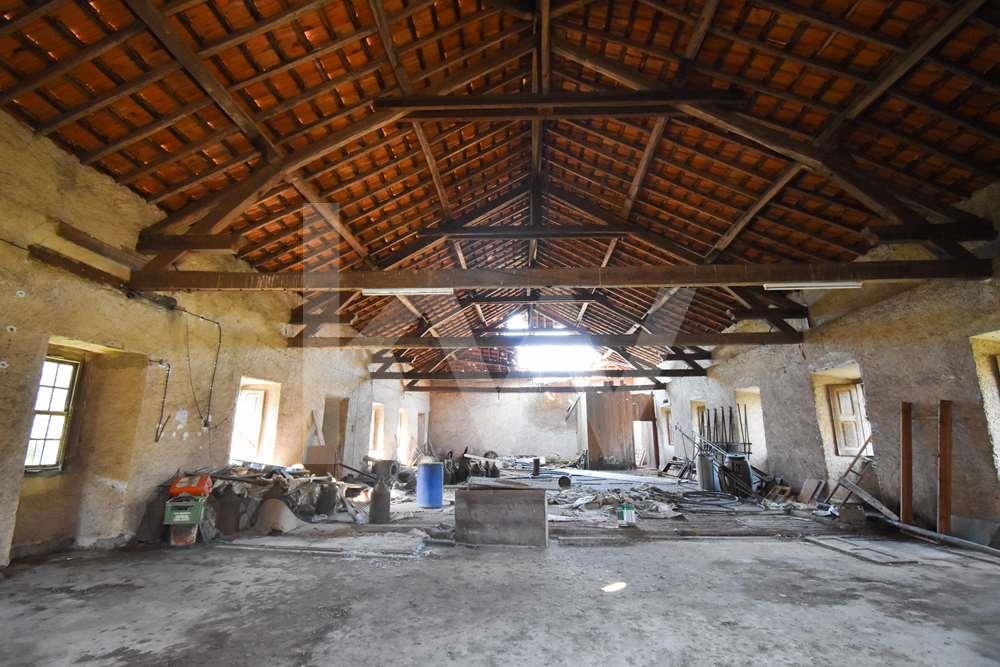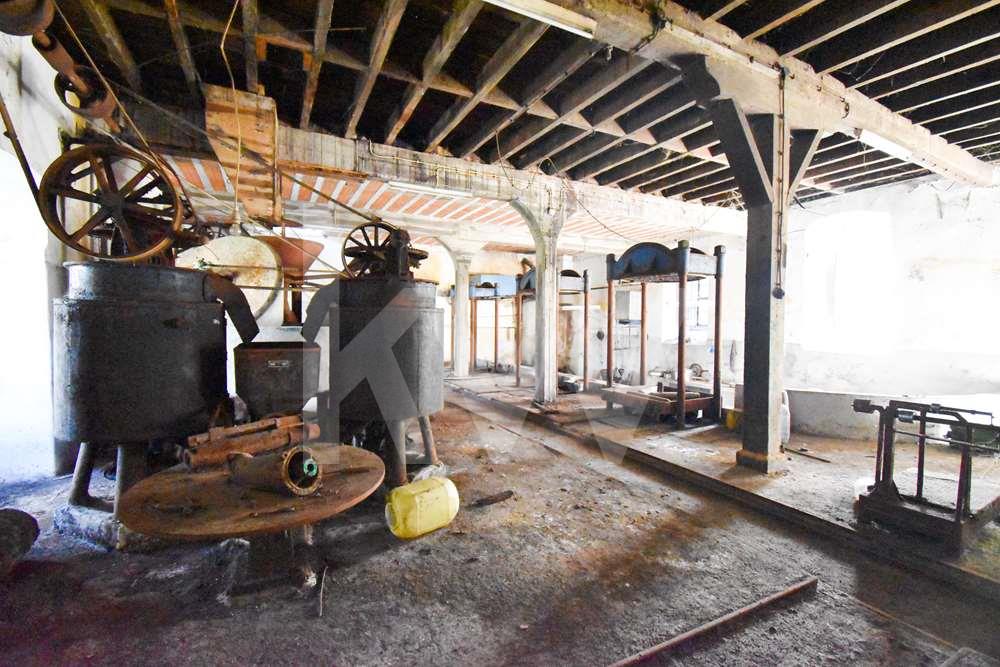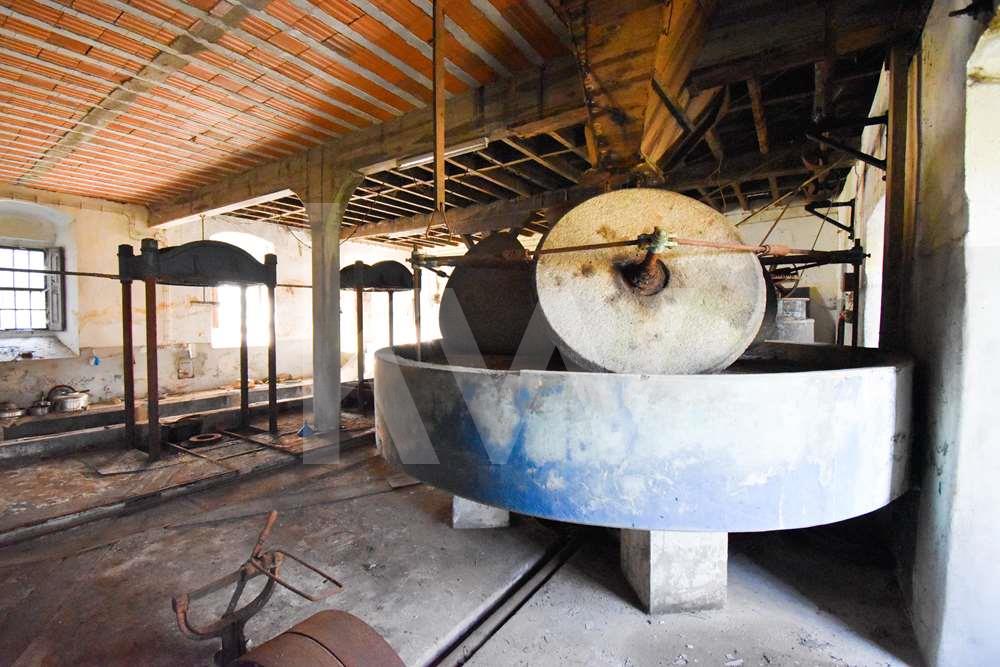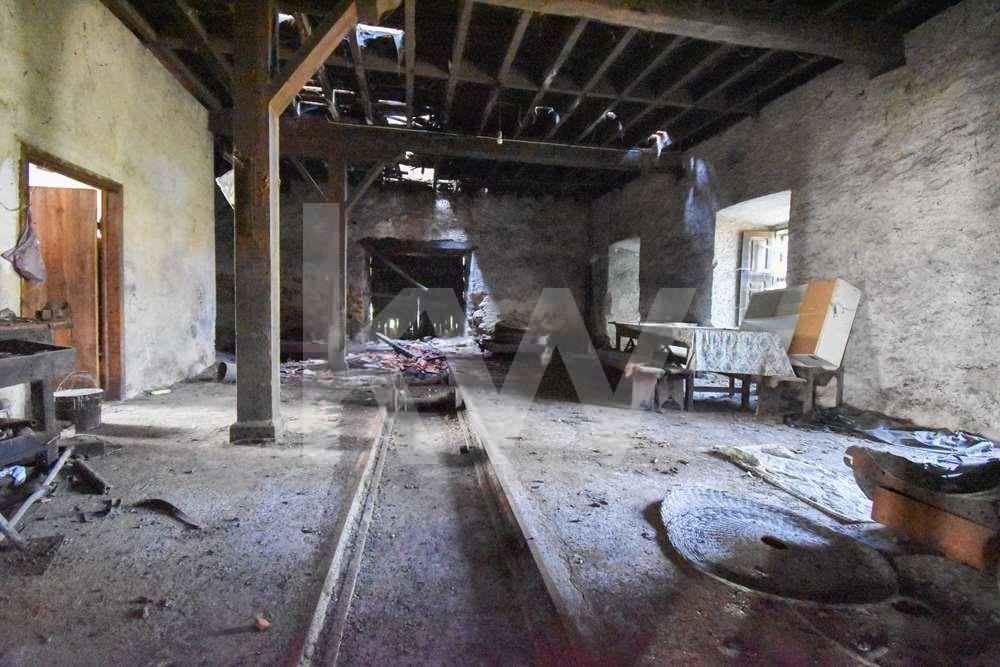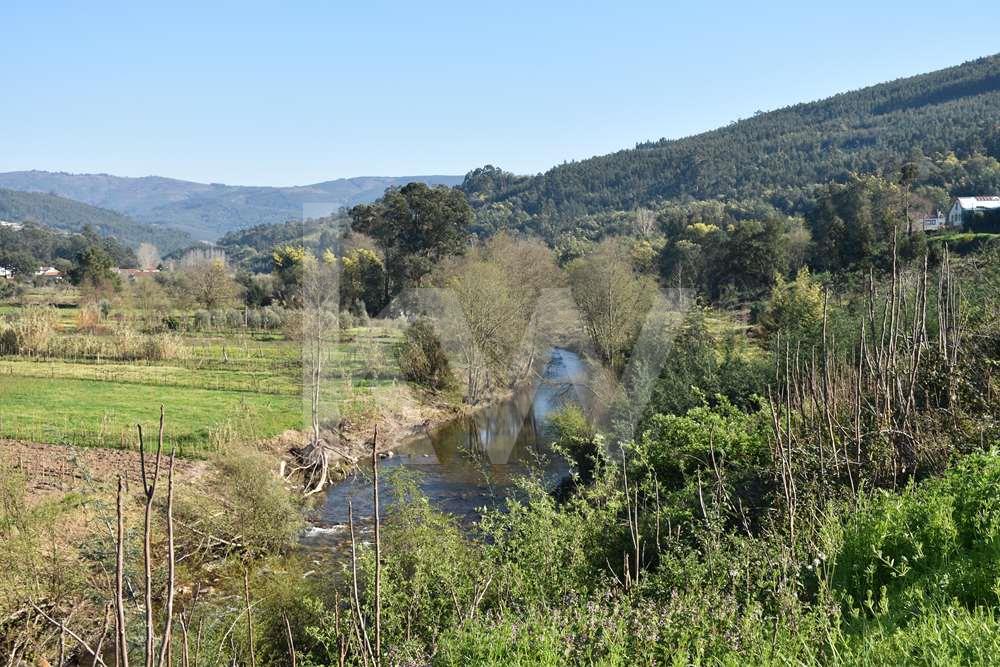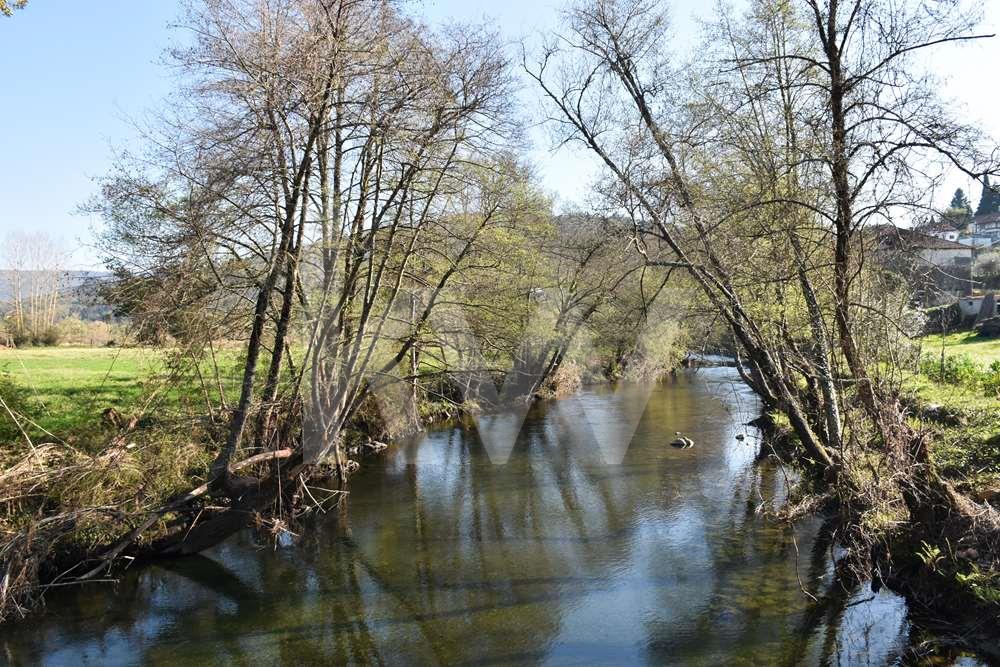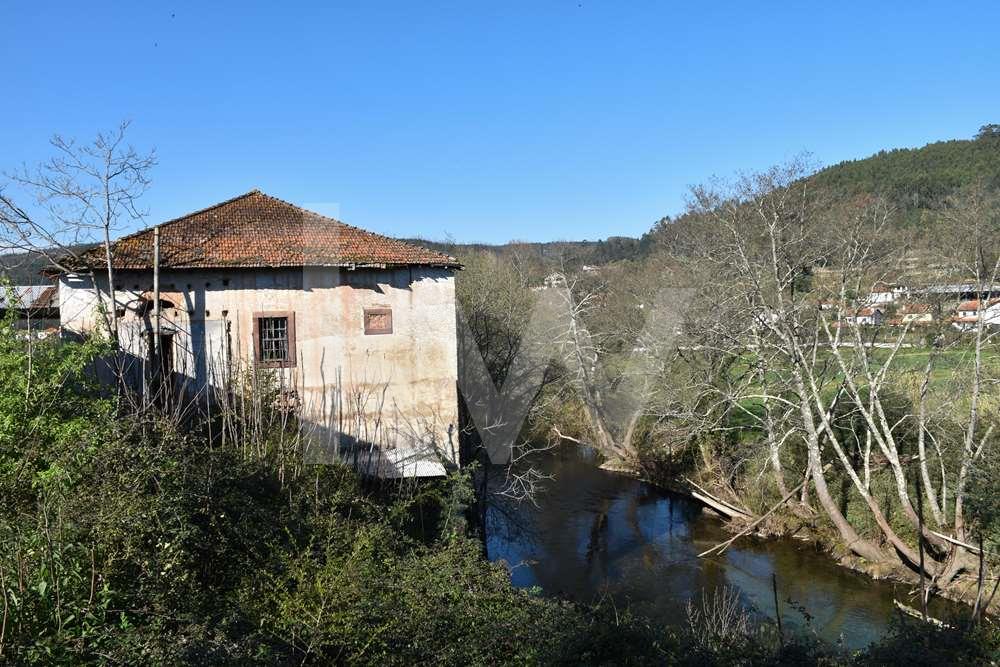 Business, operations
At this point, extremely speculative. Obviously being a small property means a number of significant differences versus larger ones, not least the lack of cost efficiency and capacity from scale.
Forecast suggests a circa €4k p.a. surplus for the community fund, with preference share yield at 8% within a few years.

These monthly expenses include a contribution to volunteer stipends (€200/mo), so if the community is good at looking after the property and themselves, could potentially reduce by €75/mo/pp.
as compared other colivings, whilst this location is not (arguably) as good (compared an island/seaside), we can assume demand simply by virtue that their rooms at around €1000/month are generally equivalent to ours at €450, and our premium rooms are still less; even the cheapest coliving only offers a shared room at €450 and without dedicated facilities
there's adequate capacity to infrequently host smaller events; gatherings around themes/activities more frequently; artist residencies, particularly over winter when they could be offered a room instead of pod; and inspirational guests
a board would probably not be designated for this property (there's not enough capacity to give it away); instead a single chairperson would be elected having the same oversight responsibilities and reward; if multiple properties join a platform, they could then share their representatives as a collective board
smaller share issue (reduced capital requirements) but more flexible on investor allocation; at this scale the percentage of co-owners doesn't matter as much, rental guests would be just as welcome, as would reduced flexibility
only two dedicated studios (one obviously already allocated) also rather more costly; a single 'plus' room (micro-studio) could also be offered as dedicated although the cost would still be similar
the cost of studios is similar to a 1-bed apartment in a decent lesser-known town in southern France, although the significant difference is that the inclusive facilities, its community and also the rental rates should all be much better (captive market for rentals); as compared somewhere like Bansko, the difference is rather debatable, although in those cases, the community is completely separate as there's no coliving


See all the properties, checkout common questions and join the discussion.

💬 Summary and discussion   Make a pledge